Students, Staff Build Traditions, Take Maverick Spirit on the Road
published: 2019/02/08
contact: Charley Steed - University Communications
email: cdreed@unomaha.edu
Over the last few years, UNO's Office of Spirit and Tradition has made a major impact on campus culture.
From efforts ranging from Homecoming to Durango Days, a heightened sense of Maverick Spirit and engagement is readily apparent - stretching from Dodge Campus down to Baxter Arena. The effort has also elevated UNO's image on the national stage with UNO being named as the National Collegiate Student Section Association "Loud and Proud Best Student Section of the Year" in 2017.
One unique opportunity offered to students is the chance to cheer on the Mavericks on the road - a project led by Bill Pickett, director of spirit and tradition at UNO, since 2015. 
All told, Pickett has led nearly 40 trips across the country - ranging from cross-town visits to see the Mavericks and Bluejays go head-to-head in soccer at Morrison Stadum to a 1,500-mile trek to support Maverick Hockey in their first Frozen Four apperance.
---
Learn more from:
---
Since this past August, students have had the opportunity to be UNO ambassadors while supporting Mavericks soccer at Macomb, Illinois and at the Summit League Championship Games in Brookings, South Dakota and Denver, as well as the men's hockey team in Duluth, Minnesota against defending national champions Minnesota-Duluth.
One fan, Kim Wilkinson, who also happened to be in attendance at the Minnesota-Duluth series remarked, the students in attendance were "appropriate in their cheers, appropriate in the their talk, and appropriate in the way in which they treated those who were fans of the opposing team.
"This group of students sang the National Anthem as only the UMD band played the music with no words," she added. "My husband was truly appreciative as he is a retired member of the Air Force."
These actions are no surprise to Pickett, who says the students who attend his trips are some of the best advocates for UNO and Omaha Athletics.
"The students attending our trips are involved on campus and love being here," he explains. "That is what makes them great ambassadors. If they love UNO, their experience, and the opportunities, the pride and their ability to be a positive ambassador comes natural."
Go MAVS! UNO students are on their way to Boston for the Frozen Four. Live report @ 5 am on KMTV Action 3 News! pic.twitter.com/o5OmHuUYB2

— 3NewsNow (@3NewsNowOmaha) April 8, 2015
---

Bill Pickett, UNO Director of Spirit and Tradition

What feedback have you received from students who have been on some of these longer bus trips to places like Duluth, Miami, or Boston.
Students that attend the longer trips are truly dedicated Maverick fans. It involves a lot of time and commitment to do the long trips and the students that go, really do attend to support the team as their No. 1 priority.
It is a bonus when we have these games in fun locations, so students can do a mix of both. I've had students see the ocean for the first time, come to a big city for the first time, flown on an airplane for the first time, some haven't visited outside the Midwest, etc. These trips make an impact on students in a variety of ways.


Who says the Mavericks don't travel?? 😁 9 hour drive to get the W. Let's beat Denver. @UNOmavmaniacs @OmahaHKY @Mavpuck @omavs @UNOmaha pic.twitter.com/IR4YBYvp4y

— Bill Pickett (@billpickett78) January 20, 2018

How important has investment from campus been in fostering a new focus on Spirit and Tradition at UNO?
The investment has been tremendous. Our involvement has not only put UNO on the map as a campus that invests and supports student athletes, it has also provided college memories and make them feel proud to be a Maverick.


What is it about UNO students that stands out to you that makes them such great ambassadors at athletic events or even out in the community?
They are thankful for the opportunities. I have built relationships with these students and they always thank me for organizing and taking them on trips. When we visit other campuses, they wear their school colors and truly support the team with cheers and excitement.


---

Joe Hagerty, UNO Graduate Student and President of the Maverick Maniacs

As someone who has participated in away game trips as an undergraduate and as a graduate assistant, what has the experience been like for you?
These trips are a blast! There are an easy way to show your pride and support for UNO athletics who need your support when in hostile opponent terriroty to get a win! The students that go on these trips are the ones who are the most spirited in the school and go all out when cheering! If your voice does not hurt...you are are not cheering right!
As a student it is the most rewarding thing to have athletes, coaches, athletic staff and administrators come over and thank you for cheering and telling you that they never would have gotten the win without the student section and Maniacs support. This is what helps students know that their efforts are appreciate, make a difference in the outcome of the game and are not done in vein. 


What is one trip that has stood out to you as a unique experience that represents all the aspects of what student participation can bring to away games for Athletics?
The trip that stands out the most was definitely the Fall Break trip in October 2017.
This trip was to a major Division I Big Ten University and a No. 25 soccer team that year. About 20 maniacs went on this trip and all wore their black & red spirit overalls and were allowed to have signs, fat heads, flags, noisemakers, bells and drums, all of the things we use at regular home games.
Our cheers keep the team in the game and started a cheer battle with the opposing teams student section on the other side of the field who also had drums and noisemakers. We chanted back and forth all game and really pumped up our student section.
Despite the temperature being around 40 degrees the maniacs took off their shirts and spun them in the air with excitement. Our players saw this and it pumped them up! They played harder than I had ever seen. The game went on for a total of 110 minutes and ended in a tie, but the coaches and players thanked us all for coming on the trip by coming over clapping and shaking handing and giving high fives.
The Maniacs and other students felt so appreciated and by the coaches and players that we felt like a job well done despite being wet and frozen from the cheering in heavy rain. 



We had a blast cheering for our @OmahaMSOC today at the University of Michigan! pic.twitter.com/0crX4upwjn

— UNO Maverick Maniacs (@UNOmavmaniacs) October 14, 2017
---
Ray Barajas, Omaha Athletics Director of Soccer Operations, Former Men's Soccer Player and Current UNO Graduate Student

As a former student athlete, what does the support from fellow students mean when you are competing on the road?
Having unconditional support when on the road had a tremendous impact on the team's performance.
Knowing that you had the support of incredible fans who take the time to travel to watch you play would give the team the motivation and strength to perform better not only for a good result but for them. It was our way of thanking them. Our coach would always make sure to greet them after every game because, without our fans, we would not have the little push to give that little extra in the final minutes of the match.
I think students in the stands, especially the Maniacs, always made a huge difference in our biggest games such as the ones against Denver and Creighton. For example, when they traveled to Michigan to watch us play, I thought they were nuts. Hearing how they sat for hours in a charter bus to watch us play while we had a sleeper bus, that just shows you how great of an organization the Maniacs are along with the other students who traveled as well.
Also, when around eight maniacs traveled last minute to Florida to watch us play in the NCAA tournament, those experiences with the fans are ones I will never forget. Their support and knowing you had people from your own school and town there made you feel good and say, "we are not alone in this". Not only soccer, but the rest of the teams thank Bill Picket for organizing these trips for students to come support us.
 
What are some memories you have of UNO's student section and the Maverick Maniacs during your time on the soccer team?
I think the memory I will never forget is when we won the conference title against Denver my senior year. I remember it was freezing cold and I turned around and saw that some of the Maniacs did not have their shirt on. I couldn't believe it but that just shows you how committed they are to our sport.
After the game when they ran on the field, that's a memory that will stay with me forever. The Maniacs are an incredible fan base and Joe does an incredible job in making sure they are always supporting not only soccer, but the rest of the sports as well.
I am a firm believer that with their support, we were able to keep fighting against Denver even when we were down after they scored first. Some of my teammates on the field would talk about how loud the student section was and how incredible their support was during the most important game of the program. When you are tired and you hear them chanting and supporting you, you somehow get the energy to keep running and fighting.
After being done playing soccer and joining the Maniacs gives you a different perspective on how things work and everything that goes behind previous to the games. The Maniacs' support does not go unnoticed and I thank them for all of their support throughout the season every year and for promoting our games in some instances. I am proud to be a part of an organization that focuses on showing school pride and support the Omaha Athletics Department. Experiencing both sides is a great feeling and I will forever cherish the memories I have made at UNO as a student-athlete and as a maniac. GO MAVS!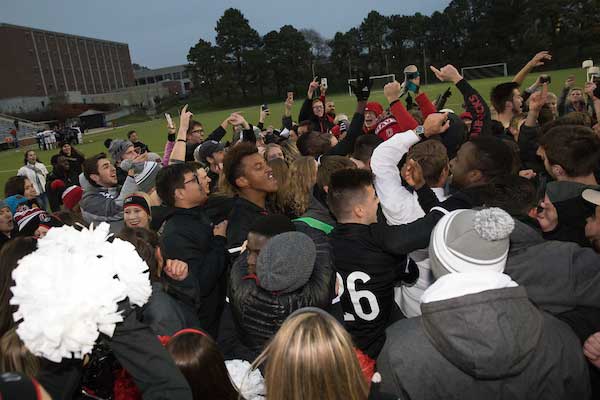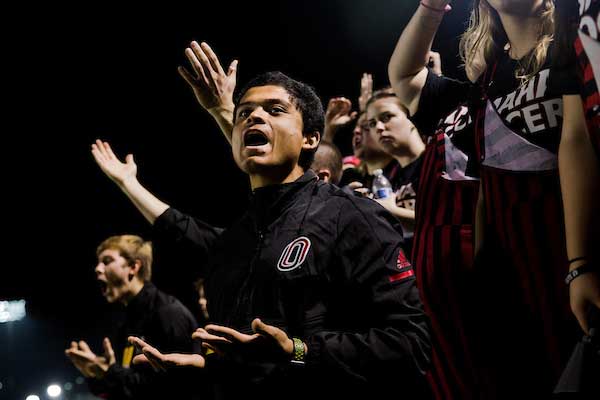 About the University of Nebraska at Omaha
Located in one of America's best cities to live, work and learn, the University of Nebraska at Omaha (UNO) is Nebraska's premier metropolitan university. With more than 15,000 students enrolled in 200-plus programs of study, UNO is recognized nationally for its online education, graduate education, military friendliness and community engagement efforts. Founded in 1908, UNO has served learners of all backgrounds for more than 100 years and is dedicated to another century of excellence both in the classroom and in the community.
Become a fan of UNO on Facebook and follow UNO's Twitter updates. 
Contact Us
If you have a story idea, news tip, or other question, please email the UNO News team at unonews@unomaha.edu.