Update Your Wifi Settings Today
UNOSecure will be decommissioned on May 12, 2019. Please be sure to update your wireless settings on campus.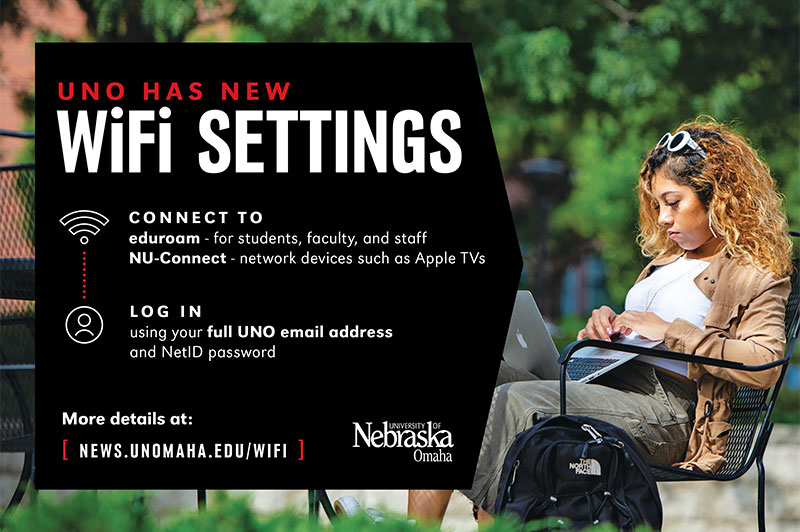 In December 2018, Information Technology Services updated campus wireless networks at UNK, UNL, and UNO to a common standard. There are three network options available at each location:
Eduroam - Secure network for students, faculty, and staff.
NU-Guest - Network for campus visitors such as guest professors, vendors, and event attendees.
NU-Connect - Network for IoT devices such as Apple TV's.
UNOSecure will be decommissioned on May 12, 2019. If you have wireless devices connected to the UNOSecure network, they will need to be moved to eduroam before May 12 to ensure continuation of service.
Existing campus networks will no longer be visible options when connecting to the network. Most personal devices have security settings that will require you to reconnect as a result. Faculty, staff, students should connect to eduroam when this happens.
These changes simplify the process to access the wireless network and provide improved mobility. By standardizing on eduroam, users will not have to log on to a different network when traveling between any of the university campuses, including UNMC. In addition, eduroam is used by many universities around the world, providing instant access on any campus that uses the standard (see US list). Wireless security will be improved and performance increased by reducing the number of competing networks.
Guest will remain logged on 14 days before they have to logon again. Support instructions for logging on to the wireless network can be found at wireless.unomaha.edu. For additional support, please contact the ITS help desk at 402.554.4357or unohelpdesk@unomaha.edu.
---
Contact Us
If you have a story idea, news tip, or other question, please email the UNO News team at unonews@unomaha.edu.