UNO, Zoo Initiative Provides K-12 Teacher Support
The latest issue of the University of Nebraska Foundation's "Pride of Place" magazine features the story of Preska Hinapa Wi Poor Bear and her experience with the UNO/Zoo STEM Initiative.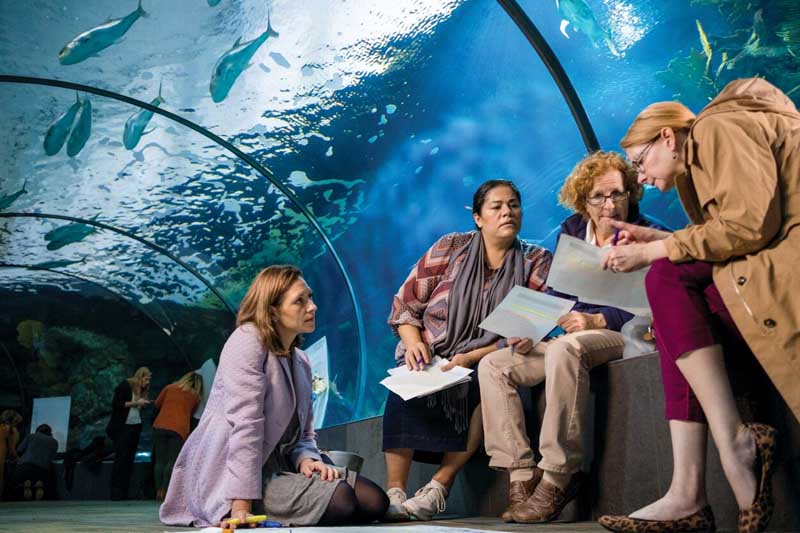 Preska Hinapa Wi Poor Bear (second from left) joins other K-12 teachers at November's "Math in the Aquarium" program, which is sponsored by UNO and the Henry Doorly Zoo and Aquarium in Omaha as part of a larger initiative to elevate STEM education in the metro
* This article previously appeared in the Spring 2018 issue of "Pride of Place," the official magazine of the University of Nebraska Foundation *
You can see math, she says, in all the circles of the Earth.
In the sun, stars and moon …
In the rivers, rain and sea …
In the birth, life and death of all the creatures of the Earth.
"Math is in everything," says Pteska Hinapa Wi Poor Bear, a fourth-grade teacher in Omaha who grew up on the Pine Ridge Indian Reservation in South Dakota. Hocoka Wakan – that's a Lakota word that means "the Sacred Circle."
"The Sacred Circle connects everything. It is continuous, and it just goes and goes and goes."
Poor Bear saw math in everything one night this past November at the Henry Doorly Zoo and Aquarium in Omaha as she and other teachers took part in the "Math Teachers Circle – Math in the Aquarium," a community outreach program sponsored by the University of Nebraska at Omaha and the zoo.
The program, an ongoing series of hands-on events for teachers, is part of the Omaha STEM Ecosystem, a citywide partnership led by UNO and the HenryDoorly Zoo, that connects Omaha-area K-12 teachers with exciting new ways to teach STEM lessons to their students through classes at the zoo. (STEM stands for science, technology, engineering and math.)
Poor Bear and the other teachers took a behind-the-scenes tour of the aquarium guided by one of the zoo's marine biologists, who used many STEM words as he talked about the technical side of keeping all the creatures alive.
The fish …
The turtles …
The tiger sharks …
As he talked, the teachers took notes.
Poor Bear smiled at the animals swimming in circles in their salt-water tanks. She signed up for the Math Teachers Circle, she says, because she believes kids learn best when they're given hands-on activities that use fun subjects from the real world, like the creatures of the zoo.
Downstairs in the aquarium's visitors' area, Poor Bear leaned her face near the glass of the penguin tank and laughed as she watched the penguins dive from their Antarctica-like perch of beach and boulders and swim right by her and then flop back onto their perch.
A zoo educator asked the teachers to solve some real-life aquarium math problems. At the penguin tank, she gave them the amount of money they had to spend on fish for the penguins to eat and how many pounds of food the penguins eat on an average day. How many days would that cover?
At the corals tank, she asked them to write a linear model of the growth rate for each coral, and then, using their equation, predict how big each coral would be after a certain amount of time.
Inside the clear tunnel that runs below the aquarium, she asked them to form smaller circles to collaborate on a final problem. She gave them data about the diet of the loggerhead turtle over a year. The overall goal was for teachers to notice that between January and February, the turtle had eaten no fish at all.
Why not?
Poor Bear knew.
"I said, 'It has something to do with mating or migration,'" she recalled the next evening, in a phone interview from her Omaha home. "I just picked up on it right away. Being Native American, and being connected to animals, and knowing that animals have these innate abilities to care for themselves, no matter if they're in their natural environment or in captivity, it stood out to me right away that those sea turtles were still following the patterns of the other sea turtles who don't live in captivity."
Poor Bear teaches at Liberty Elementary, a school in downtown Omaha. She has 22 students. Many are from low-income homes.
Math is in everything.
She tells them that a lot.
She tells them their class is a community — a circle — and that each one of them should help one another.
The entire fourth-grade curriculum in Nebraska public schools, she says, is Nebraska history. The first half focuses on the six Native American tribes that lived on the land long ago, including her Oglala. So each year for that section, she divides her class into six small circles, each named for a tribe. Each circle then studies its tribe. She tells then about how her tribe values community.
She tells then it's important to help your community.
She is 40. She has a job she loves. She's a mother. She can see now how she's come full circle to find herself back in fourth grade, such a sacred time in a child's life.
It was in hers.
The Pine Ridge Indian Reservation was in the poorest place in the country when she was a kid. Her family was poor. She was one of 14 children. When she was just 4, she was taken far away from her family and enrolled in a Catholic boarding school. She rarely spoke up. Some teachers thought she was stupid.
But her fourth-grade teacher, she says, noticed her love for learning. Especially math.
"She was amazing," Poor Bear says. "She did everything with us, and everything we did with her was hands-on. She showed us math in every way possible. And so with my students, I'm always trying to connect everything to them — it's connection, connection, connection. And I'm always trying to show them how math is so fun.
"That's why I'm so excited about the UNO/Zoo STEM Initiative. Lots of times these kids are taught all this stuff — basic things about math. But where do they apply them in real life? So things like the STEM initiative are vital to empowering students, educators and the community."
Poor Bear feels so grateful for that community of teachers she met at the zoo. She feels grateful, too, for the people in the community who gave money to support UNO and the zoo. Giving back to people, she tells her students, creates a ripple effect like on the water, and though you might not see it right away, it will come back to you.
Like a circle.
"So everything I embraced yesterday at the zoo — that is going to continue," she says, "because now I'm going to figure out a way to put it into my students' lessons and help them embrace that, too, and they're going to carry that on with them to fifth grade, sixth grade and maybe on to their parents and siblings. …
"So like a circle that goes and goes and goes, that connection won't stop."
About the UNO Fund
There's a reason UNO graduates are known as Mavericks. We forge our own path, go against the grain and fine new and innovative solutions to today's realities. With that spirit, UNO has introduced a new way for alumni to make an immediate and lasting impression on today's students: the UNO Fund.
When you give to UNO through the UNO Fund, you choose how your gift will be used because, as a Maverick, you know the kind of impact you want to make on our university and our world. Whether you give to scholarships, faculty development, your college or the greatest needs of the university, you bring a Maverick student one step closer to achieving her dreams.
When every graduate gives a little, UNO students win big. That's the idea behind the UNO Fund: Everyone for Omaha. Learn more and donate at https://nufoundation.org/UNOFund
About the University of Nebraska at Omaha
Located in one of America's best cities to live, work and learn, the University of Nebraska at Omaha (UNO) is Nebraska's premier metropolitan university. With more than 15,000 students enrolled in 200-plus programs of study, UNO is recognized nationally for its online education, graduate education, military friendliness and community engagement efforts. Founded in 1908, UNO has served learners of all backgrounds for more than 100 years and is dedicated to another century of excellence both in the classroom and in the community.
Follow UNO on Facebook, Twitter (X), Instagram, TikTok, LinkedIn, and YouTube.