New UNO Buildings and Maps Page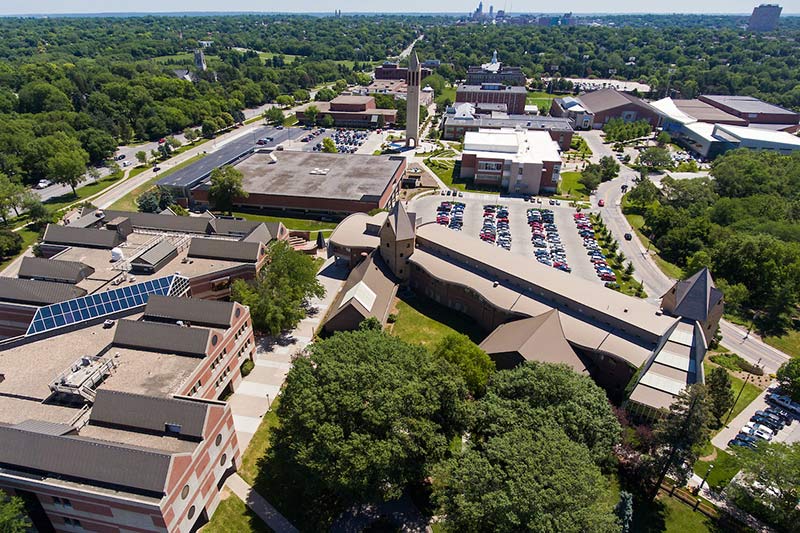 The Digital Communications team in partnership with Information Technology Services created a new buildings and maps page to help both current faculty, staff and students, and also visitors find maps and building information more easily.

The project was part of the Digital Communications 2018 Roadmap and chosen due to its high amount of traffic and increased need for users to way-find as the campus has grown since launching the new website in 2013. The page ranks 23rd overall in site traffic, and during the academic year, averages around 4,000 visits per month. Not surprisingly, jumps in traffic occur during the start of each semester.

The team will replace the old version of the page after the semester ends and commencement takes place. The official launch is May 9. This new page will continue to house all of the campus maps, including parking, shuttle, and restroom maps, as well as information about all buildings located on each of UNO's three campuses.
The page ranks 23rd overall in site traffic, and during the academic year, averages around 4,000 visits per month.
This additional building information will help students and visitors who may be unfamiliar with our campuses find a specific building or office. Laying out this important information in a more standardized format will ensure that we present accurate and easy-to-read information about UNO buildings for visitors to the UNO site. It will also allow visitors to find departments, colleges or other services in these buildings, as links will be provided in each building page.

The building information will also be used in the UNO Mobile App (coming summer 2018), and was used to populate UNO's Google business listings (a 2016 project).

Most areas have web leads to assist you if you have questions about your college or department web pages. The Digital Communications teams (ITS, UComm, and the web leads) led by the Digital Communications Executive Committee, have additional summer projects laid out on the roadmap.

Some noticeable roadmap projects you may notice for 2018 include:
College, Department and Centers Homepage template refresh
Profile template updates to assist faculty and staff
Mobile Navigation and pop-out enhancements
See the full list of roadmap projects
If you have additional questions or project ideas, please contact your lead, or University Communications through
Start Your Project
.
Contact Us
If you have a story idea, news tip, or other question, please email the UNO News team at unonews@unomaha.edu.