Phi Kappa Phi Honor Society Inducts New Members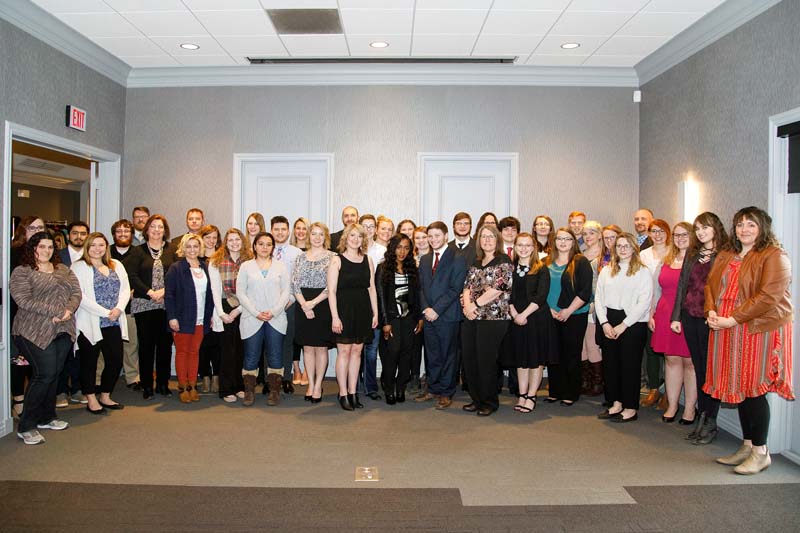 The 2018 Class of Phi Kappa Phi
On Monday, April 9, a new class of inductees to the Phi Kappa Phi honor society were welcomed into the University of Nebraska at Omaha's (UNO) Corinthian Chapter of the 111-year old national honor society.
The event, which welcomed new UNO student and staff members, took place at the Thompson Alumni Center and featured a guest keynote by graduating UNO senior and Phi Kappa Phi member Zachary Meade.
Phi Kappa Phi was founded in 1897 and is the nationa's oldest, largest and most selective honor society that crosses multiple academic disciplines. Members are selected for their academic excellence with junior inductees needing to rank in the top 7.5 percent of their class and seniors ranking in the top 10 percent of their class. Faculty, staff and community members who are not already members can also be so nominated for their academic contributions.
UNO's Corinthian Chapter was founded in 1966, making the class of 2018 the chapter's 52nd class.
A full list of this year's inductees are included below:
Ali Al Lawati
Daniel Alicdan
Yousef Awwad
Natalie Backora
David Bahwawsi
Arty Bateman
Elise Beal
Aaron Beard
Julie Bierman
Jamie Bish
Judy Bodewitz
Anne Marie Boose
Lauren Brauer
Adam Bridges
Jennifer Briggs
Brittany Brown
Courtney Carlson
Jonathan Cate
David Chouinard
Gina Comstock
Shelby Connett
Dusten Crichton
Stephanie Dine
Samuel Douchey
Christy Eanes
Kathryn Edwards
Brianna Eisert
Jacob Ellingson
Robert Fankhauser
Thomas Feulner
Brooke Fletcher
Dawne Frain
Christopher Furman
Emelia Getzfrid
Lisa Giambattista
Abbie Hall
Rhonda Hamborsky
Sanjar Hamidi
Jorden Hansen
Cale Harless
Patrick Hodson
Allie Huffman
Bethany Hughes
Deanna Ingram
Zane Jensen
Rachel Kabore
Karl Karch
Brandon Keffer
Amber Kelly
Ayse Kizilkaya
Thomas Koch
Daniel Kuchar
Gabriel Larsen
Andrew Leavitt
Emma Lindemeier
Michelle Linder
Jennifer Mack
Cesar Magana Linares
Samuel Manning
Alexis McClung
Benjamin McIntire
Kian McIntosh
Eros Mejia-Hernandez
Kyla Miller
Bailey Morley
Ashley Murray
Mary Kathleen Nelson
Ryan Newton
Kaylee O'Dell
Jeremy Paulson
Abbie Perry
Phil Ruhe
Sagan Ruskamp
Samantha Sack
Isabella Saklar
Samantha Sanjurjo
Christina Schik
Kelli Schilken
Da Shen
Amanda Shurtliff
Katie Siwa
Maxine Stuhlmiller
Sarah Teten Kanter
Lindsey Tjards
Nicole Toren
Kayla Torson
Morgan Vasile
Matthew Vondrasek
TiShara Wardlow
Jacqueline Wilkie
Genevieve Williams
Christopher Winchester
Olivia Zeman-Renner