Omaha South Students Get Coding Crash Course At UNO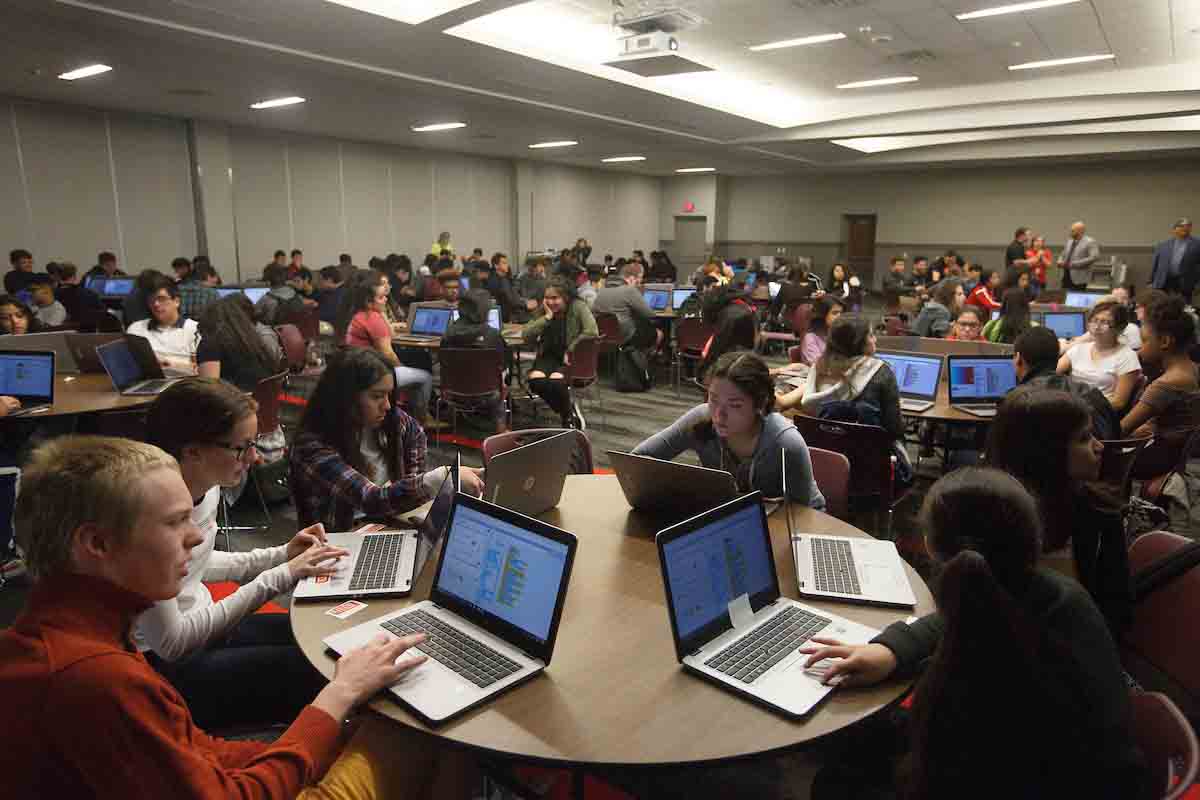 It's important to get started at a young age if you want youth to be interested in a particular field.
That's what a recent collaboration between Omaha South High School, the Hispanic Heritage Foundation (HHF), and the University of Nebraska at Omaha (UNO) hopes to do.
On Wednesday, April 26, more than 200 freshmen from Omaha South High School came to UNO to participate in "Coding As A Second Language," a collaborative event that aims to increase diversity in the field of information technology (IT).
The students used a platform called Scratch to develop an application and learn the beginning stages of coding.
The event involved two sessions, each with more than 100 students hammering away at their computers at once.
"It's really neat to walk around and see how engaged they are," said Ruben Cano, principal at Omaha South High. "They're learning as they go. To be with 100 of your peers typing away at the same time is a fun experience."
Omaha South High is the Omaha Public Schools system IT magnet school. Cano believes these kinds of partnerships will get more students interesting in joining their program.
"We're always looking for partnerships like this one to enhance experiences for our students," he said.
The collaboration goes back three years when Jonathan Benjamin-Alvarado, associate vice chancellor for student affairs at UNO, was talking with his close friend Antonio Tijerino, who also happens to be the CEO at HHF.
Tijerino told Benjamin-Alvarado they wanted to do more work with UNO and in the city of Omaha. When Benjamin-Alvarado pitched "Coding As A Second Language" to Cano, he and his staff were completely on-board.
"Not only is this part of our community engagement mission, it's a way to solidify our relationship with the public schools and to give young people the opportunity to think about coming to UNO and pursuing a degree in computer science, IT, or cybersecurity," Benjamin-Alvarado said. "We're planting the seed."
It's a mutually beneficial partnership that matches UNO's mission, Omaha South High's mission as an IT magnet, and HHF's mission of preparing young Hispanic students for the workforce.
"It's a marriage made in heaven because it's fulfilling both their interest as an IT magnet for the public schools, but also for the university just trying to create more excitement about UNO, so it's a no-brainer," Benjamin-Alvarado said.