MavForensics Earns Ninth-Consecutive Top-10 National Ranking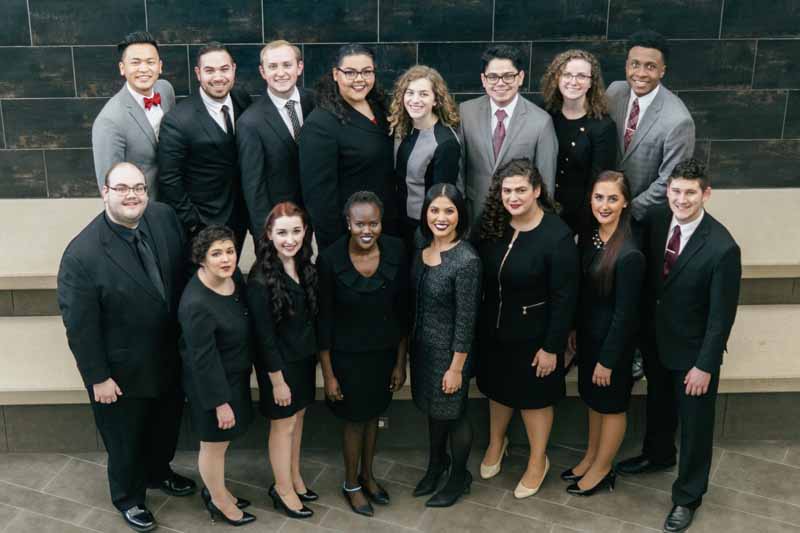 The 2018 MavForensics team
OMAHA – The University of Nebraska at Omaha's (UNO) competitive speech team, MavForensics, continues to stand out as the Midwest's top competitive collegiate speech team, earning a sixth-place finish at the 2018 American Forensics Association National Individual Events Tournament on Monday, April 9.
This is the ninth consecutive year that MavForensics has placed among the top 10 teams in the country and the second consecutive year they've placed sixth. Earlier this year, the student team earned their fourth consecutive first-place finish at the Nebraska Intercollegiate Forensics Association tournament.
Other ranked teams from Nebraska included Hastings College (No. 8) and the University of Nebraska-Lincoln (No. 12).
The 2018 AFA-NIET took place at Colorado College in Colorado Springs, Colorado, from Friday, April 6, through Monday, April 9. This year's MavForensics team included 17 competitors across 11 different categories, including Impromptu Speaking, Dramatic Interpretation, Communication Analysis and Informative Speaking.
This year, MavForensics sent 12 of its competitors to the quarter finals, eight to the semi-finals and secured three finalists.
Among the UNO finalists, junior Chloé Romero placed fourth in Prose Interpretation and fifth in Program of Oral Interpretation. Seniors Raul Herrera and Gordan Ip placed fourth in Duo Interpretation.
Members of this year's team are as follows:
Sam Burville, Junior
Katherine Coonce, Freshman
Alissa Duong, Senior
Karina El-Refai, Sophomore
Katiana Fischer, Junior
Ameres Groves, Junior
Dominic Hernández, Senior
Raul Herrera, Senior
Gordon Ip, Senior
César Magaña Linares, Junior
Thomas Martinez, Junior
Sarah Maul, Junior
Seth Nelson, Sophomore
Megan Ojeda, Sophomore
Abbie Perry, Junior
Chloé Romero, Junior
Nymal Ruot, Junior