Updates to Eppley Administration Building Construction
UNO Facilities is continuing north entry repairs and internal re-models for the Eppley Administration Building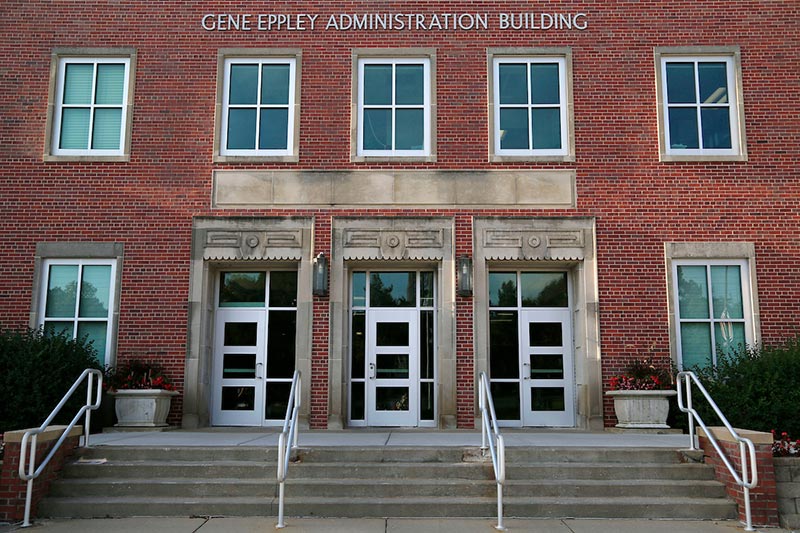 Water Line Installation - COMPLETED
Beginning on Monday, May 7, UNO Facilities will begin installation of a water line located on the north side of the Eppley Administration Building to the northeast corner of the Milo Bail Student Center. The project is projected to be completed by May 14, weather permitting.
This project will require the closing of Parking Lot B North (directly in front of Eppley) and will also block access to the loading docks and Parking Lot B South (between Eppley and Milo Bail Student Center).
Water service to Eppley will remain in place throughout the project.


Eppley North Entrance Repair - SEE UPDATE
Beginning later the week of May 7 or early the week of May 14, the concrete steps, sidewalks at the top and bottom of the steps, end walls, retaining walls and hand rails will undergo replacement. This project is expected to take approximately two weeks, weather permitting.
Parking Lot B North will remain completely closed during this project, however, access to Parking Lot B South and the loading docks will be available.
* UPDATE (June 7): North entrance repairs are entering their final stages and there is now fully open access to the ramp ways leading to the north Eppley entrance. Additionally, vehicle traffic and parking are now available in Lot B North. Stair access continues to be restricted for the time being. *

Cashiering and Student Accounts Remodel
Cashiering and Student Accounts will undergo a remodel project beginning on May 7 taking approximately 30 working days.
Parking Lot B North and South will be open, with the exception of three parking spots. Work vehicles will occupy two parking spots in Lot B North and a dumpster will occupy one spot in Lot B South for the duration of the project.

View a map of the obstructed areas
Contact Us
If you have a story idea, news tip, or other question, please email the UNO News team at unonews@unomaha.edu.