Collaboration is Theme of UNO Hackathon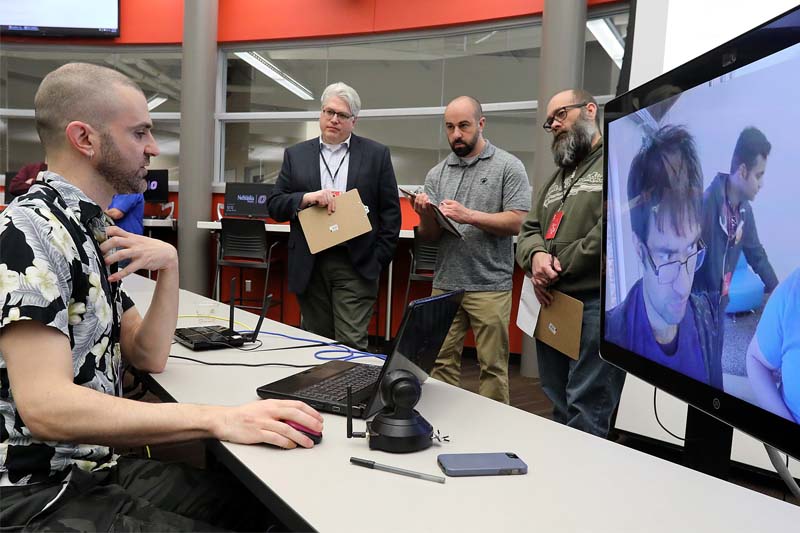 This past weekend, three Omaha teams joined 13 teams in Boulder, Colorado, for a joint "Hackathon" event designed to identify the next big idea that will help the U.S. government combat the threat of cyberterrorism.
From Friday, April 6, through Sunday, April 8, teams of students, IT professionals and specialists spent 48 hours on the campuses of the University of Nebraska at Omaha (UNO) and the University of Colorado-Boulder to participate in MD5's Physical Cybersecurity Hackathon.
MD5, an innovation accelerator for the U.S. Department of Defense, joined locally with the UNO College of Information Science and Technology and Nebraska Applied Research Institute (NARI) to challenge local teams to find ways to prevent criminals from accessing business and governmental digital infrastructures.
"The Hackaton was about providing a solution to one of many different problems," explains Kendrick Urbaniak, a cybersecurity and computer science undergraduate student at UNO. "We ultimately tried to solve the NARI solution, which was the industrial control systems setup, where they had a bunch of PCAP files, which are basically network traffic files they gave us that had clean traffic and attack vector traffic."
At the end of the hackathon, each team from both Omaha and Boulder was judged by a group of experts and industry leaders, including representatives from NARI, USSTRATCOM and Bellevue University. After presenting their solutions, a group of six finalists from across both locations were selected to present their pitches to the judges a final time.
None of the three Omaha teams ended up winning the competition, the final prize being a $15,000 grant to work with MD5 to take their idea from concept to reality.
Yet, despite there only being one winner chosen, the work occurring at the Hackathon also allows for peers and mentors to share their ideas, creating opportunities for important networking and brainstorming on a topic that poses a constant threat to the country.
"It's always happening. There is always a nation state or non-nation state trying to figure out how to break into industrial control systems because they are really valuable," Urbaniak says. "The NARI people were very helpful with us because we had never done anything with industrial control systems so they offered their experience … so they helped us a lot."
Collaboration efforts didn't just occur among the participants, but among the two host schools and the partnering groups of UNO, MD5 and NARI.
"The collaboration between Omaha and Boulder is not only that they have teams there and we have teams here, but actually we have a few experts here and challenge briefs presented from Bolder and a few challenge briefs presented from here, so both sides had a combination of in-person and virtual talks," explains Robin Gandhi, associate professor of cybersecurity at UNO.
Gandhi says the partnership and collaboration featured at the Hackathon is something the College of Information Science and Technology has been involved in for decades at the Peter Kiewit Institute on UNO's Scott Campus, which also houses the University of Nebraska-Lincoln College of Engineering and hosted this weekend's Omaha Hackathon.
"PKI is a prime example where there are architectural engineers coming together with computer scientists to building something like this. I think that's essential and I think Hackathons will play a huge role in emphasizing the multidisciplinary nature of the next innovation."
While the world's most pressing issues can't be solved in just 48 hours, the work being done through partnerships like the Hackathon, between MD5, NARI and UNO, it is the long-term partnerships created from events like the Hackathon that will help propel Omaha and the rest of the country forward in keeping the vital operations of government and business safe.
"No longer can we just innovate in a single lab," Gandhi says. "Innovations often happen in applied areas and that's where collaboration and public outreach becomes useful."