Nebraska Representatives Meet With USSTRATCOM Fellows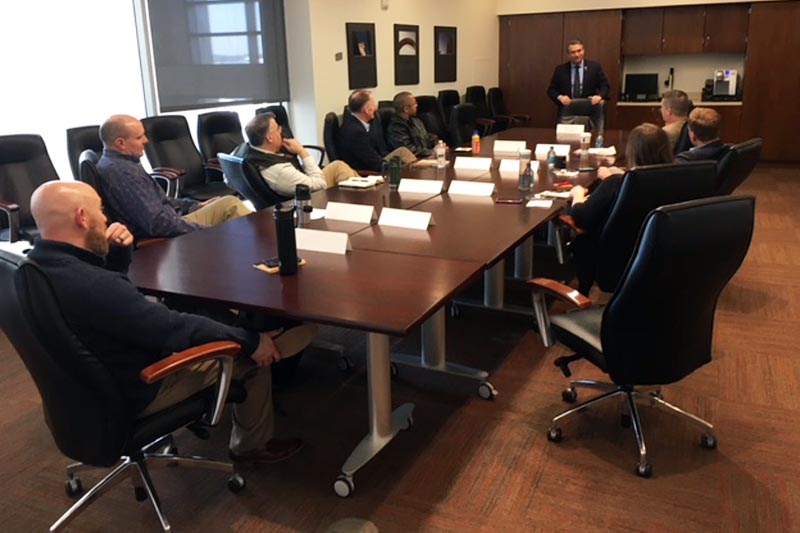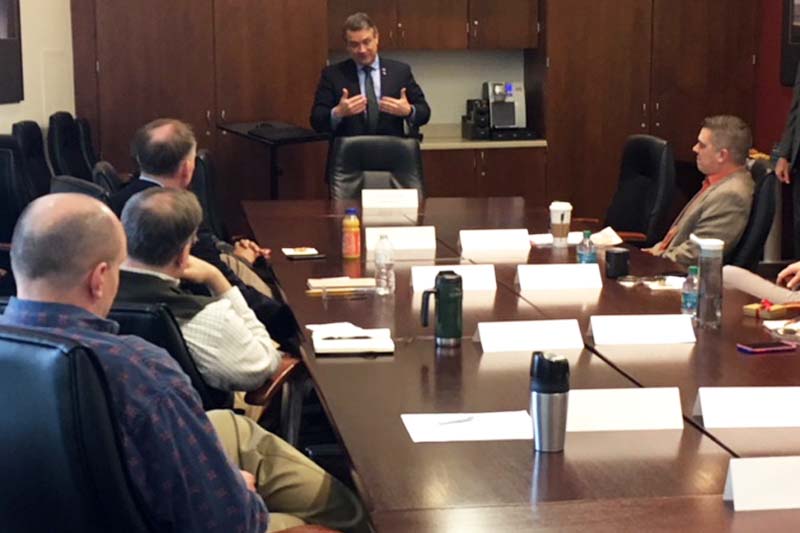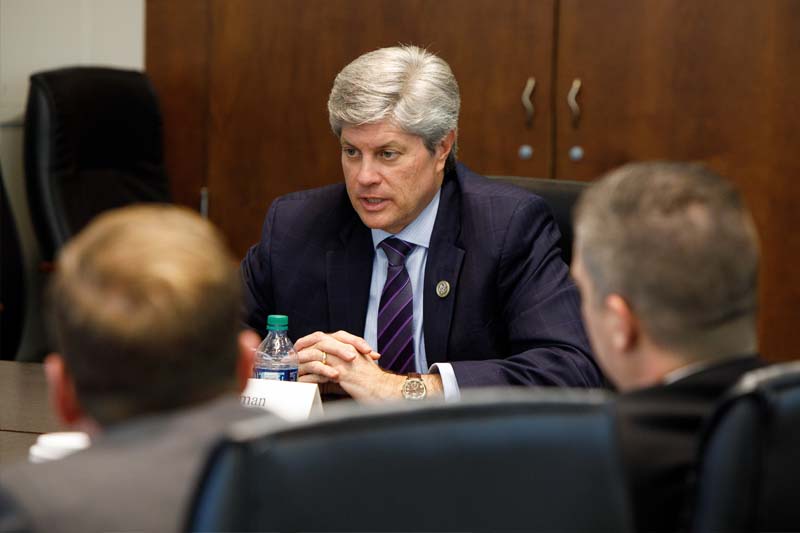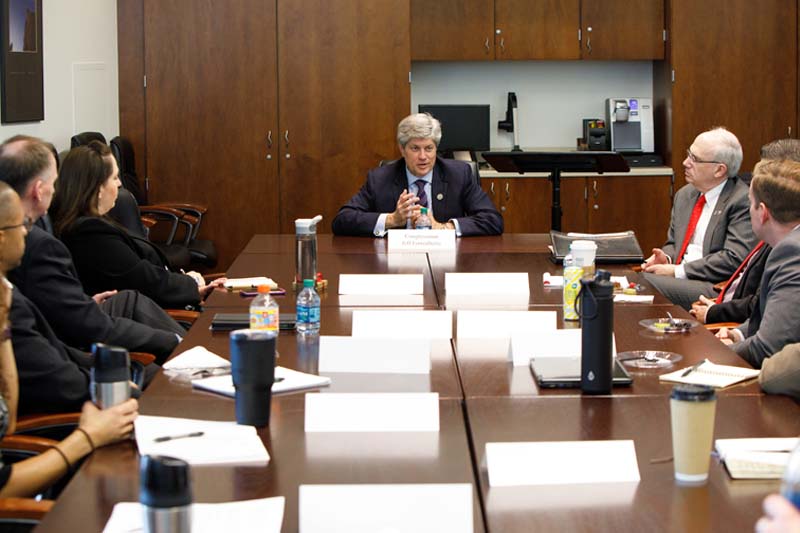 Two of Nebraska's members of the U.S. House of Representatives recently met with members of a program partnership between the University of Nebraska at Omaha (UNO), United States Strategic Command (STRATCOM) and the National Strategic Research Institute (NSRI) to discuss national security needs in the 21st century.
Congressman Jeff Fortenberry of Nebraska's 1st District and Congressman Don Bacon of Nebraska's 2nd District spent time in March meeting with 10 members of the USSTRATCOM Strategic Leadership Fellows Program, a 13-week program to teach civilian leaders in USSTRATCOM skills in areas such as team building, collaboration management, data-driven decision making and project management, combined with mission-core competency development.
At the meetings, Reps. Fortenberry and Bacon discussed the role civilians play in national security, threats facing the United States, the current political environment and the importance of strong organizational leadership.
"These fellows represent the best of the best of the civilian workforce at STRATCOM and I was impressed with the depth of knowledge they exhibited during our meeting," Rep. Bacon said of his visit. "I shared my vision of what it takes to be a successful leader and specifically the need for mentoring those working for you. A good leader doesn't just have goals and a mission to accomplish for their organization, but should have a plan to help develop the skills of those working on the goals and mission."


@STRATCOMFellows w/ @RepDonBacon -- thank you for the leadership lessons and insight! #moveforwardfast #fellows #sf2018 #Nebraska pic.twitter.com/BhKZkaaxNl

— USSTRATCOM Fellows (@STRATCOMFellows) March 9, 2018


Thanks for having me! I enjoyed our discussion on leadership, defense budget, cyber, and space issues on the Hill. https://t.co/isWT3wrvQY

— Rep. Don Bacon (@RepDonBacon) March 9, 2018

The meetings took place at UNO's Mammel Hall, home to the College of Business Administration and the home for the USSTRATCOM Strategic Leadership Fellows Program. The meetings are just one of the benefits of being involved in the program, which also brings the fellows together with local business leaders, nonprofit organizations and faculty experts from across the NU system.
In his meeting with the Fellows, Fortenberry stressed that the roles held by members of the program are vital to the pursuit of international peace.

"[The military's] willingness to sacrifice actually creates the space for diplomatic engagement and the possibility for peace. All of the important missions at STRATCOM ultimately are oriented toward keeping us in a position not only where we are strong, but we remain safe; and if we remain safe then we leave the possibility of building out linkages with other peoples and other cultures to create the conditions for trust and good will and mutual benefit."
Important meeting with emerging leaders in the USSTRATCOM Leadership Fellows Program today at UNO. One-of-a-kind partnership between a combatant command and state university. @US_Stratcom @STRATCOMFellows pic.twitter.com/PyjOcY5t5D

— Jeff Fortenberry (@JeffFortenberry) March 12, 2018

NSRI's Jim Taylor, a senior research engineer and director of the Fellows program, said that the program is a vital partnership that helps maintain strong leaders in positions that play a key role in keeping the nation safe.
"It is vital that we expose our program participants to organizational structures and management skills that are different than those they see in their day-to-day roles in USSTRATCOM," Taylor said. "Each Fellows graduate leaves with a diversified skill set that they can bring back to their units and respective staff to spur positive organizational change that enhances the USSTRATCOM mission."
The USSTRATCOM Leadership Fellows Program launched in 2014 and is a one-of-a-kind initiative bringing together elements of the United States Department of Defense, university expertise and community leaders.
This year's fellows joined the program in January. Following completion of the program, marked by a graduation ceremony in April, participants will return to their positions at USSTRATCOM with certificates of completion. Participants are also provided credit towards a UNO graduate degree by completing the Strategic Leadership Fellows Program coursework.


;