First-generation student Melissa Ramos finds success at UNO and abroad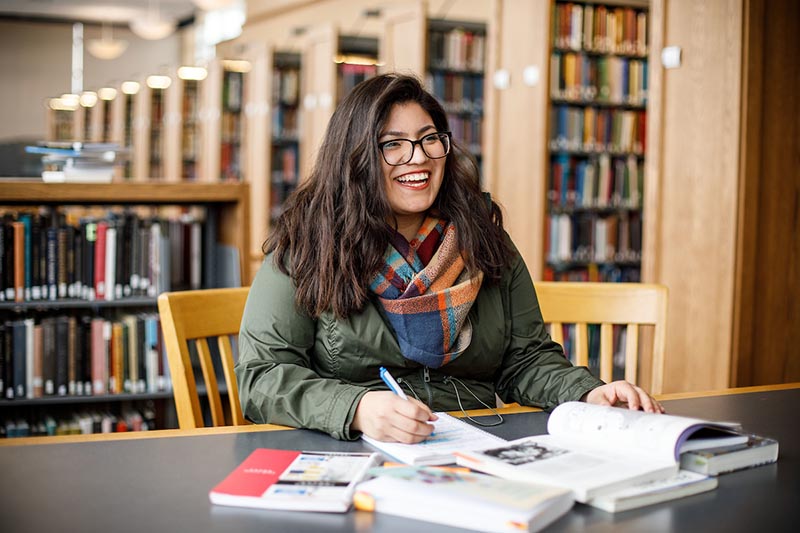 Many people find value in the ability to speak more than one language, but for first-generation student Melissa Ramos, mastering two languages is just the beginning.
Ramos said that she is not entirely sure what her post-graduation plans are, but when asked how many languages she hopes to learn, she responded, "All of them."
Proficient in English and Spanish, Ramos is working towards a B.A. in Spanish and Latino studies. Ramos is also studying a variety of other languages, including Persian, Tajik and Farsi.
"I got involved in Air Force ROTC my first two years of college and from there I received a language scholarship to study Persian," Ramos said. "Last summer I also went to Tajikistan. It was awesome. I studied the Tajik language there for two months and got to stay with a host family."
While she will walk during May Commencement, Ramos said she will have three more credits to complete before officially graduating, and while still a student she hopes to study abroad in Costa Rica or Mexico over the summer.
There is one more place Ramos wants to go before leaving UNO.
"I want to study abroad more, and apply for a semester abroad in Russia, then come back and apply for graduation," she said.
Ramos said she is considering a few paths beyond graduation.
"I want to break language barriers and I want to get involved in a government service," Ramos said. "I don't know exactly what I want to do yet, but maybe Teach for America, or like a nonprofit or a government program—somewhere I could teach English while learning other languages."
Ramos not only devotes her time to expanding her language proficiencies and exploring new cultures while at UNO, she also volunteers for Habitat for Humanity and the Big Brothers Big Sisters program.
"I joined [Big Brothers Big Sisters] because I wanted a little who I could mentor and share what I've learned," Ramos said.
Ramos said many of the opportunities she has had she owes to TRIO Project Achieve.
"Because I am a first generation student, that helped me a lot, and if it weren't for Project Achieve I wouldn't have gotten the scholarships I have gotten or all the support I've had these past three years," Ramos said.
The TRIO Project Achieve program is a student support service that offers tutoring and advising for first-generation students or low income students.
Ramos may not have her future entirely planned out, but one thing for certain is that, even after graduation, she still intends to travel abroad.
In the distant future, Ramos said she would like to apply for a graduate program and earn an English as a Second Language (ESL) degree, which would certify her to teach English in Japan.
About the University of Nebraska at Omaha
Located in one of America's best cities to live, work and learn, the University of Nebraska at Omaha (UNO) is Nebraska's premier metropolitan university. With more than 15,000 students enrolled in 200-plus programs of study, UNO is recognized nationally for its online education, graduate education, military friendliness and community engagement efforts. Founded in 1908, UNO has served learners of all backgrounds for more than 100 years and is dedicated to another century of excellence both in the classroom and in the community.
Follow UNO on Facebook, Twitter, Instagram, TikTok, LinkedIn, and YouTube. 
Contact Us
If you have a story idea, news tip, or other question, please email the UNO News team at unonews@unomaha.edu.