A 'defining moment in Nebraska's history'
contact: Melissa Lee - University of Nebraska System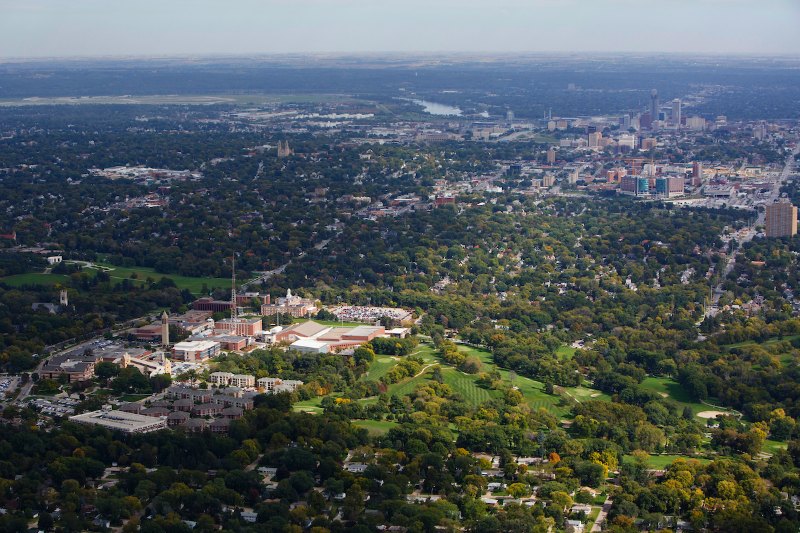 Editor's note: University of Nebraska President Hank Bounds' full written testimony to the Appropriations Committee is available here.
University of Nebraska President Hank Bounds, Ph.D., and Board of Regents Chairman Rob Schafer were joined Wednesday by students, leaders in business and agriculture, community members and other NU supporters in asking members of the Legislature's Appropriations Committee to make affordable, excellent higher education a priority for Nebraska's future.
Representatives of Nebraska's chambers of commerce, Agriculture Builders of Nebraska and the private sector; students; and a cancer patient who has received life-saving treatment at the medical center were among those testifying to the committee. In addition, hundreds of Nebraskans wrote letters to the committee voicing their support for continued investment in the university and expressing deep concerns about the impact the governor's recommended budget reductions would have on the university's competitiveness and affordability for students and families.
In a packed hearing room, Dr. Bounds asked legislators to consider what kind of future they envision for their children and grandchildren.
"We are at a defining moment in Nebraska's history. We have a choice to make," Dr. Bounds said.
"Are we going to reaffirm the partnership between the state and its public university that has opened the door of opportunity to young people and driven economic growth for almost 150 years?
"Or will you decide that you no longer see the value that the University of Nebraska provides, and make it harder for us to offer affordable and excellent education to our 53,000 students?
---
---
". . .The university has been and will be a partner in helping you manage this challenge. But if we want Nebraska to compete, if we want this to be a place where our children and grandchildren will live and work and raise a family, if we want to build a workforce that will sustain us into the future, we have to invest in one of the primary economic drivers our state has. And that is the University of Nebraska."
In reviewing the impact of budget reductions, Dr. Bounds noted that NU campuses currently represent a great value compared to peer institutions -- but tuition increases would threaten access at a time when the workforce demands more college graduates, not fewer.
He noted that cancer rates in Nebraska are higher than the national average -- including one of the highest rates of pediatric cancer in the country and the second-highest rate of pediatric brain cancer -- and that Nebraska has increasing incidences of pancreatic cancer, bladder cancer, malignant skin tumors, liver cancer and thyroid cancer.
"We have some of the best cancer doctors in the nation right here in Nebraska who are working day and night to find answers. But if we don't invest, the numbers aren't going to improve," he said.
Under the governor's budget proposal, the university's state funding would be cut $11 million this year, and next year's appropriation would be reduced by $23 million. These represent one-third of the governor's proposed cuts, despite the fact that the university makes up only 13 percent of state spending. And the proposed cuts represent the third cut to the university in the past year.
The governor's recommendation has required university-wide teams to begin campus processes for budget reductions. The University of Nebraska-Lincoln, University of Nebraska at Omaha, University of Nebraska at Kearney and UNMC all released proposed cuts this week which will now be subject to campus vetting processes. These include elimination of academic programs, job reductions and a retreat from the university's statewide presence.
Dr. Bounds said the release of the proposed cuts has made for a difficult week for the university, particularly at a time of momentum and opportunity when the university is in a strong position to help grow Nebraska's workforce and economy. The university produces 11,000 new graduates each year for the workforce, returns $6 for every $1 the state invests and is increasingly a leader in areas important to the state and world like agriculture, cancer research and national defense.
Nevertheless, painful conversations about programmatic cuts and tuition increases are necessary, Dr. Bounds said, given that the university has already identified $30 million in operational reductions as a result of past cuts in state funding. The university has about the same number of employees supported by tax and tuition dollars today as it did in 2000, even though enrollment has grown from 45,000 to almost 53,000.
Dr. Bounds asked the committee to restore the university's base funding to $580 million in 2018-19 in order to limit damage to NU's trajectory and send the right message to young people, top talent and companies the state hopes to recruit.
"I'm asking you to make a choice about the future of Nebraska," Dr. Bounds said. "I hope you will decide that the University of Nebraska is a priority for our state."
What Others are Saying
The Following are additional quotes from testifiers at Wednesday's hearing.

"It's an incredible honor to be Chairman of the Board during a period of such momentum and opportunity for our University and state. It is also sobering to assume this role at the exact time that we are facing budget cuts that could stall our trajectory."
-Rob Schafer, chairman, University of Nebraska Board of Regents
"Like many, I came to the University of Nebraska in search of an opportunity. To pursue higher education, get a good job, start a family and offer my children every chance to be successful - because that's the Nebraska way. At UNO, this is the story of at least 44% of our students who are considered first generation. And you'd hear similar stories across the University of Nebraska system."
-Carlo Eby, Student Regent and Student Body President, University of Nebraska at Omaha


"While I was undergoing my treatment, the Fred & Pamela Buffett Cancer Center was being built. For me, it felt like hope was being physically built from the ground to the sky. Seeing that building going up, I thought, 'What an incredible time to be in Nebraska,' because when you see so much effort put into something, you know it's only the beginning of great things to come. Why on earth would we make a decision to back away from that? I'm concerned that if funds are cut this year, then what is to stop this from happening year over year? And then suddenly, we have a beautiful facility that is depleted of the life-altering research that was the impetus for a cancer center in the first place."
-Ashli Brehm, a breast cancer survivor from Elkhorn who was treated at UNMC


"The university's contributions to Nebraska agriculture are numerous and significant. It is not an exaggeration to say that Nebraska has become a global leader in this area thanks in large part to innovations born out of University research. We should be proud of that. And we should make decisions that help keep that momentum going."
-Bart Ruth, immediate past president, Agriculture Builders of Nebraska


"I've spent years working alongside fellow alumni and friends - people who care about this University, who recognize its vital link to the success of the state, and who want to see it change other peoples' lives the way it changed theirs. Here's what I've learned: The connection and commitment that alumni and friends, in Nebraska and around the world, have to their University is truly remarkable."
-Tonn Ostergard of Lincoln, past chairman of the University of Nebraska Foundation, chairman of Crete Carrier Corp., and one of 187,000 NU alumni in the state


"As a businessman, I personally know how important the University of Nebraska is to employers. The University draws new people to our state and educates our future talent pool. We need to keep the University of Nebraska funding at a level that aligns with its role in helping build our economic strength."
-Marc LeBaron, chairman & CEO, Lincoln Industries, on behalf of the Lincoln Chamber of Commerce
Contact Us
If you have a story idea, news tip, or other question, please email the UNO News team at unonews@unomaha.edu.