Community Engagement Spotlight | Lee Denker
Lee Denker is the Executive Director of UNO Alumni Engagement and President and CEO of the UNO Alumni Association.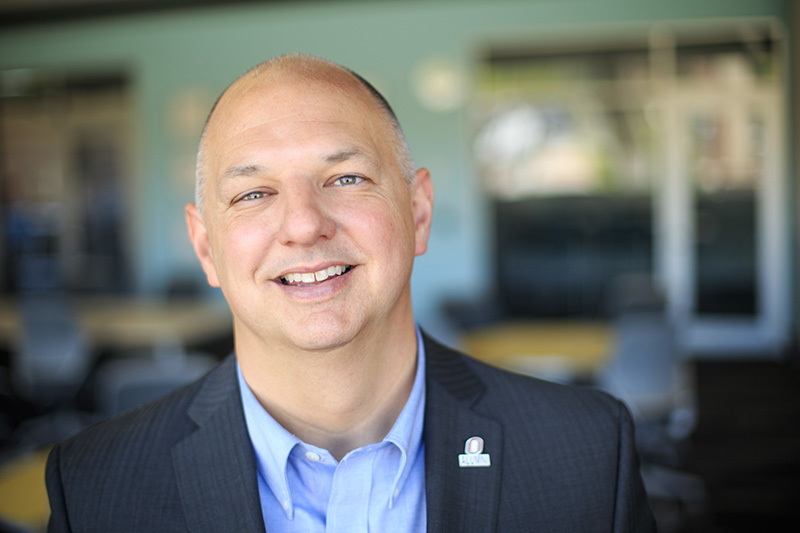 In July 2006, Lee Denker returned home (Omaha) to lead the UNO Alumni Association (UNOAA) as President and CEO. Denker was excited to return home from the Northwest after five years because he recognized that both Omaha and UNO were positioned for remarkable futures – both individually and through connections with one another. A shared connection that is meaningful to him is the thousands of alumni who call Omaha home and who contribute to the local economy. Alumni numbers continue to grow and, he believes, improves the metro area's quality of life because of their work and volunteer contributions.

"You don't have to look far to see the impact that UNO has on Omaha. There are 55,000 alumni who live within an hour of campus, and even more who attended classes but did not graduate. It is a very large and increasingly proud alumni network."

Through the years, the UNOAA has strengthened connections and engaged with UNO through programs like the Young Alumni Academy, monthly Golden Circle Luncheons, events in cities throughout the country, ShowTheO.com, and a comprehensive communications program that includes "UNO Magazine", a monthly e-newsletter, and social media. The Association also operates UNO's Thompson Alumni Center, which welcomes 50,000 guests per year.
To better serve the needs of UNO and its growing alumni and donor base, last year the UNOAA integrated programming with the University of Nebraska Foundation. The new department of UNO Advancement, which includes both programs and is housed within the foundation, launched in July. Denker now serves a dual role as Executive Director of UNO Alumni Engagement for the foundation as well as maintaining his role with UNOAA.
"Integrated models like this are in place at many successful institutions across the country, it is new and different at UNO but I am confident that it will lead to more opportunities for alumni to be engaged with and supportive of our growing campus."

Outside of work, Denker has made it a personal priority to get involved in the community. He currently serves as President of the Papillion LaVista Schools Board of Education and is an active volunteer with the Papillion LaVista Schools Foundation. Nationally, he serves as one of 17 members on the CASE (Council for the Advancement and Support of Education) Commission on Alumni Relations, and as a member of the CASE District VI Board of Directors that serves advancement professionals in seven midwestern states.
---
Campus Commitment to Engagement
Community engagement and service are fundamental components of UNO's identity. This commitment to engagement is reflected in UNO's academics, student body, partnerships, and institutional framework. As an engaged campus, UNO values mutually-beneficial partnerships where information and expertise is shared and applied for the common good.
Share Your Story
Did you organize or participate in a community-oriented project or service? UNO wants to hear from you! UNO is committed to community engagement in its broadest form, and wants to feature your community service story.
Submit your story on MavSYNC or via e-mail.
Read other community engagement spotlight stories.
Contact Us
If you have a story idea, news tip, or other question, please email the UNO News team at unonews@unomaha.edu.