UNO Honors Students Battle Extremism through a New Perspective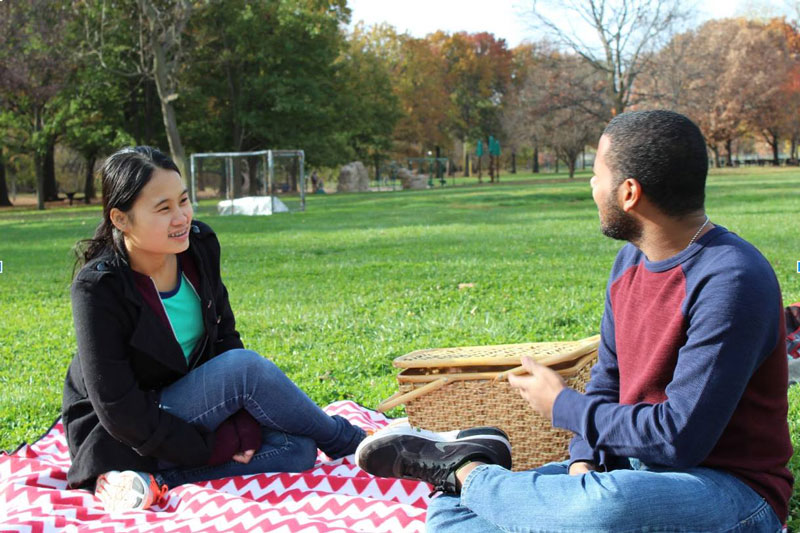 An Honors section of Hate and Terrorism at the University of Nebraska Omaha (UNO) is looking to fight hate through social media.
The Refugee Perspective is a social media campaign that aims to positively change public opinion on and behavior toward refugees in Omaha.
"We spent the first part of the semester learning about what hate groups do to 'market' their ideas about refugees, and then we decided to use some of their own techniques against them to share our ideas to counter extremist beliefs," said Dr. Gina Ligon, professor of UNO's Hate and Terrorism course and START researcher for University of Maryland. Taking what students have learned about how groups from the White Supremacist movement sway uncommitted populations to hate refugees, the students' goal is to leverage what they know already works to provide a new perspective called The Refugee Perspective.
National Competition
The class is executing this campaign as part of the Peer to Peer (P2P) challenge, a national competition sponsored by the marketing firm EdVenture Partners and the United States Department of State, to counter violent extremism using social media. UNO is one of many universities across the country that have been selected to create a social media campaign that counters violent extremism, which can include anything from white supremacist organizations to radical religious groups such as ISIS and Boko Haram. The top six schools selected will have an all-expense paid trip to DC to present their campaign to the US State Department, US Department of Homeland Security, Facebook, and EdVenture Partners. Previous winners and participants included West Point, the United States Air Force Academy, and Missouri State University.
In Their Own Words
The Refugee Perspective Campaign features videos of refugees providing their own account of their time in America and their experience as a refugee. The campaign hopes these videos will remind the public that refugees are real people outside of how they are portrayed by hate groups online. Another major goal of The Refugee Perspective is to encourage relationships with refugees, as studies in extremism have indicated that close exposure with outgroup members can reduce negative feelings about them.
Who's Hungry?
One way the campaign does this is by facilitating UNO students to attend dinners hosted by refugee families around Omaha. A unique perspective the campaign hopes to provide through its video content is the experience of UNO students visiting a refugee home for dinner for the first time. Viewers can share the moment of cultures coming together.
The Root of the Problem
Rather than attack the extremist groups themselves, The Refugee Perspective hopes to counter extremism at its root: hatred. The campaign hopes to break down the stereotypes Americans have been lead to believe about refugees, and eliminate the cultural anxiety that leads to violent extremism.
While the class does hope to perform well in the competition, the class' true goal is to have a positive and substantial effect on the public opinion of refugees in Omaha.
"Our project is important to us because of the rising tension toward refugees that the media and political climate in the U.S. has produced." explained class member Alex Chase.
Have questions or want to know how you can get involved with the campaign?
Contact The Refugee Perspective at xroyer@unomaha.edu or simonesmith@unomaha.edu or through one of their social media platforms.