New Degree Programs Announced for 2017
Recently approved by the Coordinating Commission for Postsecondary Education (CCPE), four new programs at UNO are some of the most unique in the country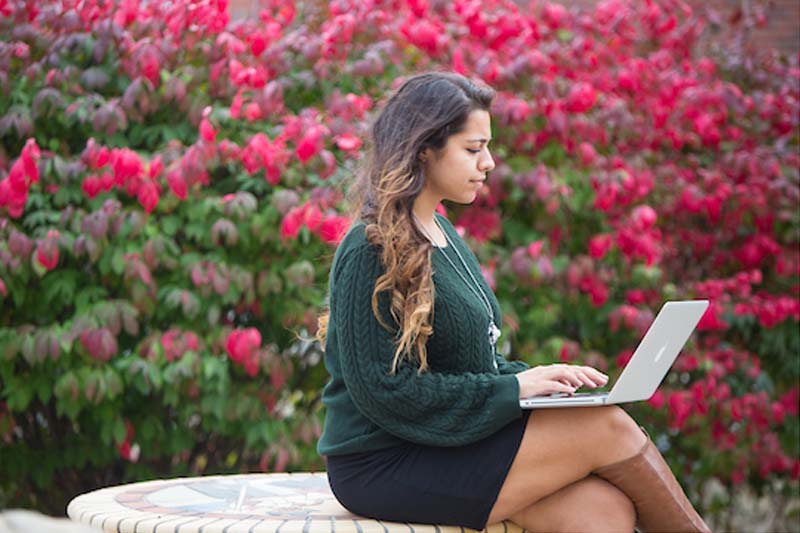 Students have just completed the final weeks of 2016's fall semester at the University of Nebraska at Omaha (UNO), but opportunities for 2017 have already begun with the approval of four new degree and certificate programs that will launch next year.

After approvals from the Nebraska Coordinating Commission for Postsecondary Education, UNO is home to a new doctoral program in Gerontology; a master's degree program and certificate in computer science education; and an undergraduate certificate in tribal management and emergency services.
Each of the programs mark areas of specialization that are rare both in the state of Nebraska and across the country, making UNO the region's premier source for higher education in these fields.

Doctor of Philosophy in Gerontology
As one of fewer than 10 stand-alone doctoral programs focused entirely on aging, UNO's Department of Gerontology is poised to educate future leaders who will need to address one of the biggest demographic shifts in American history.

With more than 76 million people making up the Baby Boomer generation, the youngest of which are a little more than a decade away from the traditional retirement age, understanding the financial, health and social implications is vitally important.

"The growth of the aging Baby Boomer population means there need to be outcomes in terms of how people age successfully," said Chris Kelly, Ph.D., associate professor of gerontology. "The strength of UNO's program is the wide span of disciplines that can cover the whole range of aging."

Prior to the new doctoral program, UNO's eighth, the Department of Gerontology offered Bachelor of Science and Master of Arts degrees, along with several certificate programs and a dual-degree program in Gerontology and Law with the University of Nebraska-Lincoln.

The program is currently accepting applicants for enrollment in Fall 2017. 

Master's of Science and Graduate Certificate in Computer Science Education
Two new interdisciplinary programs at UNO will help positions dozens of teachers with the skill set and certifications to educate students in the growing field of computer science.
During his final State of the Union Address, President Obama set a goal that every American student should have the opportunity to learn computer science; however, in Nebraska, less than 100 K-12 educators are certified in the field. 
In response, UNO's College of Education and College of Information Science and Technology have committed to double the number of teachers who can teach computer science through a 15-credit-hour certificate program and a 30-credit-hour master's degree program. 
"We are excited that UNO is able to provide these programs to assist teachers and schools in meeting their students' needs for developing universal computational thinking skills, increasing awareness about the role of technology creation in our society, and igniting passions for future careers in technology," said Brian Dorn, assistant professor in Computer Science and the Union Pacific Community Chair of Computer Science Education. "In addition, by enhancing teachers' content knowledge in computer science, these new programs will expand opportunities for advanced placement and dual enrollment offerings in schools across Nebraska in the years to come."
Beginning with the Spring 2017 semester, any teacher or student currently studying to become a teacher is able to take advantage of one or both programs, with the 15 credit hours earned through the certificate able to be counted towards the completion of the master's degree. 

Undergraduate Certificate in Tribal Management and Emergency Services
Featuring the only degree program in the country dedicated emergency management policy for Native American tribal governments, UNO's Emergency Management Program has added a fully-online undergraduate certificate to nationally support emergency managers working with tribal nations.

The certificate follows the creation of UNO's emergency management degree program in 2012 and later expansion to include a tribal emergency management concentration and minor in tribal management and emergency services.

As part of the 15-credit-hour certificate program, which launches in Spring 2017, students will learn the basics of tribal nation policy; Indian law; relationships with federal and local governments; and the protection of tribal economies.

A proposed certificate program was initially introduced in 2013 as a partnership between UNO, the Tribal Emergency Management Association (iTEMA) and the Federal Bureau of Indian Affairs (BIA).

"Tribal populations are more vulnerable to natural or man-made disasters than the majority of other citizens," said Patrick O'Neil, director of the UNO Emergency Management Program. "We need leaders who can not only work within the unique government structures of tribal groups but bridge those gaps between tribal leaders and those that can help provide disaster support."
About the University of Nebraska at Omaha
Located in one of America's best cities to live, work and learn, the University of Nebraska at Omaha (UNO) is Nebraska's premier metropolitan university. With more than 15,000 students enrolled in 200-plus programs of study, UNO is recognized nationally for its online education, graduate education, military friendliness and community engagement efforts. Founded in 1908, UNO has served learners of all backgrounds for more than 100 years and is dedicated to another century of excellence both in the classroom and in the community.
Become a fan of UNO on Facebook and follow UNO's Twitter updates. 
Contact Us
If you have a story idea, news tip, or other question, please email the UNO News team at unonews@unomaha.edu.