Professor Lisa Sandlin Wins 2016 Hammett Prize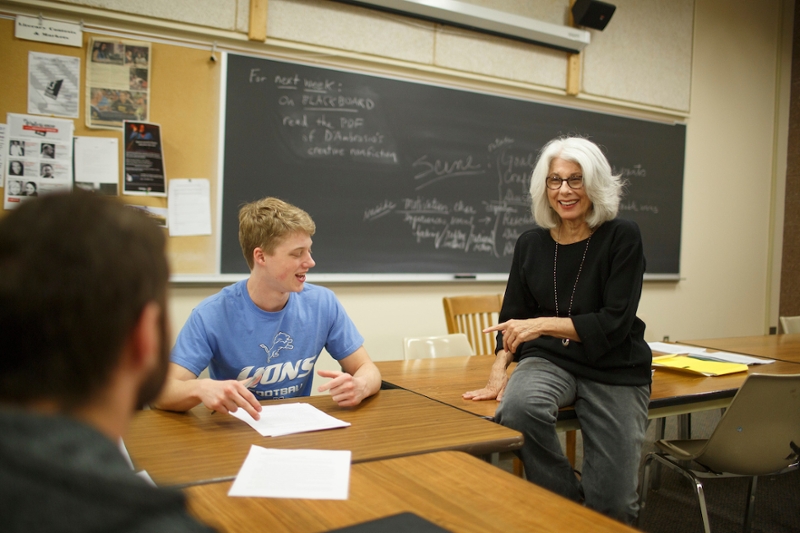 2016 Hammett Prize winner, Lisa Sandlin.
OMAHA - Move over Stephen King, University of Nebraska at Omaha (UNO) Professor Lisa Sandlin is your 2016 Hammett Prize winner.
The International Association of Crime Writers awards the prize each year. Sandlin was nominated for her novel "The Do-Right."
The award puts her in good company. Previous winners include literary giants such as King and Margaret Atwood.

Sandlin, a Writer's Workshop professor in the College of Communication, Fine Arts and Media's School of the Arts, admits that she wasn't expecting to win. She and her fellow nominee, Michael McCann, author of "Sorrow Lake," believed that Richard Price was the likely winner. Price, a novelist and screenwriter for film and television, notably the famous HBO series "The Wire," has a long list of awards to his name.
"We were scoping it out, you can't help but do that," Sandlin said. "We were just happy to be nominees."
Best-selling author Harlen Coben wasn't in attendance, but Price was.
"We figured (Coben) had enough connections to know that he didn't win," Sandlin said.
One can only imagine Sandlin's excitement when she heard her name called.
"My jaw dropped to the floor," she said.
The award was five years in the making. Sandlin began writing the novel in 2011, thanks to being commissioned by Akashic Books in Brooklyn, New York.
"The Do-Right" takes place in 1973 in Beaumont, Texas, Sandlin's hometown. The classic noir follows an unconventional pair of detectives as they uncover the dark corners of the Cajun-influenced town, dominated by big oil companies.
Retailers carrying the book include Barnes and Noble, the Bookworm, and Amazon. The book will make its international debut in 2017, with a German translation. Sandlin hopes for more translations to follow.
A sequel is already on the way. If things go well, it could turn into a trilogy.
The Hammett Prize isn't the only award "The Do-Right" has won this year. In September, Sandlin also took home the Shamus Award from the Private Eye Writers of America.
"My colleagues in Writer's Workshop do such fine work in poetry, fiction, nonfiction, and screenwriting," Sandlin said. "My detectives are pleased to be in their company."