Holley Awarded Endowed Professorship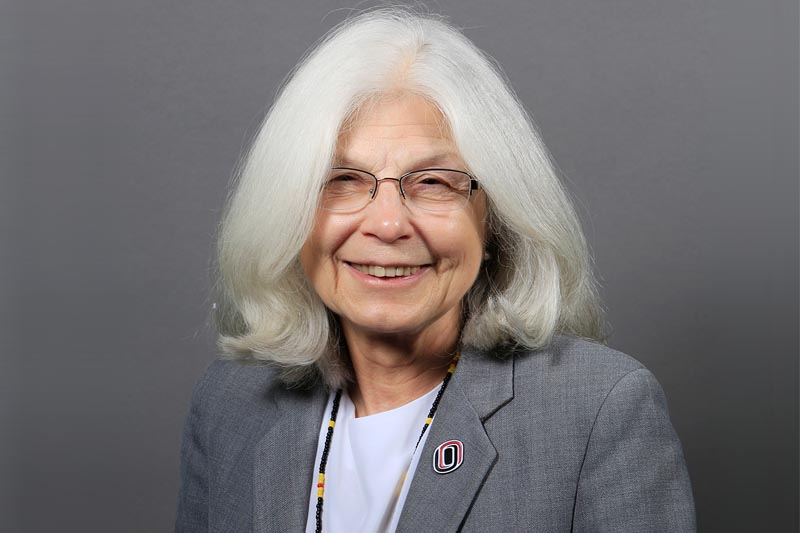 OMAHA - A University of Nebraska at Omaha (UNO) professor whose teaching and research focuses on the wellbeing of elders, has been awarded a new endowed professorship within the UNO College of Public Affairs and Community Services.
Lyn Holley, Ph.D., who has served as a professor in the Department of Gerontology since 2004, is the recipient of the inaugural Dr. Chuck Powell Professorship of Gerontology.
The professorship was established as a permanently endowed fund with a gift commitment of $300,000 from Dr. Betty Foster of Omaha, widow of the late Chuck Powell, a longtime UNO faculty member and veteran of the U.S. Navy. 

Annual income from the Powell Professorship enables the university to award annual salary stipends to support the scholarly research and creative activities of faculty members. Recipients are selected based on their abilities and accomplishments in teaching and research and on their academic promise. 
"The university is extremely grateful to Betty Foster for her generosity and thoughtfulness in establishing this professorship, as it will enable the university to forever recognize outstanding gerontology faculty members through the years," said John Bartle, dean of the College of Public Affairs and Community Service. "Lyn Holley is a distinguished professor who has been involved in the gerontology department's remarkable progress, ultimately helping to make Nebraska a better place for our elderly citizens."
Powell Professors receive the award for three years and are eligible for another three-year term.

About Lyn Holley
Holley's teaching and research centers on helping to improve services for elders while also helping to improve intergenerational relationships. She teaches gerontology, the study of older adults and aging, and nearly all of her classes give students the opportunity to apply what they learn through service to the community and their profession.
Holley said Chuck Powell and Betty Foster exemplify virtues for which the university is known and that she's honored to be the first Dr. Chuck Powell Professor of Gerontology.
"My goal as the first Powell Professor will be to establish a foundation of research and teaching that honors the contributions of Chuck and Betty by creating new knowledge and approaches to instruction that help and encourage students and practitioners of gerontology to work smart, hard and selflessly to make life better for us all," she said.
Holley is a 2015 UNO Service Learning Academy Faculty Fellow and past vice president of the UNO Faculty Senate. She is a member of the UNO Thompson Learning Community, Graduate Faculty, Native American Studies Faculty and Honors Faculty who has received awards for teaching excellence that include the UNO Alumni Association Teacher of the Year Award and the UNO Faculty Service Learning Award.
Holley earned a master of public administration and a doctorate degree at UNO after working in federal and international public service, including the U.S. Army Reserve. She joined UNO's gerontology faculty after conducting gerontology research at the University of Kansas and University of Wisconsin-Milwaukee. She earned a bachelor of arts in psychology from American University.

About Chuck Powell and Betty Foster
Chuck Powell was born in the early years of the Great Depression and raised in east Texas by various relatives. He enlisted in the U.S. Navy, advancing through the ranks to become a pilot and retired after 30 years as a commander. His service took him over most of world, including the Chosin Reservoir in Korea, where under enemy fire and sub-zero conditions he flew wounded Marines to safety. He also flew for the Berlin Airlift, saving the city from falling into the hands of the Soviet Union during the Cold War.
After retiring from the Navy, he received a master's degree and joined the University of Nebraska at Omaha's gerontology faculty where he taught classes in research methods, statistics and public policy. He received a doctorate degree in political science from the University of Nebraska–Lincoln at age 66. He retired after 32 years in higher education, which had become his second career.
In addition to his military and academic service, Powell enjoyed volunteering for political campaigns, collecting wine and traveling. He died in Omaha on Oct. 23, 2009, at age 88.
Betty Foster was born and raised in rural northwestern Nebraska. She married and raised five children before completing her education, which included bachelor's and master's degrees from UNO and a doctorate from Kansas State University. She served on the faculty at the University of Nebraska Medical Center (UNMC) for 20 years as a gerontologist in the Department of Internal Medicine and its Division of Geriatrics and Gerontology.
Even after retiring more than 18 years ago, she continues to be active as a volunteer at both UNMC and Methodist Hospital, where she gives presentations to nursing students on advance planning and end-of life-issues as well as on caregiving. She serves on the board of directors for Midwest Geriatrics and on the advisory board for EngAge Wellness at UNMC.
About the University of Nebraska at Omaha

Located in one of America's best cities to live, work and learn, the University of Nebraska at Omaha (UNO) is Nebraska's premier metropolitan university. With more than 15,000 students enrolled in 200-plus programs of study, UNO is recognized nationally for its online education, graduate education, military friendliness and community engagement efforts. Founded in 1908, UNO has served learners of all backgrounds for more than 100 years and is dedicated to another century of excellence both in the classroom and in the community.
About the University of Nebraska Foundation
The University of Nebraska Foundation is an independent, nonprofit organization that raises private gifts to support the University of Nebraska. The foundation is currently celebrating 80 Years of Purpose, recognizing its founding in 1936 and dedicated service to the university and its donors. During the 2015-2016 fiscal year, donors provided the university with $228.9 million for scholarships, academic programs, medical and other research, faculty support and facilities. Each year, more than 99 percent of gifts are designated by donors for a specific university purpose. Our Students, Our Future is the foundation's current initiative to secure broad support for students. For more information, visit nufoundation.org.
Contact Us
If you have a story idea, news tip, or other question, please email the UNO News team at unonews@unomaha.edu.