Winter Athletics Preview
A year ago, the winter sports season began with great excitement as the UNO hockey and men's and women's basketball teams were looking forward to playing their first seasons at Baxter Arena. The building lived up to the anticipation, providing a fan-friendly atmosphere in which UNO fans could watch their teams.
contact: Dave Ahlers, 
Bonnie Ryan, and Shad Beam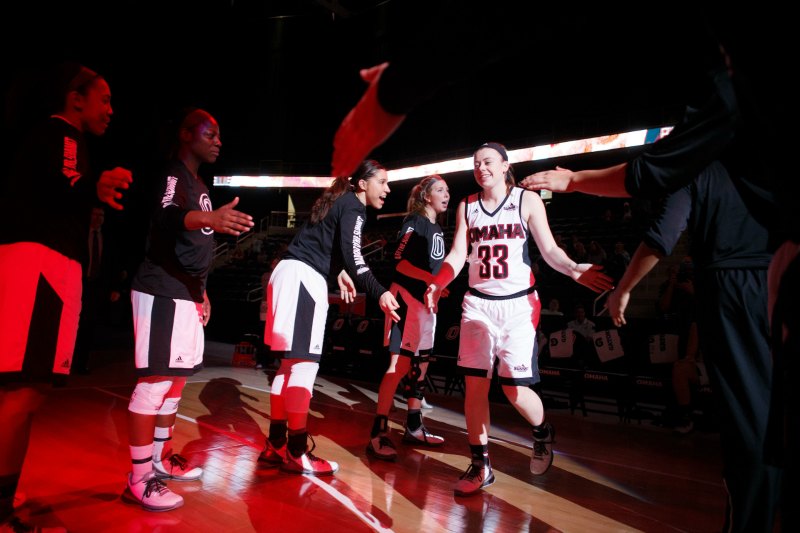 From the Fall 2016 UNO Magazine – Explore other articles
---
Following is a team-by-team breakdown of UNO's winter sports teams:
Hockey
The Mavericks' second year in Baxter Arena is also their 20th year as a program, and their first goal of this anniversary season is to get to the NCHC's Frozen Faceoff in Minneapolis come March. Through three years in college hockey's toughest conference, the Mavericks have been unable to advance beyond the first round of the playoffs.
Last season, UNO finished 18-17-1 overall and 8-15-1-0/0 in the NCHC, good for sixth place. The Mavericks then lost a hard-fought playoff series to a surging Denver team that later earned a berth in the NCAA Frozen Four.
Senior Austin Ortega will return to lead the Maverick offense. Ortega last season had 21 goals and was UNO's second-leading scorer with 36 points. He'll begin the season needing three game-winning goals to tie the NCAA record (23). Last season, he led NCAA hockey in game-winning goals for a second straight campaign.
"Austin is a proven goal scorer who has scored a lot of important goals for us," says Dean Blais, now in his eighth season as head coach. "With Jake Guentzel signing a pro contract after last season, Austin will be the leader of our offense, and he'll also have to cope with the extra attention from opposing teams."
The Mavericks would seem to have a solid supporting cast. Ortega's fellow senior Justin Parizek was third in team scoring in 2015-16 with 28 points. He and juniors Jake Randolph and Tyler Vesel will play prominent roles in the offense, particularly in the early part of the season as the Mavericks integrate seven freshmen into their ranks.
"We are going to lean very heavily on our seniors and juniors at the start of the season," Blais says. "We've got some challenging road trips and some tough conference series in the first half of the season, and our most experienced players are going to have to carry us through while our freshmen get acclimated to college hockey."
Among the newcomers, defensemen Ryan Jones and Dean Stewart could have an immediate impact. Both were selected in the 2016 NHL Entry Draft in June, Jones by Pittsburgh and Stewart by Arizona. They'll work alongside veterans like senior Ian Brady and junior Luc Snuggerud to create problems for opposing forwards.
UNO's goal would seem to be in good, albeit young hands. Evan Weninger returns following his first season in which he led the Mavericks with 13 wins and team bests in goals-against average and save percentage. He also was named to the NCHC All-Rookie Team. Freshman Kris Oldham could be a good candidate for this season's all-rookie team. The 6-foot-3 native of Anchorage, Alaska, joins the Mavericks after a standout career with the Omaha Lancers.
To say that the Mavericks' conference schedule is challenging is redundant. No college team outside the NCHC faces so many quality opponents week in and week out. The Mavericks will face a grueling conference schedule in the second half of the year with home-and-home series against defending NCAA Champion North Dakota and Denver, a team that beat them six times last season.
UNO has a non-conference schedule filled with familiar opponents and infrequent foes. The Mavericks host former CCHA opponent Lake Superior State Dec. 30-31 and play non-conference road series at Northern Michigan (Nov. 25-26), another former CCHA opponent, and Wisconsin (Dec. 2-3), a former neighbor in the WCHA.
---
Men's Basketball
The UNO men's basketball team takes on a challenging schedule in 2016-17, playing 17 games on the road and facing five opponents that competed in the 2016 NCAA Tournament, the most since beginning the Division I era six years ago. With contests against USC, Kansas State, Iowa, Iowa State and Pittsburgh, as well as notable home tilts with Rice and Cal State Fullerton, the Mavericks aim to position themselves for success when conference play begins in late December.
"We're starting with some tough road games, and they'll do nothing but make us better," 12th-year head coach Derrin Hansen says. "Our goal is always to be as healthy and ready as we can be starting the league schedule. Those early challenges ultimately help us down the stretch, and with a lot of home games on the back end, we want to hit March ready to compete in the postseason."
UNO returns nine letterwinners from its 2015-16 squad, which earned a spot in the College Basketball Invitational postseason tournament.
Among the leaders of this year's crop of Mavericks is senior guard Tra-Deon Hollins, who earned first-team All-Summit and All-Newcomer recognition last season and was named Summit League Defensive Player of the Year and Transfer of the Year. The nation's leader in steals, he claimed the single-season steals records for both UNO and the Summit League, and he already ranks 12th in school history for career thefts.
Senior guard Marcus Tyus also is back, having redshirted in 2015-16 after suffering a season-ending injury in 2014-15. In his junior year, Tyus averaged 13.0 points per game, second-most on the team.
Senior guard Kyler Erickson was granted a sixth year of eligibility by the NCAA for 2016-17 with a waiver that allows him to play beyond his five-year eligibility window. The Omaha native moved into a starting role with seven games left in 2015-16.
"Tra-Deon's coming off a very good junior year, and his accolades speak for themselves," Hansen says. "Then we have Marcus and Kyler coming back, which gives us a senior, a fifth-year senior and a sixth-year senior. We have a lot of experience with that core senior group, and we hope that resonates down through our roster."
Additionally, junior forward Tre'Shawn Thurman, a two-year starter who averaged 13.9 points and 6.7 rebounds as a sophomore, is back, as is sophomore guard Zach Jackson, who started 24 games in his freshman campaign.
UNO will find depth in its returning letterwinners with guards J.T. Gibson and Alex Allbery and junior forward Daniel Meyer, as well as redshirt freshman forward Ben Kositzke. Two transfers are eligible to play this year, with sophomore forward Mitchell Hahn from Holy Cross and junior guard Daniel Norl from Mineral Area CC and Eastern Kentucky. Freshman guard K.J. Robinson out of Blue Springs South High School carries a three-star rating from Rivals.
"We have a sense of calmness with our roster in that we have guys who have played a Division I schedule before, had success and are stepping in to play roles for us," Hansen says. "We've lost some scoring and talent from last year's team, but we have a lot of depth this season.
"Last year, our league ranked 11th out of 32 leagues in the conference RPI standings, which was an all-time high and something that stands out to recruits. To finish third by ourselves and have three all-league performers was an outstanding achievement for last year's squad, and we look forward to building upon that success in 2016-17."
---
Women's Basketball 
The UNO women's basketball team looks to build on last year's solid season. The Mavericks finished 15-15 overall and 7-9 in the Summit League, taking sixth place. In its first Division I postseason tournament, UNO defeated third-seeded IUPUI 62-51 at the Summit League tournament.
All-Summit forward Mikaela Shaw returns for her senior season after averaging a league-leading 18.3 points alongside 7.9 rebounds and 3.1 assists per game in 2015-16. She leads a corps of three returning starters, joined by junior guard Remy Davenport (10.3 ppg, 3.4 rpg) and senior guard Abi Lujan (4.0 ppg and 5.9 rpg).
"It will be interesting to see where our lineup settles and who has made the biggest jump for us since last year," Head Coach Brittany Lange says. "Mikaela Shaw is undeniably someone we look to have her best year yet in all categories of the game."
Senior guard Marissa Preston, sophomore guard Ellie Brecht and sophomore guard Amber Vidal each saw significant time last season. In addition, UNO's four redshirts — Jay Bridgeman, Michaela Dapprich, Moriah Dapprich and Courtney Vaccher — are ready to step in for court time this season. Bridgeman was a product of Westside High School where she was the Nebraska All-State captain her senior year. The Dapprich sisters came to UNO from Wichita State while Vaccher joins the Mavericks from Texas Tech.
"Michaela Dapprich is a tough matchup and has a ton of high-level experience under her belt being a starter at Wichita State," says Lange. "She can play either forward spot or in the post for us and is a tough competitor. Courtney Vaccher provides great strength and skill at center. She will be a force inside as she continues to develop in our system."
The Mavericks also welcome two newcomers in junior transfer Jess Walter from Indiana and freshman Alexa Fischer from Powell, Ohio. Walter will sit out this season due to NCAA transfer rules. UNO has a solid non-conference schedule in addition to another tough Summit League campaign. Lange is enthusiastic about what 2016-17 has in store. "This year's schedule will be by far the most challenging and competitive schedule in our program's history," Lange says. "We will play one of the hardest schedules in the Summit League by being in the pre-season WNIT tournament, playing eight games on the road, and taking on opponents such as Nebraska, Creighton, Kansas State, Colorado State and Central Florida.
"Our goal is to raise the bar and test ourselves to the utmost to prepare for conference play. I am excited, and a proud coach. Our seniors and players wanted this difficult schedule to get better, and we honored that."
---
Swimming and Diving
The UNO swimming and diving team is ready to challenge for Summit League success in 2016-17, led by Head Coach Todd Samland, who enters his 20th year at the helm.
Twenty-nine Mavericks return from the 2015-16 squad, led by three student-athletes who earned All-Summit honors a year ago: senior Morgan Stepp (200 butterfly, 800 freestyle relay), junior Cassandra Jahn (800 freestyle relay) and sophomore Kylie Vermeire (800 free relay).
"Our 800 free relay will be very strong this year," Samland says. "We won't miss a beat because Kylie Vermeire, Morgan Stepp and Cassandra Jahn have all returned after earning All-Summit recognition last season."
UNO's schedule is highlighted by meets with Iowa State and Nebraska and trips to Colorado State and Northern Colorado. The Mutual of Omaha Invite, an annual highlight on the home slate, has a new format in 2016 as a four-team, three-day, all-women's meet.
"We've changed the Mutual of Omaha Invite to a smaller meet," Samland says. "With us, Nebraska-Kearney, Northern Colorado and Northern Iowa, it's a great mix of quality, comparable competition.
"As a whole, our schedule is intended to prepare us for the Summit League Championship at the end of the season," Samland says. "We're achieving that by competing with peers who are right in step with us or teams that are just a step ahead to create the competitive challenges we need. Meets like those are sending us in the right direction as a team."
Despite losing five experienced seniors — including eight-time All-Summit honoree Natalie Renshaw — Samland expects his returners to step into point-scoring roles vacated by last year's senior class.
"We're always aiming to finish in the top three in the Summit League," Samland says. "With the good leadership on our roster, the sound staff we have in and the recruiting efforts we've made, this is a bright year ahead for us."
---
Track and Field
The Mavericks enter the indoor season after placing fifth in the Summit League Championship both indoors and outdoors last season.
Junior Stephanie Ahrens is a dual threat indoors, earning All-Summit honors during the 2016 indoor season in both the high jump and the 60-meter hurdles. In fact, Ahrens had the Summit League's top mark in the high jump both indoors and outdoors last season and became the first Maverick in the Division I era to represent UNO at the NCAA Preliminaries.
"Stephanie has been an All-Summit performer in each of her first two years and owns the school record in the high jump indoors (5-10 ¾)," says Head Coach Chris Richardson. "She is clearly the person to beat in the Summit in that event, and her ability in the 60-meter hurdles makes her our top scoring threat.
"Her experience in the NCAA preliminaries outdoors showed her what it takes to reach the next level, and I think she will begin this season with her sights set on more trips to the NCAAs."
On the track, Lauren Houston will be another threat to score following a solid freshman campaign during which she was All-Summit in the 800 meters, running the third-best time in the event in the league. She and senior Alyssa Thavenet give the Mavericks two strong performers in 800. Thavenet had the Summit's sixth-best time at that distance last season.
Twelve freshmen will make their collegiate debuts during the indoor season, including four distance runners who will have already competed for the Mavericks in cross country. In addition, the Mavericks will feature Nebraskans Sasha Quattlebaum (Millard North) and Nyakuome Thichiot (Burke) in the jumps and Sydney McAlister (Lincoln High School) in the sprints.
Contact Us
If you have a story idea, news tip, or other question, please email the UNO News team at unonews@unomaha.edu.