Maverick Missions
For two grads and a dozen other Mavs, global outreaches get their start at Clinton Global Initiative University.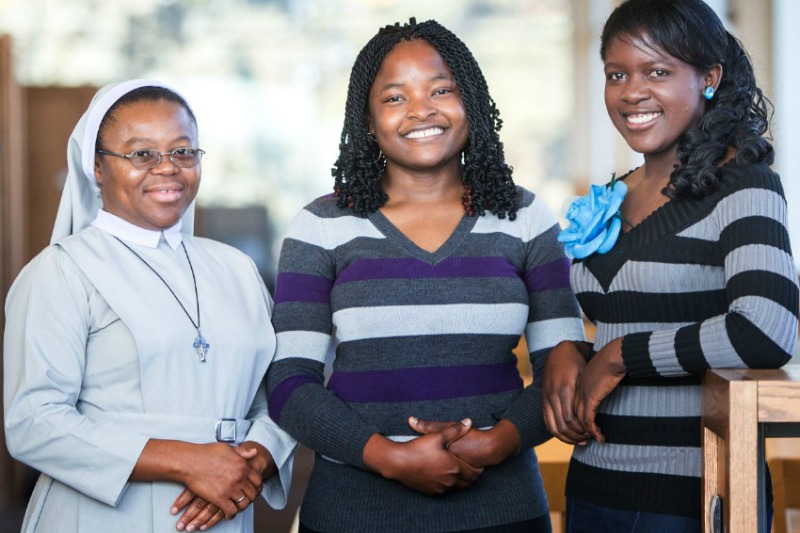 From the Fall 2016 UNO Magazine – Explore other articles
---
Launched by President Bill Clinton in 2007, the Clinton Global Initiative University (CGI U) each year hosts a meeting where students, university representatives, topic experts and celebrities discuss and develop innovative solutions to pressing global challenges. Students create "Commitments to Action" that address issues on campus, in local communities or around the world. Since 2008, students have made more than 6,250 commitments, supported by nearly $3 million in CGI U funding.
Reading Drive for Africa
Sister Arrah, Larisah Akah Che and Benadette Ngamelue were the first three UNO students to attend CGI U, in 2013. The trio's pitch was to turn an empty classroom into a library at a primary school in Mamfe, Cameroon.
"The most exciting part of the experience was the enthusiasm," says Arrah, who graduated in 2013 and now is a principal of Ancilla Catholic Comprehensive College in Wosing-Bali, Cameroon.
Adds Che, also a 2013 grad, "The energy was mind-blowing. It's a bunch of people from all over the world with big ideas in one room."
The conference spurred the trio work with Cameroon students and teachers to clean, paint and prepare space for the library. A series of book drives brought in more than 8,000 books.
But they didn't stop there. Since 2013 the group has collected 16,000 books and established five new libraries in Cameroon schools.
In 2014 Arrah founded Reading Drive for Africa, a nonprofit organization that encourages children there to read for leisure as part of its mission to "build bridges of literacy in Africa."
Che, now a student at the University of Nebraska Medical Center, returned to CGI U in 2015, joined by conference newcomers Ryan Nielsen and Amissabah Johnson. That trio presented an initiative called Bring Science Alive, a sub-project of Reading Drive.
"It's coming up with fun and simple kitchen-type experiences for sixth to 12th graders so they can learn what science is about," Che says.
The idea is to eventually incorporate those experiments in Cameroon schools' curricula. Che hopes to kick-start the effort with an idea proposed by Arrah: a summer science camp at Arrah's college.
To do that, they'll need resources and expertise. "We are really open to anyone who wants to help," Che says. She's particularly hoping to recruit volunteers with a background in science.
Project Humane Nepal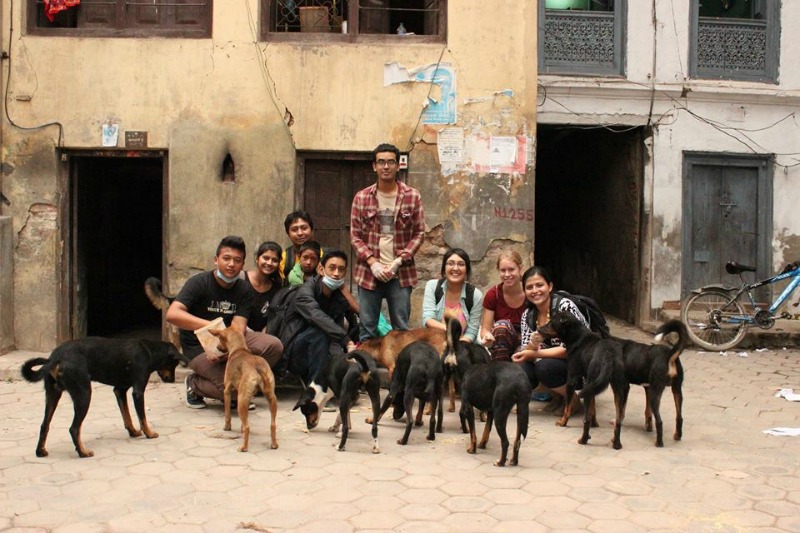 Shrestha is another one of the 14 UNO students who have traveled to CGI U since 2013. Her initiative is being fulfilled nearly 5,000 miles east from Cameroon as she works to save the lives of stray dogs in Nepal.
Shrestha founded "Project Humane Nepal," an organization dedicated to changing attitudes toward the thousands of street dogs that live in miserable conditions across her home country.
Returning to the conference in 2016, Shrestha proposed a related project: Project Thecho, named after a village outside of Kathmandu. Shrestha says the village is home to hundreds of strays, many of which often are mistreated, afraid or sick.
"Residents complain about barking dogs at night and dogs chasing kids," she says. "They often resort to inhumane killing of these dogs by poisoning, beating them, drowning them in ponds or stoning them."
Made up of a handful of volunteers, Shrestha's group focuses its efforts on spaying, vaccination and community awareness. The group also feeds dogs and de-worms them.
By speaking in schools, Shrestha hopes to change perceptions. Worksheets collected after classes indicate it's working.
"Before this extra class, I used to think that the lives of street dogs are very easy," one child wrote. "I was wrong." Another student wrote that changing behavior in their village could change behavior on a wider scale.
That, says Shrestha, is the plan.
Contact Us
If you have a story idea, news tip, or other question, please email the UNO News team at unonews@unomaha.edu.