$1.5 Million Grant to UNO Funds Hormone, Social Behavior Research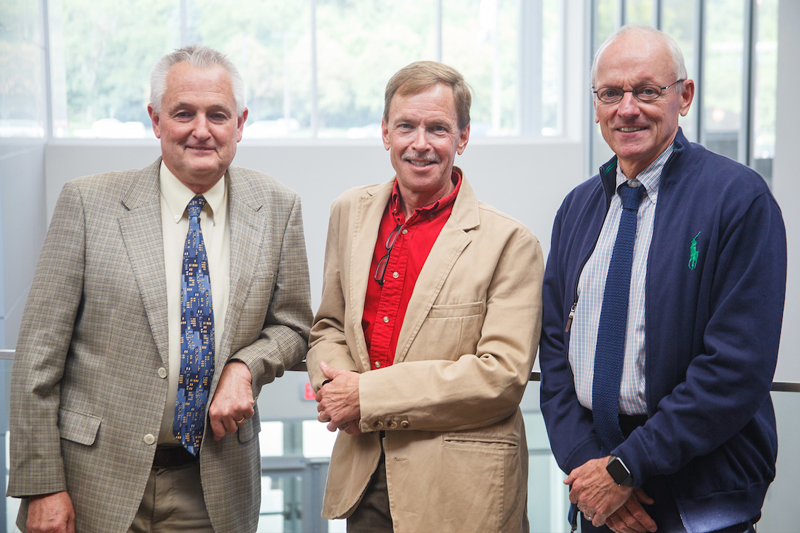 OMAHA -
A newly-awarded $1.5 million grant from the National Institutes of Health (NIH) will fund collaborative research investigating how the hormone oxytocin affects social behavior.
Researchers say the data they collect will support the future development of more effective medications for treatment of social disorders.
Jeff French, Ph.D., Varner Professor of Psychology and Neuroscience at the University of Nebraska at Omaha (UNO), is leading the project, partnering with Tom Murray, Ph.D., Interim Provost at Creighton University, and Myron Toews, Ph.D., Professor in the Department of Pharmacology and Neuroscience at the University of Nebraska Medical Center (UNMC).
The NIH grant will fund a set of related experiments over five years at UNO's Callitrichid Research Center. For the last eight years, the Center has been examining the influence of hormone treatments on marmoset social behavior, which shares several key traits with human behavior, including social monogamy, infant care by fathers and family-like social groups.
Through this grant project, French, Murray and Toews will investigate how different forms of oxytocin interact with different kinds of receptors and the role that each plays in signaling new behavior to cells. The research includes noninvasive experiments with marmosets, as well as test tube experiments with genetically modified cells that are responsive to oxytocin at UNMC and Creighton.
"This research gives us a foot in the door regarding how cell function changes and ultimately how behavior changes with modifications to an oxytocin molecule or receptor," French said. "The clinical work is years or a decade in the future, but it will rely critically on data from experiments like ours."
The researchers hope that the data they collect will allow future pharmacologists to maximize the benefits of drugs that treat social disorders, while reducing or eliminating unwanted side effects.
"For me, the most exciting thing is the potential for oxytocin-related neuropeptides to do something useful for children on the autism spectrum," Toews said. "The idea that we could solve the problem they have without making them hyperactive in the process or without making them fall asleep in class, that's the direction that's most exciting to me."
The project will add to a quickly growing field of study: the use of neuropeptides, naturally occurring chemicals that modify brain activity, in drug development. New strategies, including intranasal administration, allow for transport of neuropeptides into the brain.  
"Neuropeptide delivery strategies are currently available and I fully expect we'll see more clinical applications as research in this area continues – research including the experiments we'll be conducting," Murray said.
The NIH award began in August and runs for five years. French, Murray and Toews say this will be their first long-term collaboration, although the group has worked together on several other research efforts over the last three years.
"This partnership with UNMC and Creighton underscores how we like to approach research at UNO," said Scott Snyder, Ph.D., UNO's Chief Research Officer. "We leverage our expertise, find collaborators and investigate important questions together. In this case, the data collected could have a direct impact on the development of life-changing treatments."
The NIH grant funding this project marks French's 30th year of continuous federal funding for marmoset research. French founded UNO's Callitrichid Research Center in 1983.
For media requests, please contact: 
Sam Petto, UNO Media Relations Coordinator
unonews@unomaha.edu
402.554.2704
or
Charley Reed, UNO Associate Director of Media Relations
unonews@unomaha.edu
402.554.2129
About the University of Nebraska at Omaha

Located in one of America's best cities to live, work and learn, the University of Nebraska at Omaha (UNO) is Nebraska's premier metropolitan university. With more than 15,000 students enrolled in 200-plus programs of study, UNO is recognized nationally for its online education, graduate education, military friendliness and community engagement efforts. Founded in 1908, UNO has served learners of all backgrounds for more than 100 years and is dedicated to another century of excellence both in the classroom and in the community.
Become a fan of UNO on Facebook: www.facebook.com/unomaha and follow UNO's Twitter updates at http://twitter.com/unomaha.
Contact Us
If you have a story idea, news tip, or other question, please email the UNO News team at unonews@unomaha.edu.