UNO Named a "Cool School" by Sierra Club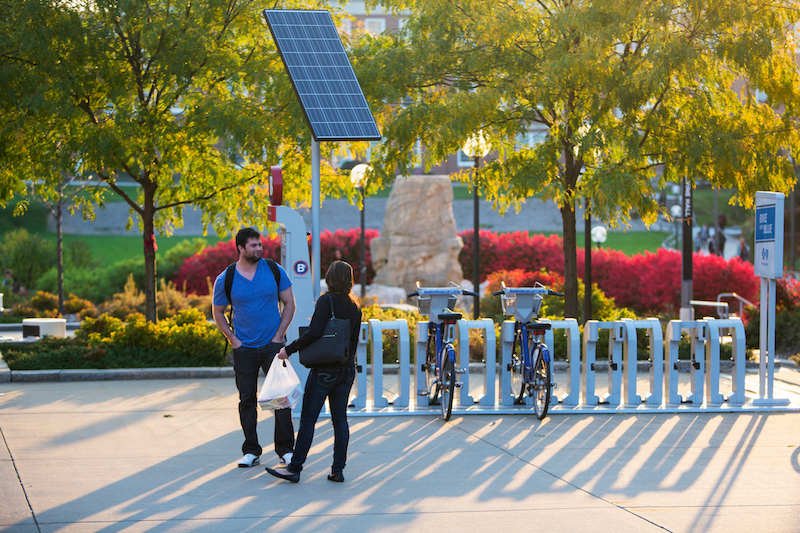 The University of Nebraska at Omaha is one of 201 higher education institutions across the U.S. to be named a "2016 Cool School" by Sierra Club. Only two other Nebraska schools earned the honor. Open to all four-year undergraduate colleges and universities across the nation, the guide is produced for prospective and current students, administrators, and alumni to compare higher education institutions' environmental commitments.
This is the first year UNO has received this honor and was ranked 189th on the 2016 list. Sustainability Coordinator, Sarah Burke, said UNO earned its top scores in the categories of Sustainability Planning, Sustainable Transportation, and Co-Curricular Activities.
It is because of the dedication of individuals on campus over the years that UNO received this honor
- Sarah Burke
UNO has made tremendous strides over the past few years in the area of sustainability. UNO's Academic and Student Affairs, in 2012, identified sustainability as one of the five priority areas for the University. In 2014, the University released the Sustainability Master Plan, which articulates UNO's sustainability vision and identifies a path to integrate sustainability into all aspects of campus. Just recently, UNO hired its first Sustainability Coordinator to provide more focused attention on UNO's sustainability efforts.
"It is because of the dedication of individuals on campus over the years that UNO received this honor," Burke said. "It is my hope build on their efforts and keep expanding the sustainability programs on campus." 
This is not the first time that UNO has been recognized for its sustainability efforts. In 2014, the University earned a STARS Bronze Rating in recognition of its sustainability achievements from the Association for the Advancement of Sustainability in Higher Education (AASHE). STARS, the Sustainability, Tracking, Assessment, and Rating System measures and encourages sustainability in all aspects of higher education. Additionally, UNO has been recognized as a "2015 Green College" by Princeton Review and has been an Arbor Day Foundation's "Tree Campus USA" honoree since 2011.
See the complete Cool Schools list and learn more about UNO's Sustainability Program. 
Contact Us
If you have a story idea, news tip, or other question, please email the UNO News team at unonews@unomaha.edu.