The UNO Fund - Everyone for Omaha
contact: Joel Gehringer - University of Nebraska Foundation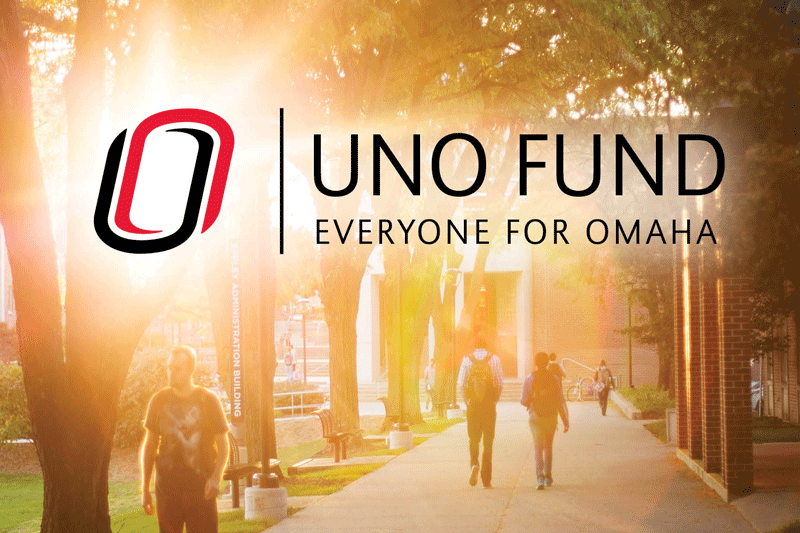 The University of Nebraska Omaha (UNO) has grown tremendously over the past several years. Enrollment is growing, campus has expanded, research is being recognized nationally, student involvement continues to expand, and athletic programs have hit new heights. More than ever students, alumni, faculty, and staff are proud to call themselves UNO Mavericks.
As the university grows, the UNO Annual Fund needs to grow, too. Created in 1953 by the UNO Alumni Association, the UNO Annual Fund has supported students through the programs and communications of the association. However, as UNO and its needs grow, the annual fund must evolve if alumni, faculty, and staff want to help take UNO to the next level of academic excellence.
The UNO Annual Fund is now the UNO Fund.
The UNO Fund puts the power into your hands. Now, you make the choice how your donations are best spent at UNO. Through the UNO Fund, you can choose to directly support whatever you think is most important, including:
Student scholarships that ease the cost of education for deserving UNO students.
Faculty recruitment and retention to recruit the state's best educators and produce the most cutting-edge research.
Your college's academic priorities,whether it be new courses, student support programs, special guest lectures, or more.
The most pressing needs of the university, immediately benefiting student goals and dreams.
The UNO Alumni Association, which continues to produce award-winning alumni programming and communications for the benefit of UNO's students.
Mavericks chose their own path, and the new UNO Fund hopes to connect you more directly with your passions at UNO.
In addition, each donor to any area of the UNO Fund will now receive a UNO Alumni card with a gift of $25 or more. The alumni card entitles carriers to exclusive perks on and around campus, including access to Criss Library, HPER membership access, local discounts, athletics and performance ticket deals, and much more.
The UNO Century Club will also expand to recognize all donors to the UNO Fund who give $250 or more each year in a special editions of "UNO Magazine."
The UNO Fund will also feature a monthly giving option. By making a small, automatic $5 or $10 gift each month, you would make a big, year-long difference to a student in need.
Even more, faculty and staff members of UNO who are interested in making a $5 or $10 monthly payroll deduction gift will provide much-needed support for the causes at UNO they are most passionate about. If you are interested, contact Joel Gehringer at 402.502.4924 or joel.gehringer@nufoundation.org.
With the power of the UNO network, the UNO Fund hopes to inspire "everyone for Omaha" and transform the campus and the lives of thousands of aspiring future Maverick alumni.
Please consider a gift today to the UNO Fund.
For more information, or to make your gift, visit nufoundation.org/UNOFund.
Contact Us
If you have a story idea, news tip, or other question, please email the UNO News team at unonews@unomaha.edu.