New UNO Degree Program Supports NE Child Welfare Workers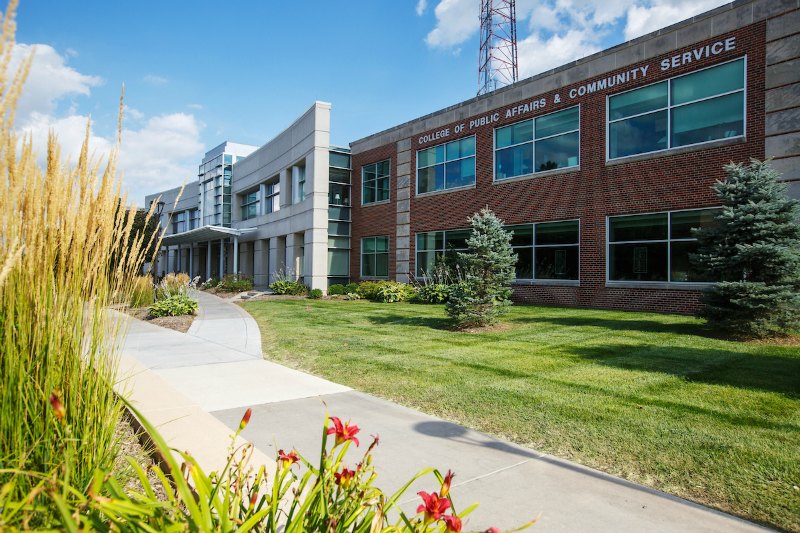 OMAHA – A new program at the University of Nebraska at Omaha (UNO) is helping social workers in Nebraska earn a graduate degree while continuing to work full time.
UNO's Grace Abbott School of Social Work has teamed with Nebraska's Department of Health and Human Services (DHHS) as well as nonprofits Project Harmony and Nebraska Families Collaborative to create the Child Welfare Cohort, which provides a tuition-free, partially-online master's degree program specifically for employees working in child welfare.
Grace Abbott School of Social Work Director Amanda Duffy Randall, Ph.D., says that collaborations like this, between universities, government organizations, and community agencies, address the significant need in Nebraska for social workers with professional degrees.
This is particularly the case in western Nebraska where access to graduate-level education is more difficult. 
"The truth is there are very few employees in the child welfare sector in Nebraska who have graduate degrees in social work," explained Randall. "This opens the doors for more people who want to make social work their career but otherwise wouldn't have the means to do so because of the investment of time and finances."
The cohort includes 20 employees from across the state who either work for DHHS, Project Harmony's "Connections" program, or the Nebraska Families Collaborative. The cost for DHHS employees tuition is being covered by federal grant dollars and Project Harmony and Nebraska Families Collaborative employees are being supported by private dollars.
The 20 students are from all over the state, including locations like Bellevue, Wayne and Greeley.
"We thank UNO and our partners for supporting this concept," said DHHS CEO Courtney Phillips. "This graduate program brings an advanced degree within reach of our staff statewide so they have the opportunity to gain the knowledge and skills to better serve children and families, while further developing their leadership skills. It will have a positive, long-term impact on child welfare in Nebraska."
The new UNO students will spend the next three years earning a graduate degree by taking courses online and attending in-person classes every other weekend in Omaha or at the Grace Abbott School of Social Work's University of Nebraska at Kearney (UNK) location.
"Connections is a program of Project Harmony that matches children and families in need with community mental health providers," says Dr. Debra Anderson, Project Harmony's Director of Connections. "Through the generosity of Ruth and Bill Scott, we are able to offer graduate education to our employees, address the need for a well-trained work force, and ensure quality mental health services to children and families."
"This collaboration will make a major contribution to the professionalization of Nebraska's child welfare workforce," said David Newell, president and CEO of Nebraska Families Collaborative. "Our employees are thrilled to have this new professional development opportunity."
Randall said that the goal is that the program will continue and even grow with the help of additional grant funding and support from Nebraska's philanthropic community. 
"This is not just a benefit to these individual child welfare advocates, but an investment in the wellbeing of the entire state. We need to continue to support those who have dedicated their lives to supporting Nebraska families." 
Named for the Nebraska-born social worker and advocate for child welfare and immigrant rights, the Grace Abbott School of Social Work has been ranked by U.S. News and World Report as one of the best programs in the country. 
The school offers five different degrees, including a Bachelor of Science in Social Work, a Master of Social Work degree and three dual master's degree programs pairing social work with criminology and criminal justice; public administration and public health.
For media requests, please contact: 
Sam Petto, UNO Media Relations Coordinator
unonews@unomaha.edu
402.554.2704
or
Charley Reed, UNO Associate Director of Media Relations
unonews@unomaha.edu
402.554.2129
About the Nebraska Department of Health and Human Services
The mission of the Nebraska Department of Health and Human Services is to help people live better lives by educating and protecting citizens through public health activities; assisting the elderly, low-income and those with disabilities; providing safety to abused and neglected children and vulnerable adults; and through the services provided by 10, 24-hour facilities.
About Project Harmony
Project Harmony is a nonprofit, community-based organization in Omaha, Nebraska, that has served more than 26,000 children during the past 20 years by providing a child friendly environment in which specially-trained professionals work together to assess, investigate, and resolve child abuse cases.  In a nationally unique model, Project Harmony has one centralized location that co-houses with Omaha Police Department Child Victim/Sexual Assault Unit, Nebraska Health & Human Services/Child Protection Service Initial Assessment and Child Abuse Hotline, Lutheran Family Services and Child Saving Institute.  Project Harmony exists to protect and support children, collaborate with professionals and engage the community to end child abuse and neglect.
About Nebraska Families Collaborative 
Nebraska Families Collaborative is contracted by the State of Nebraska to provide case management and service coordination for children and families involved in the child welfare system in Douglas and Sarpy Counties, working with approximately 5,000 children and families each year. Nebraska Families Collaborative is dedicated to building on child, family and community strengths so that all children and families are safe, healthy and thriving. Visit nebraskafc.org for more information.
About the University of Nebraska at Omaha
Located in one of America's best cities to live, work and learn, the University of Nebraska at Omaha (UNO) is Nebraska's premier metropolitan university. With more than 15,000 students enrolled in 200-plus programs of study, UNO is recognized nationally for its online education, graduate education, military friendliness and community engagement efforts. Founded in 1908, UNO has served learners of all backgrounds for more than 100 years and is dedicated to another century of excellence both in the classroom and in the community.
Become a fan of UNO on Facebook and follow UNO's Twitter updates. 
Contact Us
If you have a story idea, news tip, or other question, please email the UNO News team at unonews@unomaha.edu.