Increased Enrollment, Diversity Continue UNO's Metropolitan University Mission Momentum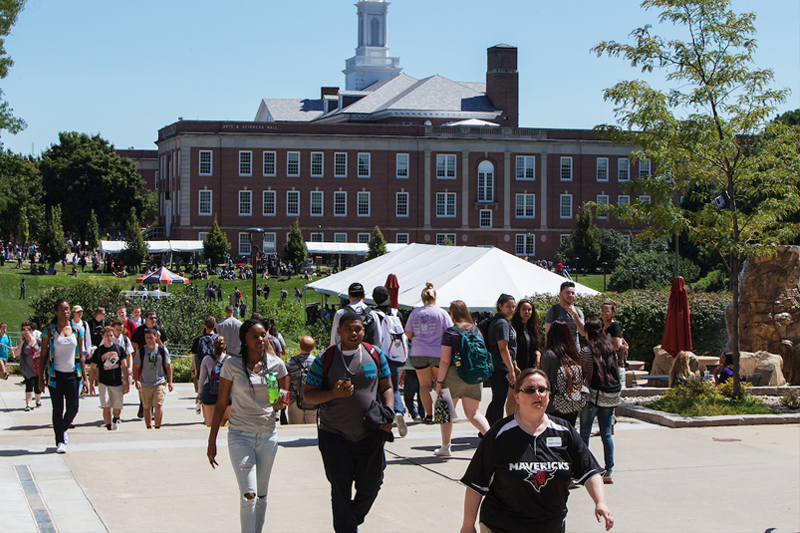 OMAHA – The University of Nebraska at Omaha's (UNO) continued momentum is evident in new enrollment numbers released Wednesday, Sept. 7, showing that UNO will educate its largest and most diverse incoming freshman class in school history this academic year.
Incoming freshman class numbers set new records for the second year running.
UNO's reputation for academic excellence, opportunity and affordability attracted 2,069 new freshmen for the 2016-17 academic year. Of those, 45 percent are the first students in their families to pursue a college education. Nearly a third are students of color.
Total enrollment stands at 15,627 students pursuing undergraduate degrees, graduate degrees and certificates, or enhancing their careers and personal lives through UNO's rich academic offerings.
"I'm tremendously proud that we are able to provide such an excellent education to so many students," UNO Chancellor John Christensen said. "Our faculty and staff understand that our mission isn't just to get students on campus, it's to make sure students succeed once they're here."
This record-setting undergraduate enrollment trend highlights UNO's commitment to accessibility and the diverse student body that it attracts and serves as part of its metropolitan university mission.
UNO's student body includes more underrepresented students than any other school in the University of Nebraska system.
More than a tenth of this year's undergraduate class - 1,309 students - are military-affiliated. UNO is currently celebrating its second straight year on the top of Military Times' annual Best for Vets ranking.
Mirroring the freshman numbers, 45 percent of this year's entire undergraduate class are first-generation college students.
"Our continued undergraduate enrollment growth is a direct result of the investments we've made in expanding student access through partnerships with area high schools and local community colleges," said Dan Shipp, Vice Chancellor for Student Affairs and Enrollment. "In addition, we have worked hard to refocus campus resources to help more of our students complete their college degrees on time."
To that point, during the 2015-16 academic year, UNO graduated its largest group of students in its 108-year history—3,097 undergraduate and graduate students received their degrees following the last fall, spring and summer semesters. 
UNO remains among the most affordable 4-year institutions in Nebraska and its metropolitan university peers. Each year, UNO connects both undergraduate and graduate students with a number of funding sources to help students finance their education.
This year's numbers reflect significant growth in graduate student enrollment. This academic year, UNO is welcoming 3,091 graduate students, its largest graduate class in more than a decade.
More than a third of the graduate students are full-time students, a nearly 10 percent increase from Fall 2015.
"More professionals are realizing the value of a graduate degree and we're meeting the demand," said Deborah Smith-Howell, associate vice chancellor for Academic Affairs and dean of Graduate Studies. "Our students know that a degree from UNO will give them an edge in the workforce, lead to higher earnings and prepare them to be leaders in their organizations and the community."
While UNO continues to serve students from across the nation and the world, it remains an engine for workforce development in Nebraska. Eighty-six percent of this year's undergraduate and graduate students call Nebraska home, hailing from 79 of the state's 93 counties. Additionally, more than 56,000 UNO alumni are currently living and working in the state.
For media requests, please contact: 
Sam Petto, UNO Media Relations Coordinator
unonews@unomaha.edu
402.554.2704
or
Charley Reed, UNO Associate Director of Media Relations
unonews@unomaha.edu
402.554.2129
About the University of Nebraska at Omaha

Located in one of America's best cities to live, work and learn, the University of Nebraska at Omaha (UNO) is Nebraska's premier metropolitan university. With more than 15,000 students enrolled in 200-plus programs of study, UNO is recognized nationally for its online education, graduate education, military friendliness and community engagement efforts. Founded in 1908, UNO has served learners of all backgrounds for more than 100 years and is dedicated to another century of excellence both in the classroom and in the community.
Become a fan of UNO on Facebook: www.facebook.com/unomaha and follow UNO's Twitter updates at http://twitter.com/unomaha.
Contact Us
If you have a story idea, news tip, or other question, please email the UNO News team at unonews@unomaha.edu.