Faculty Focus: Jonathan Benjamin-Alvarado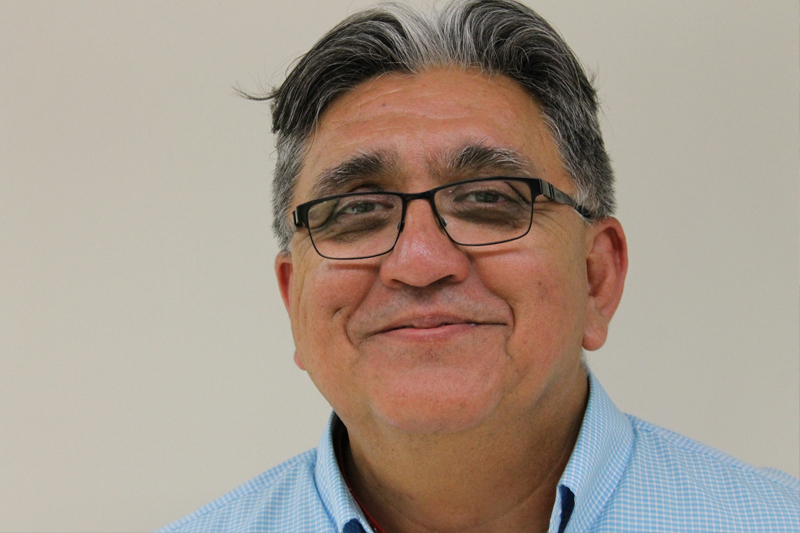 OMAHA – This weekly program features educators from across the University of Nebraska system.

"Friday Faculty Focus with Brandon McDermott" airs each Friday at 7 a.m. and noon on all-classical 90.7 KVNO, a broadcast service of the University of Nebraska at Omaha (UNO).

On Friday, Sept. 2, McDermott interviewed Jonathan Benjamin-Alvarado, assistant vice chancellor for Student Affairs at UNO, political science professor, and interim director of the Office of Latino/Latin American Studies (OLLAS), about how OLLAS serves Nebraska and how he's seen the office and UNO grow.
Listen to their conversation here, or read the transcript below:
---
Brandon: Dr. Benjamin-Alvarado thanks for joining us on the show.
Dr. Benjamin-Alvarado: Thank you.
Brandon: You've recently been named the interim director of the Office of Latino and Latin American Studies or OLLAS at UNO. Talk about OLLAS and what the new role means to you and UNO. 
Dr. Benjamin-Alvarado: What's interesting about this is that I was the founding assistant director of OLLAS some 13 years ago. Over the course of the past decade or so, I've stepped into other roles at the university. So, I haven't been as directly involved in OLLAS. But when the need for an interim director came up, I spoke with a number of folks on campus and we felt that this was the best way to transition to a new director. So, essentially my role will be to conduct a national search and an international search actually to bring a new OLLAS director to UNO.
Brandon: Talk about the previous director of OLLAS, Dr. Lourdes Gouveia. What did she do to further the prominence and sustainability of OLLAS at UNO?
Dr. Benjamin-Alvarado: Dr. Gouveia played an important foundational role for what this university is now doing. She focused a lot on the impact of the immigrant populations coming to the state of Nebraska. How that was going to transform the state: not only demographically, but socially, and economically, and now politically. So she laid a lot of the groundwork that we're now seeing come to fruition. In particular she was instrumental in developing OLLAS reports. While they were purely academic in nature, they were designed primarily to really help; government officials, legislators, educators, and the social service agencies in the state are prepared to have a better sensitivity both culturally and linguistically to the needs of the Latino population. I think her role cannot be overemphasized and how invaluable it was in making Nebraska a more welcoming place for Latinos coming to the state and now for the university because we are seeing double digit growth annually of Latinos here at UNO.
Brandon: You've been here you know since 2000. How has the campus changed? And talk about your time as a Maverick.
Dr. Benjamin-Alvarado: Well it has changed remarkably. It was everything that I thought it could possibly be. I did do a lot of research before I came here. And I did know and understand that the demographic changes were going to have an impact on the university. What I didn't see was the way that the university would become such an anchor to this to this part of the city. But also within the state that it has continued to raise its stature in terms of what it offers academically. Now, with the transition to Division-I sports it's really created a buzz around campus about all the wonderful things that are here (which) are available for students. I really count my lucky stars having made a solid decision to come here, because it's paid off in more ways than I could possibly imagine.

Brandon: You teach several courses focusing on politics and U.S. Foreign Relations. What do you emphasize to your students or your classes?
Dr. Benjamin-Alvarado: I always tell my students at the beginning of the semester: This isn't a class or these are not classes where there are right or wrong answers. What I'm hoping students understand is that there's a breadth of perspectives from which they can draw on, to inform their analysis. So, I would like them not to offer me opinions, but to offer me some analysis based upon evidence and to allow that to guide more fruitful and deeper discussions about these issues. I think Americans as a whole really have stepped away from that as kind of the way in which they engage with other people. Gross oversimplifications really undermine people's abilities to really have the types of frank discussions about the impact of our relations with the rest of the world and vice versa. We have to think about that on an ongoing basis. Obviously with the fact that we are engaged in a war that has been going on for 15 years, it really causes one to pause and think about: the things we haven't learned, the legacies of the actions we've taken, and what will we have to do in order to move beyond that. So I try equipping students with the knowledge and understanding of those complex issues sufficiently enough  so when they get into roles of decisions making; and that's what many of them want to do, they want to be decision makers; I feel an obligation to try to provide them with the best skills possible.
Brandon: Is there anything else you'd like to add before we go?
Dr. Benjamin-Alvarado: I just want to say that I feel very fortunate to be able to serve not only the UNO community but in particular the students here. My question is 'what can I do as both a faculty member but also as an administrator to ensure that our students have the best experience possible that will prepare them for the world out there.' I think UNO is really, really doing a remarkable job. There are people who are fully dedicated to that enterprise and it makes it a lot of fun to work with them. So, I really find myself to be fortunate in that regard.
Brandon: Thanks Dr. Benjamin-Alvarado for joining me.
Dr. Benjamin-Alvarado: You're welcome. Have a nice day.
---
Listen Friday, Sept. 9, for a conversation with Jeremy Lipschultz, a School of Communication professor researching social media.
Want to be a future guest, or know someone who should be? Send an email to bmcdermott@unomaha.edu.
Contact Us
If you have a story idea, news tip, or other question, please email the UNO News team at unonews@unomaha.edu.