UNO Alumni Board Involvement is Family Affair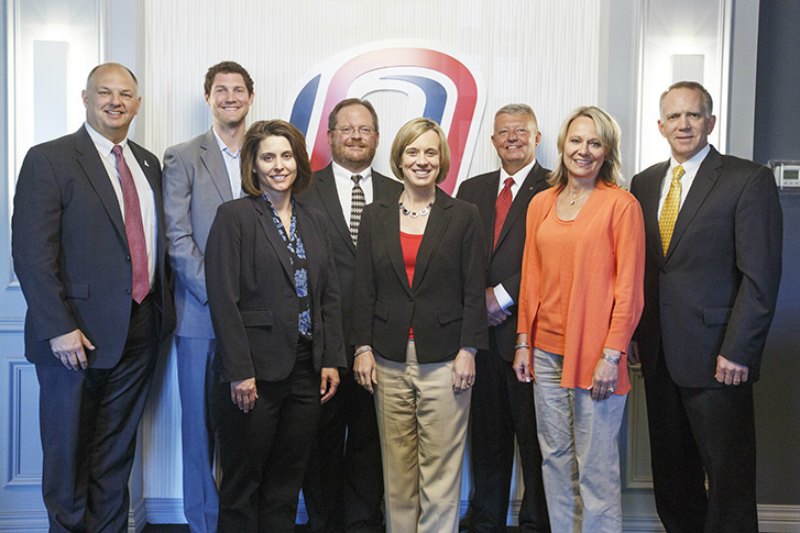 It's hard to top the Pearey-Durbin clan for alumni leadership at UNO. 
On May 24, the UNO Alumni Association named its 104th Board of Directors and named Scott Durbin, vice president of the Harry A. Koch Company, its newest chairman. 
Durbin, who will serve for the 2016-2017 academic year, becomes the 93rd UNO graduate to chair the board and the third in his family to do so. 
Scott's father, Doug Durbin, was board chair in 1994 and his maternal grandmother, Ellen Hartman Pearey Gast, was chair in 1971-72.
No other chairmen in the organization's 104-year history are related to each other.
"Because of my family's involvement with the UNO Alumni Association, I sort of knew I would want to be part of the board at some point," Scott Durbin says. "I love UNO and being part of the engagement activities the association offers."
He has considerable family shoes to fill.
Gast — then Ellen Hartman — was selected the first female editor of the Gateway student newspaper in 1935 when just a sophomore. The May 17, 1935, issue reported: "She was opposed to the tendency among college editors to join radical movements and said she would steer the Gateway clear of such entanglements during her term."
She earned her degree in 1938 and that same year married fellow Omaha University graduate Leo Pearey, a three-star athlete and Little All-American football player.
Gast went on to teach 38 years for Omaha public schools. She was known by many as Omaha's "Dean of Journalism." In 1996 she was named Omaha World-Herald Outstanding Nebraska Teacher of the Year.
"Grandma was all about education," Scott says. "As a high school teacher for most of her life, she always encouraged learning and giving back to the community."
Gast also edited association publications and helped found the Century Club composed of annual fund donors of $100 or more. She passed away in 1996. The Chancellor's Commission on the Status of Woman named her a "Legendary Woman of UNO" in 2012.
Doug Durbin was a member of Tau Kappa Epsilon while at UNO before beginning his long career at Harry A. Koch. He chaired the association the year it completed a $1.35 million expansion to the Thompson Alumni Center.
His wife, Patricia — Ellen's daughter — earned a UNO degree in 1988.
"He served with many board members who are to this day still considered friends," Scott says. "He highly encouraged me to step up and give back to the university."
Scott Durbin already was engaged with the university and association even before he graduated in 1985. As a student he played for UNO's club soccer team. He also made annual fund campaign telephone calls to alumni.
"The association would have a dozen or so students meet at the Thompson Center, eat free pizza and dial for dollars," he says. "The students who raised the most at the end of the evening were given UNO t-shirts or key chains.  We had a lot of fun doing it."
Scott also married a fellow alum, 1989 graduate Jodi Baker. They have three children.
Scott joined the board in 2011 and later chaired the association's scholarship swing committee. Now he heads a board that oversees engagement with a worldwide UNO alumni network of more than 105,000 graduates.
Generation after generation after generation, the family continues to serve their alma mater — first as students, then as graduates. They are the new poster family for alumni engagement.
"I hope to assist with new and exciting engagement activities and maintain the strong financial condition the association has so future alumni boards will look back and appreciate the job we did." 
Just like dad.
And grandma.
Elected, Confirmed
The 104th annual meeting of the UNO Alumni Association Board of Directors was held May 24 at the Thompson Alumni Center. A new executive committee was confirmed and members voted to first and second three-year terms to to the board.
Also at the meeting, a Director Appreciation Award was issued to outgoing board member Todd Rynaski (1995) of Union Pacific Railroad.
David Craft, 2014-15 board chairman, and Andy Rikli, 2013-14 chair, were presented miniature Maverick Monuments in appreciation of their service to the board.
A complete 2016-17 board roster is provided at www.unoalumni.org/board
 
2016-17 executive committee
Chairman: Scott Durbin, Harry A. Koch
1st Vice Chairman: Al Hansen, senior vice president, First National Bank Omaha
2nd Vice Chairman: Laurie Ruge, vice president and controller, Gordmans Management Company
Treasurer: Shari Munro, Frankel Zacharia
Legal Advisor: Randy Stevenson, partner, Baird Holm
Secretary: Chris Denney, senior project analyst, Nebraska Medicine
Past Chairman: Sarah Waldman, vice president, Blue Cross and Blue Shield of Nebraska
President & CEO: Lee Denker, UNO Alumni Association 
First Terms, 2016-19
David Brisson (2002), vice president, Wells Fargo Securities
Gabe Romero (2002), vice president, Phenomblue
Steve Roberts (1976), self-employed artist 
Second Terms, 2016-19
Traci Harrison (2000), community volunteer
Adam Marek (2000), vice president, Colliers International
Penny Parker (1980), executive director, Completely KIDS
Contact Us
If you have a story idea, news tip, or other question, please email the UNO News team at unonews@unomaha.edu.