Intense Competition Highlights Mavericks' Math Skills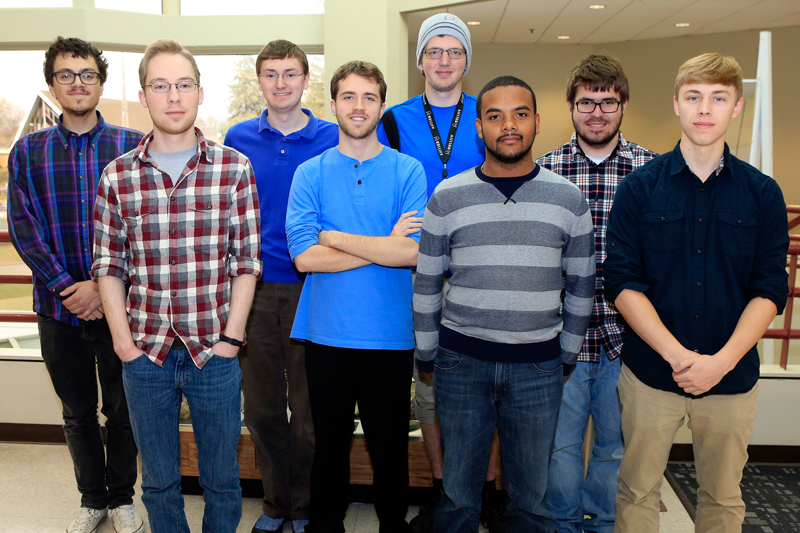 OMAHA – Results are in from one of the world's most prestigious and challenging math competitions, and our math-savvy Mavericks have a lot to celebrate.
The University of Nebraska at Omaha (UNO) was a strong presence in the William Lowell Putnam Mathematical Competition, often called the Putnam Competition.
It's an understatement to call the exam tough. To put things in perspective, last year's median score was three out of 120 and the Mathematical Association of America declared that it may have been too easy. That same year, a third of competitors didn't get a single point.
Results from December's test show that UNO students were up for a challenge.
Brad Horner scored a 38, placing him in the top three percent of the Putnam contestants, and earning UNO's best individual score since 2002.
Horner was one of the top ranking students in the Midwest. No other students from Nebraska, Kansas, Colorado, Wyoming, Oklahoma, South Dakota or North Dakota placed in the same ranking group.
Brad Tuttle scored a 20 which places him among the top nine percent. Brandon Kirk's score of two put him in the top 33 percent and Dylan King's score of one placed him in the top 40 percent.
Thousands of undergraduate students take the Putnam test each year, spending six hours trying to puzzle through 12 questions. The test awards scholarships and cash prizes to the top ranking students.
Horner – UNO's top scorer - said it's a true test of critical thinking.
"The exam is tough because you aren't studying from a textbook or learning the problems from a class. You have to have a more comprehensive understanding of math theory," he said.
Horner has taken the Putnam exam four years in a row, improving each time.
"At this point I'm just so used to math tests. There is always one part of you imagining some unrealistic scenario where you do really well and another part worried about not doing well. In this competition, any points higher than a zero put you in the top half of the country."  
With a knack for mathematics, it's no surprise that Horner is a math tutor at UNO's Math Lab.
"I've always thought math was inherently interesting and have asked questions about it since I was young. When I was five, I asked about infinity. When I was in first grade, I argued with my teacher that negative numbers exist - that sort of thing. People joke and say I got it from my mom, who is an accountant."
But if you ask Horner, he'll tell you he doesn't agree.
After all, "that's a different kind of math."
Related Links
Interested in Studying Math at UNO?
Undergraduate Scholarships for Math Students
The UNO Math Lab
Contact Us
If you have a story idea, news tip, or other question, please email the UNO News team at unonews@unomaha.edu.