CPACS Dean Awarded Honorary Degree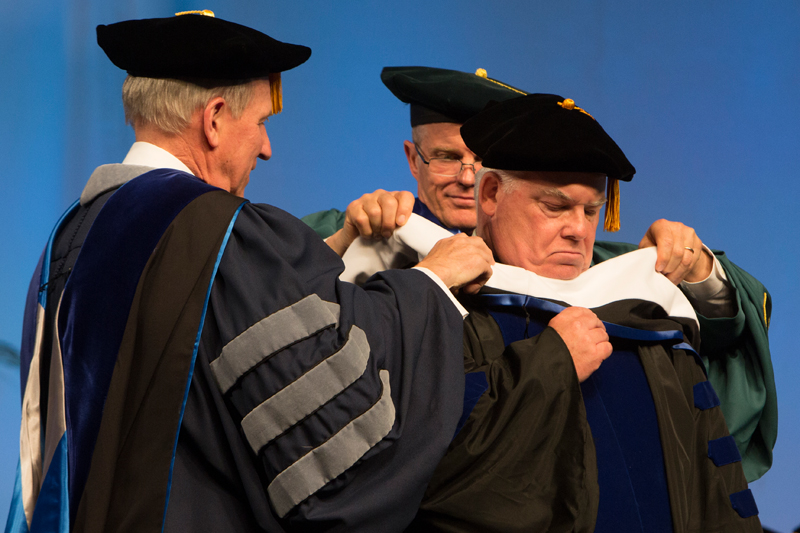 OMAHA – A new honor for College of Public Affairs and Community Service Dean John Bartle celebrates his research and public service.  
Bartle received an honorary degree- Doctor of Humane Letters -  during the State University of New York at Binghamton's Graduate School Commencement Ceremony on Friday, May 20.
Bartle taught at Binghamton from 1990 - 1994. It was his first academic position after earning his Ph.D. at Ohio State.
He's also the grandson of Glenn Bartle, the first president of the university. At its founding, the university was the first public higher education institution in New York state.
Before conferring the honorary degree, Binghamton Provost Donald Nieman praised Dean Bartle's work as a teacher, scholar and public servant.
"Your research on public finance and budgeting has influenced thousands of students, academics and practitioners," Nieman said. "Your dedication to public service serves as an example to all university students."
Bartle had the chance to impart a few words of inspiration and encouragement to some of the graduating students.  
Speaking at a ceremony for the university's College of Community and Public Affairs, he encouraged students to collaborate with others to solve society's problems.
"When you wonder why somebody hasn't done something that needs to be done, use your professional competence, take a leadership role if that is appropriate, and use the tools of cooperation to effectively transform your community for the better," he said.
Watch Dean Bartle's address (Beginning at roughly 56 minutes in)
Contact Us
If you have a story idea, news tip, or other question, please email the UNO News team at unonews@unomaha.edu.