A Maverick with a Passion for Political Science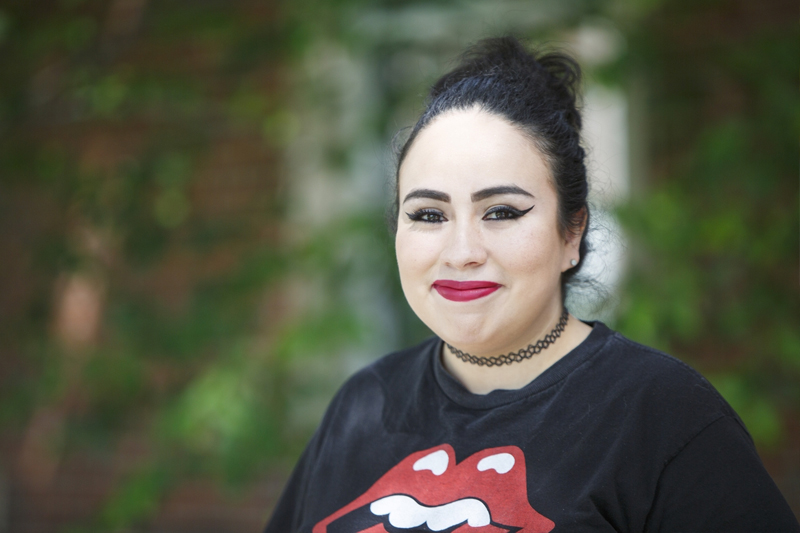 Claudia Granillo took a chance.
The Political Science student was interested when she saw an email encouraging students to apply to attend a prestigious summer institute.
"It was a shot in the dark," she said. "I thought 'I'm probably not going to get in, but it doesn't hurt to apply.'"
The application deadline was just a few days away, but her advisor, Kristin Broyhill, encouraged her to go for it.
"We got everything done over the weekend," Granillo said.  
Up for a Challenge
Granillo likes research and she likes a challenge.
She's a Susan T. Buffett Scholarship recipient. This fall, she'll be working on her master's degree at the same time as her bachelor's degree through the UNO Political Science Department's selective 4 + 1 program.
"I've heard it's a lot more demanding," she said.
A senior at UNO, Granillo is also one of just 15 students from across the nation chosen to attend the Ralph Bunche Summer Institute at Duke University in Durham, North Carolina.
"I hope I learn how to do good research," she said. "I just want to learn from these people, because they're some of the top professors in the U.S."
A Wide Range of Interests
The Institute runs from May 29 through June 30.
During that time, students will meet leading political scientists, explore significant questions in the field, and develop their writing, research and analytical skills. In short, it's a great way to kick start an academic career in political science.
"I think that's what I want to do," Granillo said. "I don't want to run for office. This is not what I'm doing that for."
She's also hoping this experience helps her figure out exactly what part of the field she should focus on.
She's interested in the federal government, how our elected officials often don't reflect the diversity of our nation. She's also interested in foreign policy, and the tactics ISIS uses to recruit young women.
"I'm a little all over the place," she joked.
30 Years of Excellence
This is the 30th year of the Ralph Bunche Summer Institute, which seeks to encourage diversity in the field of political science.
The program's namesake, Ralph Bunche, was a Nobel Peace Prize recipient and the first African American to earn a Ph.D. in Political Science.
The Institute began as a summer program for African American students, but has since been expanded to include students from underrepresented backgrounds, students interested in broadening political participation and students interested in studying issues affecting underrepresented groups.
At the end of the program, students will present original research. Six of them will be selected to go to the American Political Science Association's Annual meeting this September.
Granillo already has an idea what she'd like to research.
"I think I'm going to be looking at how gender and ethnicity influences voting policy in the U.S., I'm not sure though," she said. "I'm still thinking about what I want to do."
Faculty & Staff Who Care
Granillo won't pay a dime for this experience.
She's grateful to the Political Science Department for letting students know about the opportunity and supporting her when she decided to apply.
"I feel like they care about us and they make sure we're on track to get our stuff done," she said. "I just think it's a great department."
Related Links
Interested in Studying Political Science? Learn More about the Department
UNO Political Science Experts Talk Super Tuesday, Superdelegates
Foreign Policy Focus of Take Point University Conference
Contact Us
If you have a story idea, news tip, or other question, please email the UNO News team at unonews@unomaha.edu.