Students Plan to Help Dogs in Nepal, Provide Energy to Those in Need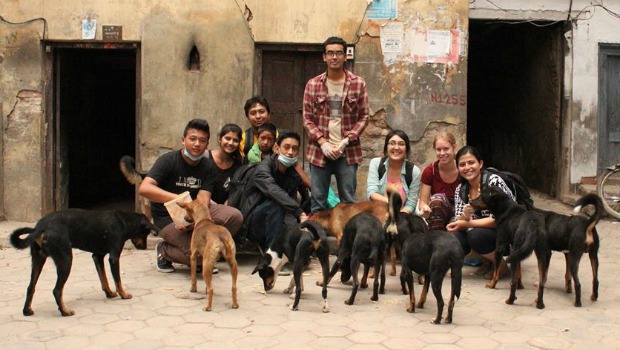 UNO student Angeela Shrestha (third from right) and the Project Humane Nepal team with a group of stray dogs in Kathmandu
OMAHA – Last week three University of Nebraska at Omaha (UNO) students returned from a trip that took them 1,600 miles to San Francisco with the hopes of making an impact more than 7,000 miles away in Nepal.

These three students, Angeela Shrestha, a graduate student earning a masters degree in communications; sophomore business student Aguilera Ramirez; and Jubin Vaidya, who is earning a master's degree in management information systems, were three of five students who participated in this year's Clinton Global Initiative University (CGI U) conference, which regularly hosts college students from across the world to gather and solve international problems.
The conference, which ran Friday, April 1, through Sunday, April 3, highlighted hundreds of projects; Shrestha and her team had one goal in mind: raising awareness for animal health in one of the Asia's poorest developing countries in order to earn enough support to take to the streets of Nepal this summer.

The students' project, called "Together Against Rabies," is designed to provide vaccinations for more than 500 stray dogs in Nepalese villages. The effort is the continuation of an initiative launched in 2015 by Shrestha, who is from Kathmandu, to educate children from her home village about animal rights with the hopes of reducing instances of animal cruelty.

"Nepal is home to a large number of street dogs and many residents believe that these dogs are dangerous when they are not," Shrestha said. "Instead, what happens is that because people believe these dogs are rabid, they are often the victims of animal cruelty to the point where hundreds of dogs are beaten to death or poisoned each year."
After attending the CGI U conference last year, Shrestha returned to Kathmandu over the summer to begin her education initiative. Despite the fact that the city was still recovering from a devastating earthquake in April, she spoke to more than 2,000 children with the hopes of changing their minds.
"When I first met the children I asked them to write their thoughts about dogs on post it notes and found that a large majority of children had negative or aggressive feelings towards them," Shrestha said. "However, after speaking to the students and then returning to the groups to ask them to do the same task those feelings were mostly positive and respectful, which is a really important change."
In order to keep her dream alive, Shrestha established a non-profit organization in Nepal called Project Humane Nepal last fall and currently manages the project and its volunteers remotely from Omaha all while completing a graduate degree.

This year, Aguilera Ramirez and Vaidya joined Shrestha after hearing her story and understanding the level of hardship faced by stray dogs, not just in Nepal, but around the world.

"I understand that it may not be tangible to eradicate this global issue all at once, but personally I think that joining forces with this promising initiative is a reasonable place to start," Ramirez said. "I can already foresee the magnitude of the impact this project will create in Nepal."

For Vaidya, who is also from Nepal, the focus of the project is more personal.

"Coming from a family that has adopted homeless street dogs, I have a deep underlying compassion and empathy towards street animals," he said. "I want to be able to assist with the data management and analytics for our CGI U commitment project and contribute towards animal welfare back home."
While at the conference, the UNO team competed as semi-finalists in the Resolution Project's Social Venture Challenge. Upon returning, Shrestha said that her second visit to CGI U was a reminder to not give up on her goal for a safe and humane environment for all animals in Nepal.
"I received some excellent insights from students, entrepreneurs and community leaders, who were already doing incredible work in their field, about the different ways of sustaining our project," she says. "Knowing CGI U believed in our project and what we can accomplish is beyond encouraging."
After graduating in May, Shrestha has said she will be returning to Nepal permanently to run her organization and continue to advance animal welfare in her home country.
"There is such a history of this kind of thinking in Nepal and the only way to truly make changes is to focus long term and begin to change the perceptions of this generation so that future generations can learn to love dogs rather than fear them."

For more information about Project Humane Nepal, visit the organization's Facebook page at www.facebook.com/projecthumanenepal.
Also at CGIU
One of the other projects at this year's CGI U conference came from doctoral student Fares Al Juheshi, who is studying electrical engineering at the University of Nebraska-Lincoln's (UNL) College of Engineering, which is located at the University of Nebraska's Peter Kiewit Institute on the UNO campus.

For Al Juhesi, his goal was to address the need for renewable energy in the world and how to more effectively provide energy to people living in isolated areas without access to electrical grids or clean drinking water. He hopes to spend the next two years designing a low-cost and easy-to-implement water and solar renewable energy system that will harvest enough solar energy from the sun and kinetic energy from rainwater to power a shelter. The collected rainwater will be further filtered by the system and stored so that it can be reused as a source of clean drinking water.

During his first trip to CGI U, Al Juhesi was impressed by the number of people in attendance who also had big plans to change the world.

"It was without a doubt the most exciting event that I have attended since I began studying at the University of Nebraska and highly recommend other students interested in pursuing a commitment to apply," he said.

The next step for Al Juhesi is finding funding for his project so he can move from the planning stages into implementation.
"The sessions I attended have given me some ideas about how to pursue new avenues of funding that I plan to share with my team back home," he said. "I left the event a lot more motivated and am ready to get back to the lab to make my idea a reality."

For media requests, please contact:
Sam Petto, UNO Media Relations Coordinator
unonews@unomaha.edu
402.554.2704

or

Charley Reed, UNO Associate Director of Media Relations
unonews@unomaha.edu
402.554.2129
About the Clinton Global Initiative University
The Clinton Global Initiative University (CGI U) brings together college students to address global challenges with practical, innovative solutions. CGI U participants do more than simply discuss problems – they take concrete steps to solve them by creating action plans, building relationships, participating in hands-on workshops, and following up with CGI U as they complete their projects. Since 2008, students have made more than 5,500 Commitments to Action. Previous CGI U meetings have taken place at Tulane University, the University of Texas at Austin, the University of Miami, the University of California at San Diego, the George Washington University, Washington University in St. Louis, and Arizona State University. Since its inaugural meeting in 2008, CGI U has brought together more than 7,500 students from over 925 schools and 145 countries. To learn more, visit http://www.clintonfoundation.org/clinton-global-initiative/meetings/cgi-university.
About the University of Nebraska at Omaha
Located in one of America's best cities to live, work and learn, the University of Nebraska at Omaha (UNO) is Nebraska's premier metropolitan university. With more than 15,000 students enrolled in 200-plus programs of study, UNO is recognized nationally for its online education, graduate education, military friendliness and community engagement efforts. Founded in 1908, UNO has served learners of all backgrounds for more than 100 years and is dedicated to another century of excellence both in the classroom and in the community.
Become a fan of UNO on Facebook: facebook.com/unomaha and follow UNO's Twitter updates at twitter.com/unomaha.