From Basketball to Biomechanics
Researcher Kota Takahashi brings expertise on 
powered ankle exoskeleton to UNO.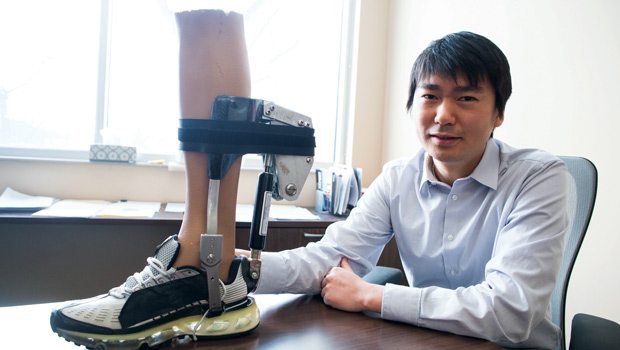 From the Spring 2016 UNO Magazine – Explore other articles
---
For Kota Takahashi, it all started with high school basketball. After suffering an injury during his senior season, the newest addition to the UNO biomechanics faculty became fascinated with the world of sports medicine.
"I was at a point in my life that I needed direction," Takahashi says. "Discovering biomechanics gave me a path and allowed me to pursue a new passion."
Takahashi was born in Japan, but grew up in Michigan and earned his undergraduate degree at the University of Michigan. There, he discovered he could make a bigger impact for those with muscle disabilities by studying a unique technology: exoskeletons.
At the time, scientists and engineers had taken notice of Paralympians who were performing and running as fast (or faster) as Olympic athletes, and were curious about the mechanics behind prostheses. Takahashi began studying biomechanics under Dan Ferris, a pioneer in the field, and alongside Greg Sawicki, now a prominent biomechanics researcher. While at Michigan, the group was able to apply the same mechanics Paralympians use to run and walk for those with deficient muscle diseases.
After earning a Ph.D. in Biomechanics at the University of Delaware, Takahashi continued his post-doctorate work at North Carolina State University, again alongside Sawicki. There they helped create non-invasive sensors that capture the real-time movements of muscles, as well as a robotic exoskeleton that can move along with the person's regular gait.
These sensors "listen in" on the electrical signals muscles use to move, and are attached to the robotic exoskeleton the user is wearing, which, through air compression, painlessly moves the ankle and foot at the same pressure and rate as the user's other non-deficient foot.
The technology we're using to design complex and innovative devices is amazing. We're one big team in this building.
- Kota Takahashi
This innovative technology currently is in the testing phase and will be used 
as a therapeutic tool for stroke survivors as a way to regain muscle control and retrain the user how to walk.
Takahashi and his team performed a feasibility study at North Carolina State, where five post-stroke patients walked with the powered ankle exoskeleton, which resulted in enhanced ankle movement in the paretic ankle.
While conducting his research, Takahashi had learned about UNO's unique, stand-alone Biomechanics Research Building, and knew he'd found the perfect place to continue 
his research.  
"This is an exciting time," he says. "The technology we're using to design complex and innovative devices is amazing. We're one big team in this building."
Now at UNO, Takahashi plans to continue his research on the powered ankle exoskeleton, and has a new ultrasound machine that will help him better see how muscles contract. He also wants to delve into more basic, fundamental research on how the foot and ankle muscles work.
"Whether it's as a walking aid to help with day-to-day movement, as a smart therapy device to retain people how to walk, or simply as a way to improve shoe design, I think wearable devices like exoskeletons can have a huge impact."
Contact Us
If you have a story idea, news tip, or other question, please email the UNO News team at unonews@unomaha.edu.