Maverick Momentum Energizes Bounds
From the Fall 2015 UNO Magazine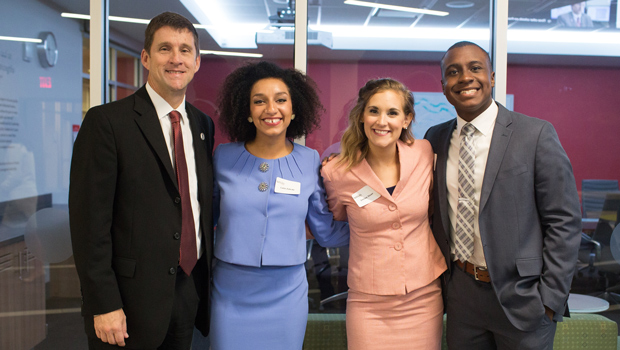 ---
From the Fall 2015 UNO Magazine – Explore other articles
University of Nebraska President Hank Bounds: UNO Will Help Make 
NU a "Giant in Higher Ed"

On April 13, 2015, Dr. Hank Bounds began his tenure as the seventh president of the University of Nebraska. Bounds comes to Nebraska from his native Mississippi, where he started his career as a high school teacher before rising to principal, superintendent, state superintendent and commissioner of higher education. Bounds and his wife, Susie, have two children, Will and Caroline.
He visited the UNO campus for two days in August. UNO Student Regent Brock Lewis caught up with President Bounds to learn more about his hopes and dreams for the university — and UNO's vital role in achieving them.
Brock Lewis: What would you like the UNO community to know about your plans for your new role?
President Bounds: I've always wanted to be in a position where I could help change the world. The University of Nebraska presidency is that position. We have an opportunity to be a true giant in higher education, and I'm honored to be a part of it.
Lewis: What about UNO stands out to you?
President Bounds: Each time I visit campus, I'm energized by the momentum and sense of possibility here. First, UNO is a campus that puts students first. From academic programs that meet student needs, to financial aid and support programs that keep a UNO education within reach, to new facilities like Baxter Arena that are enhancing the student experience – and more – UNO's focus on student success is clear.
I'm also impressed by the talents of UNO faculty. The Biomechanics Research Building is putting UNO at the forefront of a critical field. The work of the College of Information Science & Technology is building a pipeline of STEM workers for Nebraska. The Weitz Community Engagement Center, and the faculty and staff associated with it, are second to none. And those are just a few examples.
Lewis: What opportunities do you see for collaboration between the NU campuses?
President Bounds: If we want to become truly great, we need to focus on a few areas where we think we can be the best in the world. Engineering and information science, early childhood education, national security and defense, water and agriculture, and rural development are some areas where I think the University of Nebraska is positioned for global leadership. Each of these involves complex 
challenges that one campus can't solve alone. We'll need the talents of UNO faculty, staff and students 
to be successful.
To me, that's a great strength of the University of Nebraska. Each campus has unique strengths and a distinct mission. But we also have an opportunity 
to be better together – one university working to 
serve Nebraskans.
Each time I visit campus, I'm energized by the momentum and sense of possibility here
- NU President Hank Bounds
Lewis: How can NU continue to attract students from around the country and the world?
President Bounds: Soon more than 70 percent of all jobs in Nebraska will require education beyond high school. That means we need to be very focused on attracting more talented students to our university and state.
One important way to do that is by telling our story more effectively – ensuring people in our state and beyond know about the impressive education and research happening on our campuses. University of Nebraska alumni are some of our best ambassadors and can help us do that.
Lewis: UNO has been known as a school that serves many "non-traditional" students. Do you think there's such a thing as a "traditional" student?
President Bounds: The definition of a "traditional student" is more fluid every day. Some of our students are from urban settings, some are from rural areas. Some are teenagers, others are lifelong learners. Many of our students have families or full-time jobs. Some are military learners. Some have lived in Nebraska 
their whole life and some come from China, Brazil, India or Japan.
UNO does an outstanding job of meeting the needs of such a diverse student body. Many UNO students are the first in the families to go to college or come from backgrounds that have historically been underrepresented in higher education. And of course one of the greatest points of pride on campus is how well UNO serves military students.
Lewis: What does it mean to you to be a Maverick?
President Bounds: Being a Maverick means forging your own path. I have tried to do that in my life – having been helped along the way by teachers and others who saw the "maverick" in me and believed I could go to college and have the career I've had. I get up every day with the goal of helping students recognize their own potential so they can change their lives for the better.
Contact Us
If you have a story idea, news tip, or other question, please email the UNO News team at unonews@unomaha.edu.