Students Uncover Mysteries of Byron Reed Manuscript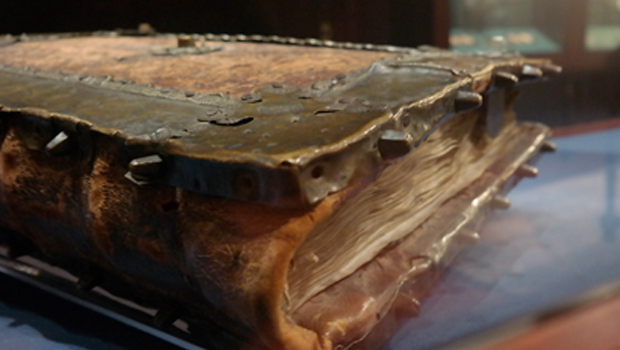 OMAHA - Throughout 2015, a team of students from the History department at the University of Nebraska at Omaha (UNO) researched a medieval chant book housed in the Byron Reed Collection at The Durham Museum. Under the direction of Martina Saltamacchia, director of Medieval and Renaissance Studies at UNO, the students were able to trace this volume across five centuries from its original home in northern Italy to Byron Reed's library in Omaha.
The students will share their findings in a first-of-its-kind presentation, "The Mysteries of the Byron Reed Manuscript: From Medieval Milan to Modern Omaha."
A student panel will explain their findings and members of the UNO Chamber Choir, directed by Shannon Gravelle, will perform selections from the chant book. (While these hymns are not necessarily unique, this particular manuscript has not been used in performance or liturgical services since at least the 1500s.)
There are two opportunities to attend. The Durham will host the first presentation on Tuesday, April 12 in The Stanley and Dorothy Truhlsen Lecture Hall. There will be a reception from 5:30 p.m. - 6:30 p.m. with the presentation beginning promptly at 6:30 p.m.
Then, Thursday, April 14, students will again present their findings at the Barbara Weitz Community Engagement Center, room 201/205/209. A reception is set for 6:30 p.m. - 7:30 p.m. The event will begin at 7:30 p.m. Free parking will be available after 7:00 p.m.
"Opportunities and partnerships like this one with UNO allow for both students and the museum to benefit," said Carrie Meyer, Curator at The Durham Museum. "The students get real-world, practical research experience outside of organized assignments where a positive outcome is not guaranteed - because we don't know what historical records still exist that can be found and pieced together - and the museum is able to present a more accurate and complete historical narrative surrounding its objects to the public."
For reservations at either location, please visit DurhamMuseum.org or call 402.444.5071. Space is limited and registration is required.
Fast Facts
Italy to Omaha
Originating in Northern Italy, most likely in a Benedictine monastery, this gradual (aka chant book) was acquired by the Trivulzio family of Milan. In the 19th century the Trivulzio Library was divided among the heirs, and this manuscript was inherited first by princess Cristina di Belgioioso Trivulzio and then by her daughter, the marquess Maria Trotti. Later in the 1880s, the editor Ulrico Hoepli bought from the marquess this and many other literary treasures, and sold them through his Milanese bookstore to the American Leavitt Art Gallery. Already famed as an avid collector, Byron Reed purchased the gradual at the auction held in New York on November 27th, 1886, bringing the manuscript home to the Midwest.
What is it?
A gradual is a large book containing a collection of responsorial and antiphonal chants – that is, verses sung by a soloist or half-choir to which the choir would respond. The chants from this particular gradual were sung between Easter and the twenty-third Sunday after Pentecost, and follow the Roman Rite, the most widespread liturgical rite of the Catholic Church.
How old is it?
While an exact date for the creation of this gradual is unknown, the examination of the feasts included in the manuscript provides an interesting indication at this regard. For example, this gradual is lacking the Feast of
Corpus Christi, which by 1317 had been widely incorporated into the liturgy of the Catholic Church. It is very likely, therefore, that the gradual might have been written prior to that date – an intriguing hypothesis that would make this manuscript approximately 700 years old.
Preservation
The front and back covers of this manuscript are made of leather, which can become brittle and flake over time. A peculiarity of this book is that it has never been rebound, unlike many others of a similar age - although, if you look closely, you'll notice some of the brass bosses, or metal studs, have been repaired over its long history. The pages, or leaves, of the manuscript were manufactured from calf skin, a process that can take several days to finish. The text inside was written with ink created by blending various powders and liquids. If exposed to light for too long, the colors will deteriorate.
These events are supported by the University of Nebraska at Omaha Fund for Undergraduate Scholarly Experiences and the UNO Medieval/Renaissance Studies program.
Meet the Team
Martina Saltamacchia is Assistant Professor of History and Director of Medieval/Renaissance Studies at UNO. Her research focuses on the Cathedral of Milan and the stories of the people who donated money and goods for its construction. She has published "Milano: Un Popolo e il suo Duomo" ("Milan: A People and His Cathedral," Marietti 2007) and "Costruire Cattedrali" ("Building Cathedrals," Marietti 2011).
Shannon Gravelle is the Interim Director of Choral Activities at UNO, where she conducts the Chamber Choir, Concert Choir and University Chorus. She is a doctoral candidate at the University of Iowa, and her primary areas of research include Russian composer Sergei Taneyev, the choral music of Johannes Brahms, the life and works of Barbara Strozzi and conducting pedagogy.
Marcia Bennett is a senior at UNO, working toward a Bachelor of Science in History and a minor in Native American Studies. She plans on attending a graduate program in Museum Studies to prepare for a career as a museum curator.
Derek Benson is currently a Master's student at Western Michigan University in Kalamazoo, Michigan. His primary research interests include the Levantine and Albigensian Crusades, and more broadly 13th-14th century France. He will graduate in the spring of 2017 and plans to pursue a Ph.D. in Medieval History.
Matthew Lockwood is currently pursuing a Master's in History at UNO. His studies focus on manuscripts, early Iceland and paganism. Matthew also holds a Bachelor of Arts in History from UNO with a minor in Medieval and Renaissance Studies. Upon completion of his Master's, Matthews intends to pursue a Ph.D. with the intention of teaching at a university.
Paula Valls is a graduate of UNO with a Bachelor of Arts in History and English Literature and a minor in Medieval and Renaissance Studies. She is currently a Collection Associate at The Durham Museum and will begin coursework toward a Master of Arts in Museum Studies at the University of Oklahoma this year.
For media requests, please contact:
Sam Petto, UNO Media Relations Coordinator
unonews@unomaha.edu
402.554.2704
or

Jessica Brummer, Durham Museum Director of Marketing and Public Relations
jbrummer@DurhamMuseum.org
402.444.5071, ext. 560
About the University of Nebraska at Omaha
Located in one of America's best cities to live, work and learn, the University of Nebraska at Omaha (UNO) is Nebraska's premier metropolitan university. With more than 15,000 students enrolled in 200-plus programs of study, UNO is recognized nationally for its online education, graduate education, military friendliness and community engagement efforts. Founded in 1908, UNO has served learners of all backgrounds for more than 100 years and is dedicated to another century of excellence both in the classroom and in the community.
Become a fan of UNO on Facebook: facebook.com/unomaha and follow UNO's Twitter updates at twitter.com/unomaha.
About The Durham Museum
The Durham Museum in Omaha's beautiful art deco Union Station is home to permanent exhibits that preserve Omaha's vibrant history, traveling exhibits covering subjects ranging from history and culture, to science and industry and many entertaining, educational, family-oriented activities. The Durham Museum is an affiliate of the Smithsonian Institution and has strong ties with the Library of Congress, National Archives and The Field Museum. Admission
is $11 for adults; $8 for seniors; $7 for children 3-12; and free for members and children age 2 and under. For information about The Durham Museum please visit the museum's website at DurhamMuseum.org.
Contact Us
If you have a story idea, news tip, or other question, please email the UNO News team at unonews@unomaha.edu.