MavForensics Finishes Fifth in Nation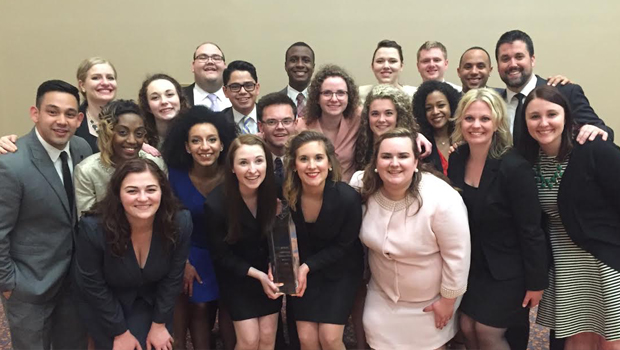 GAINESVILLE, FL. – For the fourth time in the last six years, the University of Nebraska at Omaha (UNO) MavForensics team has capped off their season with a top five finish on the national level.
The team is taking home the fifth place trophy in the American Forensics Association National Individual Events Tournament (AFA-NIET), which wrapped up Monday, April 4 in Gainesville, Florida.
Three other teams from Nebraska finished in the top 20, with the University of Nebraska-Lincoln placing 9th, Hastings College placing 15th and Doane College placing 16th. That marks the most schools in the top 20 from any state in the nation.
"It was a staggering, humbling year for us and a sign of bright things to come with such a young, talented squad," MavForensics Assistant Coach Ryan Syrek said.
The team, which also won the state championship, consists of 11 underclassmen, two juniors and just one senior.
The team was led by senior Catie Zaleski, who finished ranked the sixth overall speaker in the entire nation. Catie and duo partner, Freshman Abby Hoffman, placed third overall at the tournament in Duo Interpretation. Catie also placed third in Dramatic Interpretation, with junior Abbie Herbert taking home second in the same event and placing in quarterfinals in After Dinner Speaking. Catie also advanced her Program of Oral Interpretation to semifinals (top 12 in the nation) and her Poetry Interpretation to quarterfinals (top 24 in the nation). Abby took her Prose Interpretation to semifinals and her Dramatic Interpretation to quarterfinals. Sophomore Dominic Hernandez made semifinals in both Prose Interpretation and Program of Oral Interpretation and quarterfinals in Poetry Interpretation. Sophomore T'eyrr Bynum made quarterfinals in both Dramatic Interpretation and Poetry Interpretation. Freshman Ameres Groves made quarterfinals in Program of Oral Interpretation.
In addition to the competitive success, Catie also became only the fourth "All-American" in MavForensics' history. All-Americans are awarded based on three criteria: Competitive success, academic excellence, and service to the community. The selection is made by a national committee, who found Catie's application among the best in the nation, awarding her a slot on the coveted team. Even the coaches were recognized, with Assistant Director of Forensics Cameron Logsdon winning the "Outstanding New Coach Award," presented to a recipient for excellence in their first five years of coaching. Director of Forensics Abbie Syrek previously won the same award back in 2011. Only two schools in the country have had two coaches who received this prestigious award, Kansas State University and now, UNO.
All told, it was one of the most successful years in the program's 10-year tenure under Syrek. Complete results are detailed below:
Quarterfinalists
Abby Hoffman – Dramatic Interpretation
Ameres Groves – Program of Oral Interpretation
Dominic Hernandez – Poetry Interpretation
T'eyrr Bynum – Poetry Interpretation, Dramatic Interpretation
Abbie Herbert – After Dinner Speaking
Catie Zaleski – Poetry Interpretation
Semifinalists
Abby Hoffman – Prose Interpretation
Dominic Hernandez – Program of Oral Interpretation, Prose Interpretation
Catie Zaleski – Program of Oral Interpretation
Finalists
Abbie Herbert – National Runner-Up in Dramatic Interpretation
Catie Zaleski – 3rd Place in Dramatic Interpretation
Catie Zaleski/Abby Hoffman – 3rd place in Duo Interpretation
Overall Awards
Catie Zaleski – 6th overall speaker, All-American
Team – 5th place in the nation
Cameron Logsdon – Outstanding New Coach of the Year
For media requests, please contact:
Sam Petto, UNO Media Relations Coordinator
unonews@unomaha.edu
402.554.2704
or

Charley Reed, UNO Associate Director of Media Relations
unonews@unomaha.edu
402.554.2129
Related Links
MavForensics are Back-to-Back State Champs
Learn More about MavForensics
Support MavForensics Students
About the University of Nebraska at Omaha
Located in one of America's best cities to live, work and learn, the University of Nebraska at Omaha (UNO) is Nebraska's premier metropolitan university. With more than 15,000 students enrolled in 200-plus programs of study, UNO is recognized nationally for its online education, graduate education, military friendliness and community engagement efforts. Founded in 1908, UNO has served learners of all backgrounds for more than 100 years and is dedicated to another century of excellence both in the classroom and in the community.
Become a fan of UNO on Facebook: facebook.com/unomaha and follow UNO's Twitter updates at twitter.com/unomaha.
Contact Us
If you have a story idea, news tip, or other question, please email the UNO News team at unonews@unomaha.edu.