Biomechanics: The Future in Motion
A military employee looking to help injured veterans.  
A student athlete interested in medical school.  
 
A physical therapy student interested in fitness. 
 
An adult learner wanting to teach the next generation of scientists. 
 
There is no one profile of a student in UNO's newest departmental addition, the Department of Biomechanics, which officially launched in Fall 2015.  
 
Biomechanics, which can broadly be considered the study of human movement, is one of the fastest growing areas of scientific research with applications for everything from running shoes to prosthetics to therapies for children with autism. 
 
Today, UNO is at the forefront of this growing field, but the story all starts back in 1989 with Nick Stergiou, Ph.D, a UNO professor and biomechanics department chair, who came to get a degree in exercise science. Upon finishing his schooling he earned a Ph.D. from the University of Oregon, whose research facilities are used many of the world's smartest minds to study the world's top athletes, before returning to UNO to study and teach biomechanics.  
 
In the two decades since Stergiou, a native of Greece, made Omaha his permanent home, his focus on biomechanics as moved from a single office space to the $6 million Biomechanics Research Building – the world's only stand-alone facility dedicated to the study of biomechanics.  
 
The program has also grown from a focus area within exercise science to it's own department – also one of the only departments dedicated to biomechanics in the world – complete with its own doctoral degree focus area and a stand-alone undergraduate degree, which also launched in Fall 2015.  

---
Student Profiles

 
The Biomechanics Research Building is not only home to a host of UNO faculty, who are some of the top minds in their field, but also to dozens of students who use the space to volunteer as much as they use it to work on research projects.  
Ph.D. in Exercise Science
Jenny Kent
Troy Rand

Bachelor's of Science in Biomechanics
Alli Kalina
Mads Nelson

---
Jenny Kent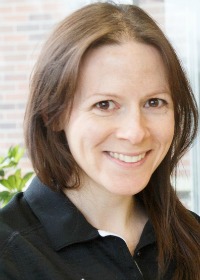 Doctoral student Jenny Kent may be finishing her second year under the guidance of Biomechanics Chair Nicholas Stergiou, but it wasn't long ago that she was an ocean away, living in London and working for the United Kingdom's Defence Medical Rehabilitation Centre.
Today, Kent is taking a decade's worth of experience working with wounded military personnel and applying it to research that seeks to make more responsive prostheses. Her research has even earned funding from the National Institutes of Health. 
"The idea of the project is to improve the sensation of the residual limb so that the person is able to pick up information from the environment while they are walking," Kent explains. "My main interest in terms of prosthetics is getting people to be more adaptable so, for example, they are not limited by uneven ground and slopes. A part of this is being able to sense the ground, ideally without having to look at it. " 
Kent was swayed to come to Omaha by Stergiou after a workshop he gave in Dublin, Ireland, in 2013.  
"I heard he was using new analysis techniques with individuals with amputation that could be useful to the work I was doing with injured military personnel, and I spoke him coming to visit," she says. "When I came to visit I had no intention of doing my Ph.D. in the states, but I was swayed by the possibilities that it could provide." 
One of the areas that truly excites Kent is Stergiou's focus on non-linear methods to understand how people walk. Instead of looking at an average step that a person may take, Stergiou's research looks at what the variations in each step say about a person's condition. 
"One of the things I liked about coming here is that we do biomechanics, but it is very interdisciplinary so you've got people from diverse backgrounds looking at it from all sorts of different sides," she says. "It's really helpful when you're looking at different pathologies to have that broad input, because each condition is multidisciplinary. You've got to look at it from all kinds of different angles. I think having that sort of approach is essential, really."  
The interest in multidisciplinary backgrounds is important to Kent because it allows her to expand upon her background as an engineer. Her bachelors degree is in mechanical engineering and her masters is in biomedical engineering, both of which touch on biomechanics but are also their own separate areas of focus.    
While she is not sure what she will do once she earns her doctorate, she says the opportunities that will be possible due to her degree are numerous and varied.  
 
Kent, who is currently well into her doctorate, says that this is even more the case for undergraduate students that have the chance to be a part of the new biomechanics undergraduate degree. This is in no small part, she says due to the "amazing" facilities at UNO. Even those who aren't currently pursuing a biomechanics degree are gaining other types of experience through volunteer opportunities at the Biomechanics Research Building. 
  
Kent says that if you have the opportunity to volunteer and enjoy the work going on in the building, earning a biomechanics degree is not only a logical next step, but one that will give you more flexibility in what you choose to do next. 
  
"We always have good volunteering opportunities, so we do get a lot of undergraduates exposed to Biomechanics, but this does not really rival having a program that provides you with all of the necessary scientific background and techniques behind it. To have such a program within a center that has the facilities to do pretty much any biomechanics project you want to do is a really great thing.
---
Mads Nelson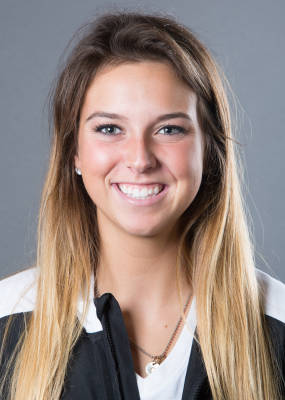 UNO freshman and student-athlete Mads Nelson has the distinction of being the very first freshman to declare biomechanics as their major as part of the program's launch in Fall.  
A member of UNO's track and field team, Nelson is a triathlete with her eyes set on competing in the 2020 Olympics in Japan.  
Not surprising, Nelson's interest in biomechanics began because of her passion for running. 
"It was really interesting to see how the mechanics of your body help you run," she says. "Your running ability changes your form and changing your form can help you become a better runner." 
This not only applies to just form, but also prosthetics that athletes may need to wear if they are amputees. In fact, one of Nelson's athletic inspirations is a friend who lost his leg and, when competing in triathlons, needs to factor in time to his events to switch out his prostheses.  
"It's crazy to see how he transitions because he has a different leg for each event, so there is a swimming leg, a running leg, and a biking leg," she says. "But he competes just like any other person and kills his competition in the water." 
Nelson, who is planning to attend the Triathlon World Championships in Mexico next year, says it's a challenge to balance both school and athletics because of how rigorous the biomechanics program is, but her professors are her best support group. 
"I want to graduate in four years, so it's a lot," she explains. "It's somewhere close to 17 or 19 hours a semester plus summers, but Dr. Yentes is really, really helpful." 
Jenna Yentes, Ph.D., a UNMCA alumna and assistant professor in the Department of Biomechanics, is one of Nelson's mentors. The faculty member has let Nelson shadow her work with prosthetics and how researchers are constructing their own prosthetics based off of research done in the labs located at the Biomechanics Research Building.  
"My dad is soldier and they do a lot of things with soldiers through the VA, which is pretty awesome," she says. 
In addition to her goal of competing in the Olympics, Nelson also hopes to attend medical school and start a career in pediatric oncology, working with children who have blood-born diseases. Yentes is helping out with this as well thanks to her research on diseases like Chronic Obstructive Pulmonary Disease. 
Nelsons says even though she is still new to the program, she knows her work with Yentes and other faculty will set her apart from other medical school applicants. 
"It's really cool how you can learn to manipulate your body to overcome medical issues because it can be such a challenge," she says. "I think it's great this program because a lot of people are pre-med so having these facilities and that research behind it is really helpful." 
---
Troy Rand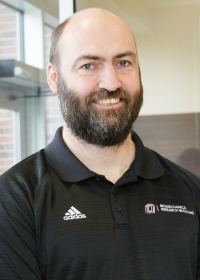 For doctoral student Troy Rand, his inspiration for coming to UNO to study biomechanics happened at one of the most unlikely times. 
Back in 2008, Rand was working in a factory in his hometown of Cedar Falls, Iowa. Seeing that his job was going nowhere he knew something needed to change.  
"I didn't want to be one of those 70-year-old people making the same amount of money that I make now, and so that's what got me back into college," he explains. 
After studying Exercise Science at the University of Northern Iowa for a few years he decided that a career in academia is what he wanted to pursue. 
"I was looking at grad schools and UNO was only one that I was close enough to visit. So I came and visited and was amazed at what was here already at the time, and I could see the depth of the research and what they were doing here." 
Rand, who is currently in his third year as a Ph.D. student, earned a master's degree in exercise science and then immediately transitioned into the doctoral program, which was barely a year old at the time. As Rand advanced in his program, so too did the program overall. 
"I came to the department almost five years ago when we were still in the HPER building and we didn't have a Ph.D. even at the time," he explains. "So when I came here I came here originally to both Masters and PhD and this is where I wanted to work, under Dr, Stergiou and a year after I was here is when we got funding for our building and we got our Ph.D. program." 
Today, Rand studies under Mukul Mukherjee, Ph.D, a UNO alumnus and current assistant professor in the department. With Mukherjee, Rand is helping to study how the brain communicates with the body and how understanding those connections can improve therapy programs for people recovering from strokes or other diseases that affect motor control. 
"I came here interested in athletics like a lot of people do in this field but as soon as we got a call one day and were told that a guy was not requiring surgery because of a test we did, it made me feel really good, especially since it would have been a very invasive surgery," Rand says. "To know that something we did stopped this guy from needing a surgery was a great feeling." 
Rand says that the recent changes for biomechanics at UNO are incredibly important because so few programs in the country are able to prepare students for advanced research tied specifically to biomechanics.
"I was not prepared for biomechanics in my undergrad," he explains. "I think having an undergraduate degree in biomechanics and our own department of biomechanics is really going to allow us to set people up for success." 
Rand, who hopes to become a professor himself after earning his degree, is excited for the future of research coming out of the department and wants the next generation of students to come to UNO so they can help as wide a variety of people as possible. 
"We can ask and answer questions with almost any kind of movement so that allows us to look at varied populations like stroke patients, people with peripheral arterial disease, amputees, all these different populations and we can use our techniques to look at them," he says. "I think it gives people a lot of opportunity." 
---
Alli
Kalina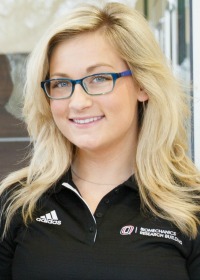 An Omaha native who has spent a lot of time in the Biomechanics Research Building is Alli Kalina, a senior who recently switched her major to biomechanics from a focus on physical therapy and exercise science after the program became available this fall.  
Kalina says she has always been fascinated with human movement, she just wasn't sure how to quantify it.  
"At first it was a fascination with health and fitness," Kalina says. "So that's why I chose exercise science, but when I started taking more exercise science classes and got exposed to the biomechanics building that's when I really started becoming more fascinated and passionate about the science behind human movement. 
 
Kalina had been working in the building as a student employee since 2014, looking to get more research experience, but once the option to earn a degree in the field she was most passionate about within her program became available, she couldn't turn down the opportunity.  
 
"I'm not typically someone who fits in with the crowd, so to speak, so then when they got this degree I was like, you know what, I really don't think I want to do physical therapy any more, and so I'm going to switch and change paths altogether," Kalina says.  
 
Even though the switch added more time to her plans for graduation, Kalina explains that the choice has opened a whole new area of opportunities for her.  
"My dream job would be to do research in Nike's lab, but in the meantime, the FUSE I recently got is for creating an orthosis so we are building that downstairs and it's really cool to design and building something like that," she says.  
No matter what she does or where she goes after graduating, Kalina says UNO's biomechanics team will be right there with her.  
"The faculty here are just amazing," she says. "They really have turned into a second family for me to the point where even if I leave and go to a different part of the country I would definitely want to stay in touch with the people here. That's been a really great thing." 
Contact Us
If you have a story idea, news tip, or other question, please email the UNO News team at unonews@unomaha.edu.