Maverick road trips fun for everyone
Not only is it affordable, but you don't even have to be a sports fan to enjoy a road trip to watch the Mavericks.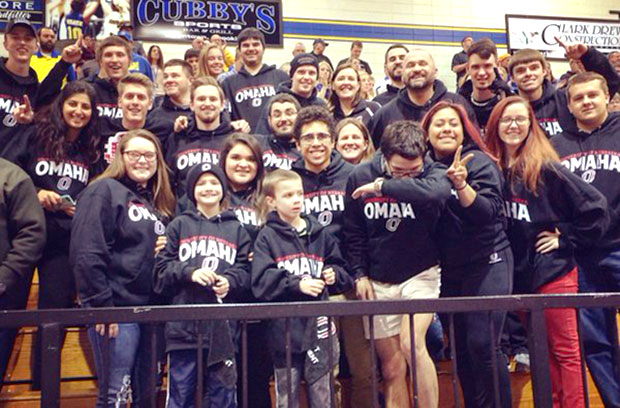 Bill Pickett, Senior Director of Involvement, and Student Affairs know how to plan a trip with a student's budget in mind. For a small price, any UNO student can travel all over the country to watch the Mavs.
For closer destinations, the trips will return right after the game is over. If it's farther away, the fun can stretch over an entire weekend.
A recent excursion to Brookings, South Dakota to watch the UNO Men's Basketball team only cost $25. Transportation on a charter bus, a ticket to the game, a UNO sweatshirt, and a travel bag of goodies were included in the price. Depending on the trip, the student's cost and what's included varies, however keeping the cost low is a priority, according to Picket.
The trips to watch the hockey team have the highest demand, Pickett said. He organized rides to South Bend, Indiana and Boston to watch the Mavs during their historic run to the Frozen Four. If the team is lucky enough to make the NCAA Tournament again, you can bet on Bill making something happen.
Students who went to Boston, South Bend, and Colorado Springs simply paid a flat fee, and Pickett took care of the rest. Since college hockey games are usually a weekend series on a Friday and Saturday, this means a hotel stay for two nights with a full day to explore whichever city the Mavs are in.
Juniors Blake Cherny and Will Bakke go to as many Mavs basketball games as they can. As avid sports fans, they say it's an easy decision.
You're paying basically nothing and the entire trip is planned for you. For us, it was a no-brainer.
- Junior Blake Cherny
Cherny and Bakke went to the basketball game at South Dakota State on a Thursday night and then woke up the next morning to hop on the bus to watch the hockey team in Colorado Springs.
"You're paying basically nothing and the entire trip is planned for you," said Cherny. "For us, it was a no-brainer."
You do not have to be a sports fan to travel with the team, however. Lots of the students go on the trips to meet new people, or just to do something different on the weekend.
"It's really easy, it's a good deal. I mean, I don't know how to explain it, but it's just really cool to support the team on an away game," said UNO student Richard Larson.
"Bill (Pickett) makes it really fun," added Larson.
It's a deal that lots of recent alumni wish they would have had when they were students.
"I hear that all the time," said Pickett.
Pickett says if there is enough student demand to go to a particular sporting event, he will do anything he can to put something together. That's what he did when he drove a van of students to Denver to watch the volleyball team in the Summit League Tournament.
Be sure to keep an eye on the Maverick Weekly for announcements. Spots are reserved on a first-come, first-served basis. You can also find pre-game events and activity info here.
Contact Us
If you have a story idea, news tip, or other question, please email the UNO News team at unonews@unomaha.edu.