Criss Library Exhibit Features Architectural Studies of H. A. Raapke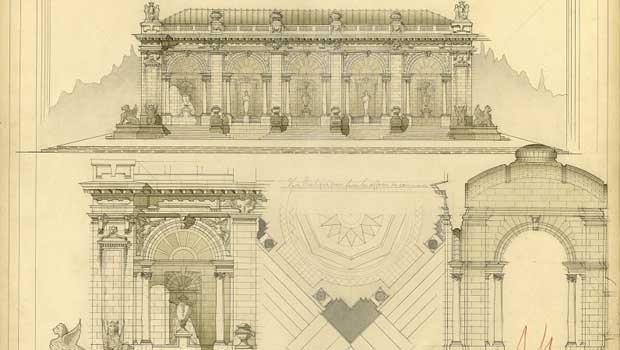 The Criss Library Archives and Special Collections presents a new exhibit, "The Architectural Studies of H. A. Raapke," featuring works produced during H. A. Raapke's student years, circa 1899-1907. Many of these drawings were part of his coursework for two schools in Paris: Altier Préparatoire D'Architecture and École Nationale des Beaux-Arts. 
The exhibit is in two parts: online and in-person. The online component includes all 59 extant drawings, which may be viewed in the Criss Library Online Exhibit space at http://unomaha.omeka.net/exhibits/show/raapke. The in-person component consists of 16 of the original large drawings, which are on display in the glass exhibit cases of Archives and Special Collections, on the lowest floor of the Criss Library. The exhibit will run through the end of April 2016.
H. A. Raapke (d. 1959) was an architect in Omaha, Nebraska. He designed the Renaissance Mansion in Omaha, the North Star Theatre in Omaha, and the New Moon Theater in Neligh, Nebraska. He was a member of the American Institute of Architects from 1918 until 1923. The Criss Library has no other information about Raapke's life and career. If you have some biographical information about him, please contact Angela Kroeger, Criss Library Archives and Special Collections Associate, at akroeger@unomaha.edu or (402) 554-4159.
Contact Us
If you have a story idea, news tip, or other question, please email the UNO News team at unonews@unomaha.edu.