You Are Welcome Here
Recent events have reminded us that, as a campus and a community, we can always do better, listen more closely, and take action to ensure that the Maverick values of inclusion, access, and excellence are practiced and experienced by every member of our community.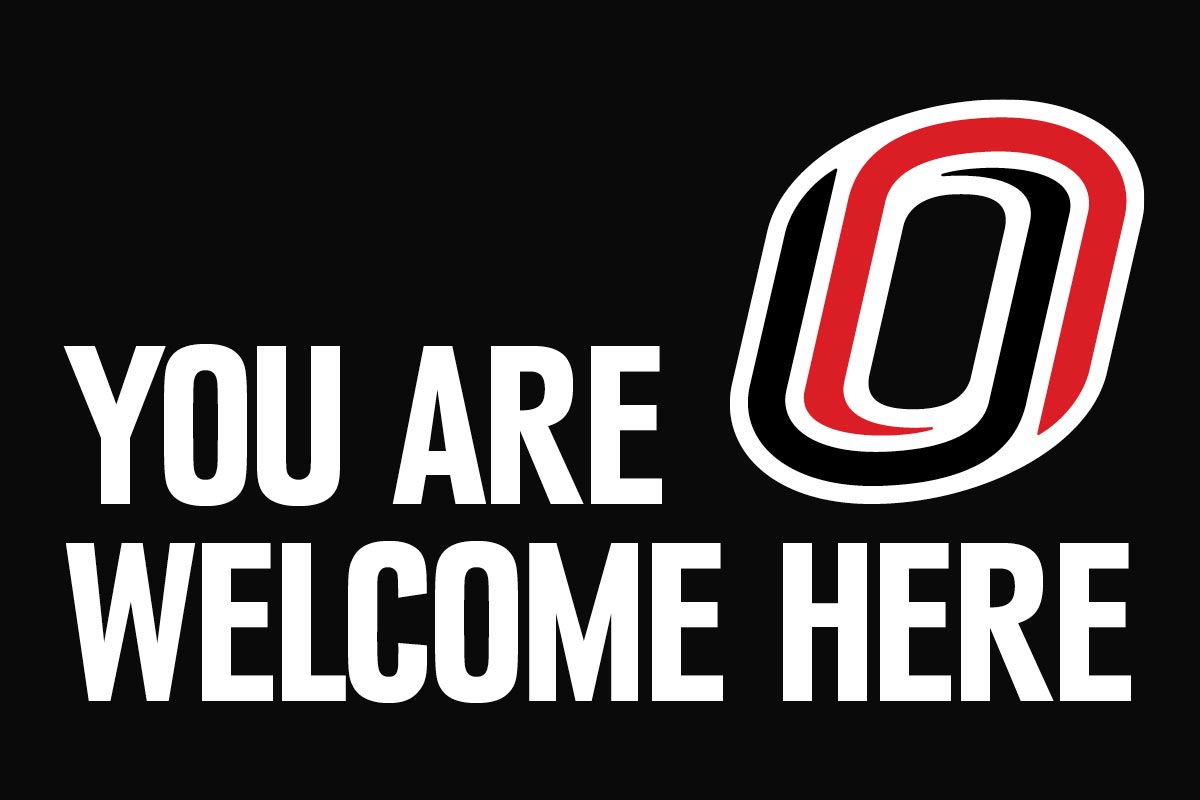 This summer, following the deaths of George Floyd and James Scurlock, we reaffirmed that when Omaha mourns, we mourn. 
As continued social and political strife effects our country - from Omaha to Kenosha, Wisconsin, to Portland, Oregon - it is important for you to know that not only are you welcome here, but you have a voice here.
Whether it's through one-on-one conversations with your peers or colleagues; classroom discussions on topics of bias and hate; or open discussion sessions hosted by campus groups - your voice, your opinions, your feelings, your ideas, and your concerns are ones that we want to hear.
Chancellor Gold recently reaffirmed these ideas in a message to campus, stating:
Look inward and live out your Maverick Spirit. Show strength, resilience, curiosity, and independent thinking in our collective journey toward your academic success in the setting of equality and justice. In addition, if you choose to make your voice heard, be safe in speaking your truth.
This sentiment is shared far and wide among our campus and has recently been reinforced through messages of support, hope, and unity. 
We hope reading these messages shared by our University community this summer will inspire you to #BullThrough hate by speaking up, helping others, and facing tough times with the relentless dedication to a better future that brought you to UNO as a member of our Maverick family. 

University of Nebraska President Ted Carter
Chancellor Jeffrey P. Gold, M.D.
University of Nebraska Student Body Presidents/Student Regents
Executive Director of University Communications Makayla McMorris
Office of Multicultural Affairs
Need to report an incident of bias, hate, or discrimination? You can do so online or by calling the Department of Public Safety at 402.554.2648. 
Also, remember that it is okay to NOT feel okay. If you, or someone you know, is in need of support, make sure you connect, take care, and get help through the many resources and community groups at UNO.
Has your office, unit, or organization shared similar messaging? If so, please let us know at contact@unomaha.edu. 

 
---
University of Nebraska President Ted Carter
Like so many others, I'm grieving & angry over the killing of George Floyd. Too many members of our community know the ugly pain of racism. I join @RonnieDGreen, @jeffreypgold & @KristensenDoug in pledging the University of Nebraska will work every day to be part of the solution: pic.twitter.com/ccNjYVNuQW

— Ted Carter (@UofNE_President) May 31, 2020
Chancellor Jeffrey P. Gold, M.D.
"Like many in the Omaha community, around the state and the nation, I am saddened by all of the events of the past week and most recently, the death of James Scurlock.

While I can never truly be able to comprehend the depth of pain Black, Brown, and marginalized individuals in our university community must be feeling today, my heart truly hurts along with theirs."
University of Nebraska Student Body Presidents/Student Regents
"We have felt so many emotions over the past week.

Grief over George Floyd's death.

Fury that his name is only the latest addition to a long list of black Americans who have been unjustly killed – Breonna Taylor, Ahmaud Arbrey and too many others before them.

Frustration that this is happening against the backdrop of public health and economic crises that have impacted so many people around the world.

Pride in the thousands of Americans, including many of our fellow Nebraskans, who have peacefully advocated for justice, and disappointment over scenes of destruction that have distracted from the causes for which we stand.

And hope – that our generation can help lead the way forward."
Executive Director of University Communications Makayla McMorris
Mavericks know what it takes to carve out difficult paths, overcome obstacles, and to stop at nothing to achieve our goals. That is what it means to be a Maverick. That is what it means to #BullThrough.

I and university leaders are under no illusions that we at our campus will be able to overturn more than 400 years of injustice tomorrow, so we are going to fight for justice and equality where we are today. This work will not be easy and does not have an end date, but it will be worthwhile.

UNO Student Government
Recent events have made it clear racial inequality is not in our past; they have amplified the sting of injustice and the pain felt not just by black Americans, but by many other communities who have been seen as less than for far too long. It is the duty of all American citizens to recognize the injustices and call them out for what they are. We must hold our leaders accountable to the values that our nation claims to believe in.

We are deeply disheartened by the events of the past week, and unrest throughout our city, state, and nation. These events have left us frustrated, yet determined. Shaken, but not swayed.

UNO Faculty Senate
We believe the greatest resistance to injustice lives within the strength of individual character. Grace, resilience, beneficence, tolerance, trust and tenacity are all part of the Maverick Spirit. Mavericks lead the way in effecting positive change by promoting education, liberty, empowerment, and justice. We must remain steadfast and exhibit these qualities so that the system can adopt and enact change. Be informed, be logical, be tolerant, be considerate, be just… be a Maverick.

UNO Staff Advisory Council
It is an understatement to say we live in uniquely challenging times. We continue to deal with a global pandemic and its economic fallout, while recent local and national social and political unrest have shown that our country's deepest divisions remain raw and unhealed. Like so many, these events have left me heartbroken and frustrated by the threats that Black, Brown, and otherwise marginalized individuals face. Yet I remain hopeful that UNO, and our Maverick community, can be a resource for a better tomorrow.

Office of Multicultural Affairs
We must acknowledge that racism is all around us. It is deadly. It is oppressive. We will must find positive strategies to combat this ill in our society, our communities, our educational systems.

The Office of Multicultural Affairs is committed to equity and racial justice. We are here to support you as a resource during these challenging and uncertain times. We will continue to support the healing and flourishing of our students, our campus, and each other.

We acknowledge that this statement is only a statement and is not enough. It is not what we say here today that matters, but what we do tomorrow.
UNO Libraries
Libraries and library personnel play a collective roll in confronting racism, bigotry, bias, prejudice, ignorance, hatred, and violence within our halls and in the broader Omaha community. Your library is here for you, in person and virtually.

International Programs
During this time of significant tension and stress for our country, our state, and our Omaha community, we understand that you might have many different feelings. It is natural to feel anxious, apprehensive, outraged, confused, or overwhelming emotions in such disturbing times when you are far away from your families and home countries. We want you to know that we are here for you and that we are stronger when we come together and support each other.
Omaha Athletics
"As the premier public metropolitan university of our state, we hope to be a source of pride for everyone in our community, to be an example of how to gather together to better understand and celebrate our differences and work together to ensure that each individual feels the love and respect that they deserve. This process won't be easy and it won't be quick, but it is the most worthwhile endeavor."
About the University of Nebraska at Omaha
Located in one of America's best cities to live, work and learn, the University of Nebraska at Omaha (UNO) is Nebraska's premier metropolitan university. With more than 15,000 students enrolled in 200-plus programs of study, UNO is recognized nationally for its online education, graduate education, military friendliness and community engagement efforts. Founded in 1908, UNO has served learners of all backgrounds for more than 100 years and is dedicated to another century of excellence both in the classroom and in the community.
Become a fan of UNO on Facebook and follow UNO's Twitter updates. 
Contact Us
If you have a story idea, news tip, or other question, please email the UNO News team at unonews@unomaha.edu.