UNO Biomechanics Student Named 2017-2018 Buffett Scholar
Jordan Wickstrom, along with her faculty mentors, shared her research and described its implications for the early childhood field.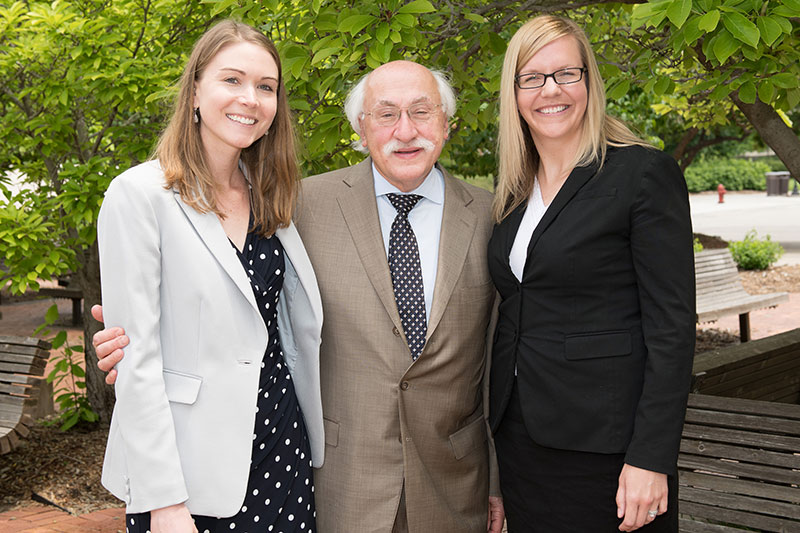 Amy Roberts (left) and Samuel Meisels (center) of the Buffett Institute alongside UNO recipient Jordan Wickstrom (right)
The 2017-18 class of the Buffett Institute Graduate Scholars program presented its research at a symposium last week in Omaha. The Buffett Scholars, University of Nebraska doctoral students Sonya Bhatia and Amy Colgrove (UNL) and Jordan Wickstrom (UNO), along with their faculty mentors, shared their findings and described its implications for the early childhood field.
Wickstrom, of Columbus, Neb., is a student in exercise science (concentration in motor development and control) in the Department of Biomechanics at the University of Nebraska at Omaha. Wickstrom's research is seeking to improve early assessment of Autism Spectrum Disorder (ASD) through identifying early differences in motor development (specifically sitting posture control), eye gaze behavior, and social brain activation. Her findings could provide insight into the underlying factors contributing to developmental delays, improve early detection, and aid development of interventions to improve the quality of life for individuals with ASD.
Her faculty mentor is Dr. Jennifer Yentes. (She could not attend the symposium; Amy Roberts of the Buffett Institute gave the introduction for Wickstrom's presentation.)
The Buffett Scholars program awards 1-year fellowships worth up to $25,000 every year to a maximum of four doctoral students. The overriding goal of the program is to increase the diversity and skills of young scholars conducting research about children from birth through age 8 and their families.
About the University of Nebraska at Omaha
Located in one of America's best cities to live, work and learn, the University of Nebraska at Omaha (UNO) is Nebraska's premier metropolitan university. With more than 15,000 students enrolled in 200-plus programs of study, UNO is recognized nationally for its online education, graduate education, military friendliness and community engagement efforts. Founded in 1908, UNO has served learners of all backgrounds for more than 100 years and is dedicated to another century of excellence both in the classroom and in the community.
Follow UNO on Facebook, Twitter, Instagram, TikTok, LinkedIn, and YouTube.