The Maverick Minute: Barbara Holland and the Metropolitan University Mission
The Maverick Minute is a video series featuring Chancellor Jeff Gold interviewing members of the UNO community. In this edition, Chancellor Gold interviews UNO's Distinguished Professor of Community Engagement about our Metropolitan University Mission, the power of the urban advantage and the Weitz Community Engagement Center.
Summary of the Interview
Dr. Holland is a Distinguished Professor at UNO, scholar, consultant and promoter of the Metropolitan University Mission and UNO.


University of Nebraska Omaha is a poster-child for a Metropolitan University Mission - not just in a city but of a city. Scholarship, academic work and aims are connected to the city.


There is a great advantage to the urban university in Higher Education. Since the 1950s we've switched from a rural nation to urbanized. Eighty-five percent of populations live in cities now.


Students already know and are seeing they are studying for profession and career path, but I also see that I will be an active citizen in a community and engagement - pay it forward.


UNO also has changed the game in the field with the introduction of the Weitz Community Engagement Center (CEC) as a physical space cohabitating side-by-side every day.


The CEC is the first and only one. The desire from other institutions to imitate the outputs of deeper relationships with the community is high. The facility aspect now gives us a way to track progress and track impact.
---
From the Archives: UNO Names Distinguished Professor of Community Engagement
- January 2015, by Charley Steed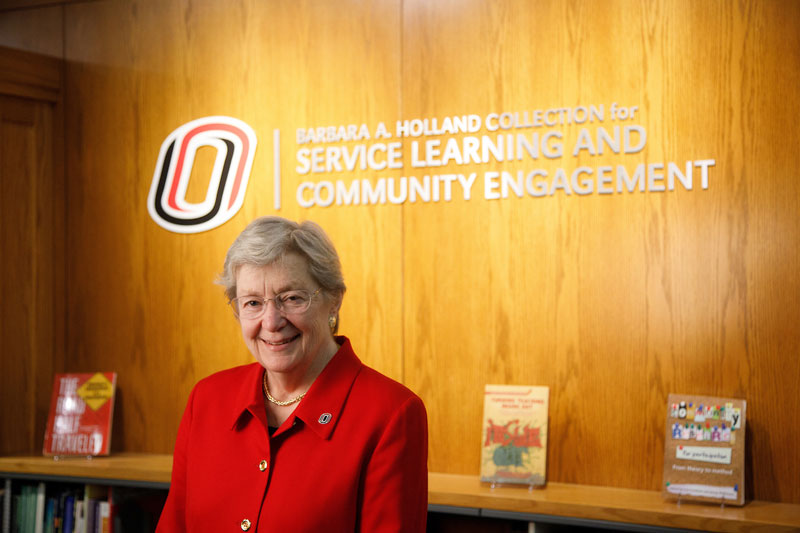 OMAHA – Today, the University of Nebraska is announcing that Barbara Holland, Ph.D., one of the world's foremost community engagement scholars, will be joining UNO's Office Academic and Student Affairs as a Distinguished Community Engagement Professor.
The appointment, which is an unpaid advisory position, is effective immediately and will exist in perpetuity.

In her role as Distinguished Community Engagement Professor, Holland will provide guidance and oversight for students, faculty, staff, alumni and other university stakeholders in one of UNO's three strategic goals.

Specifically, Holland plans to focus on three key areas of community engagement:
Faculty development of community-based scholarship
Long-term strategic planning
Establishing research
"I see my role as conducting some research and advising UNO in this effort to expand the already strong community engagement efforts happening on campus," Holland explained. "UNO is an exemplar in this field and other institutions need a blueprint for how to implement similar policies on their campuses."

In joining UNO as a distinguished professor, Holland brings a wealth of information gathered from her academic appointments at Portland State University, Indiana University-Purdue University Indianapolis, University of North Carolina at Greensboro and the University of Sydney (Australia).

In addition to her academic appointments, Holland has served in a number of national leadership roles in the United States, including the directorship of the National Service-Learning Clearinghouse from 2002 to 2009 and an appointment to the U.S. Department of Housing and Urban Development from 2000 to 2002 where she managed large grant programs for university-community partnerships.
Holland has made multiple visits to UNO since the late 1990s and was instrumental in both bringing the largest library of community engagement scholarship to UNO and advising on the organizational aspects of the Barabra Weitz Community Engagement Center, the opening of which Holland was in attendance for.

"As a scholar, I have observed metropolitan-focused universities from all over the world and there really isn't another place that has applied its mission in the same way," Holland said. "I am really excited to observe and research the formative years of the Community Engagement Center and how the partner relationships benefit both the campus and Omaha communities."

Holland's first order of business is to begin meeting with the deans, chairs and directors of each of UNO's colleges and departments.
Additionally, she plans to provide assistance in building out the Criss Library's collection of community engagement scholarship, which is named in her honor, by updating it with more current literature and international research.

During her appointment, Holland will report to B.J. Reed, Senior Vice Chancellor for Academic and Student Affairs.