UNO Student Gets to Meet Facebook Founder Mark Zuckerberg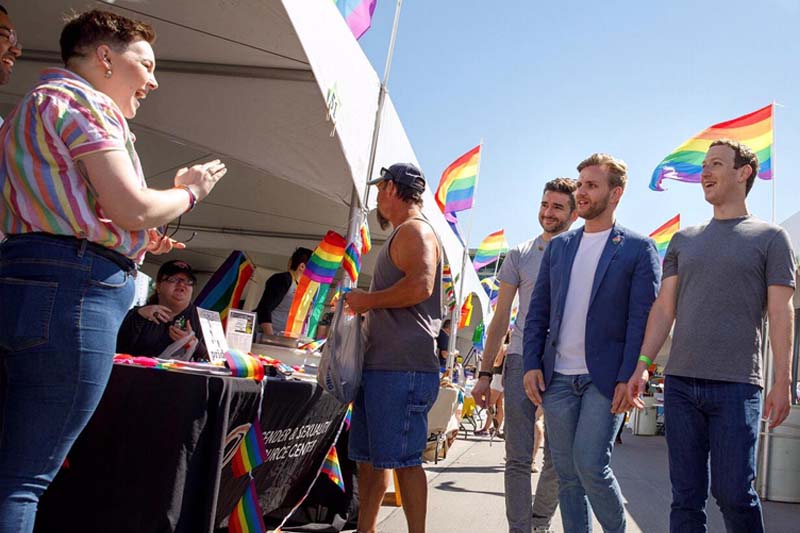 UNO graduate student (left) talks with Facebook founder Mark Zuckerberg at Heartland Pride
On Saturday, June 24, a special visitor to Aksarben Village's Stinson Park prompted a lot of buzz and – naturally – a lot of Facebook updates.
That visitor was Facebook founder and CEO Mark Zuckerberg, who made a surprise visit to the Heartland Pride festival as part of a cross-country tour.
The experience was something that UNO graduate student Kati Kough won't soon forget.
"I was definitely nervous when I saw him," she says. "I had a lot more emotions when he left, particularly when I realized I had met one of the people whose decisions have had the most influence in changing our society."
Kati, who is a graduate assistant for UNO's Gender and Sexuality Resource Center (GSRC), was with several UNO representatives were at Heartland Pride to promote the GSRC, UNO's Queer and Trans Services (QTS) Student Agency and the Queer Omaha Archives, which is the only formal LGBTQIA+ archive for the metro area.
Unlike many at Heartland Pride, Kati wasn't surprised by Zuckerberg's visit. In fact, it was her connection to the LGBTQIA+ community in Omaha that provided her a close connection to the president of Heartland Pride, David Kerr, who told her that a special guest would be arriving at 10:30 and to make sure she was at the UNO booths.
"David wanted to showcase the work we do at UNO and in the community, and also wanted to show some of the great work others do throughout Omaha," she said.
As Kati and Zuckerberg chatted, a photographer was capturing the moment – a photo that the Facebook founder would post to his personal account with the message: "Happy Pride from Omaha, Nebraska to everyone celebrating this weekend across the world!"
The post has received 106,000 interactions, more than 2,500 shares and 3,700 comments.
"I am glad I was able to meet him and talk to him about the important work the GSRC does on campus," Kati says.
More information about LGBTQIA resources at UNO can be found on the UNO GSRC website.