Student Honors Convocation Recognizes Excellence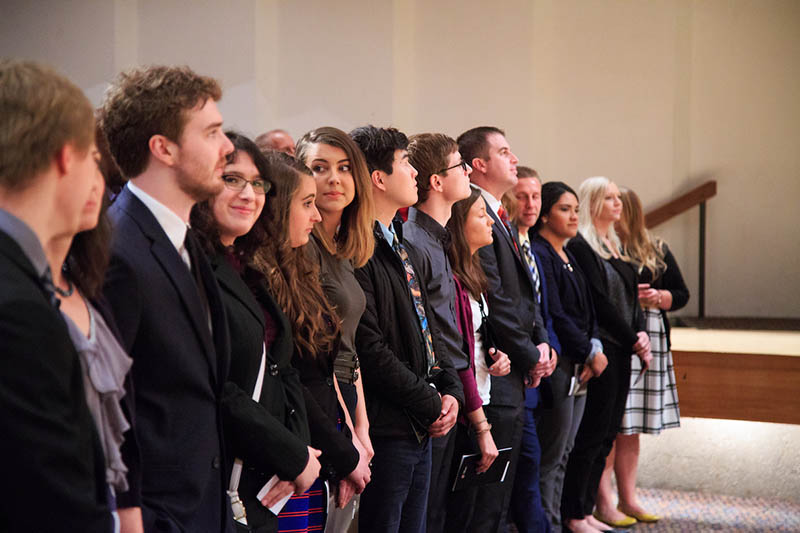 The University of Nebraska at Omaha (UNO) is proud to acknowledge our amazing students across all academic disciplines.
On April 14, the Student Honors Convocation recognized the students below for their excellence, campus leadership, and volunteerism.
Helen Hansen Outstanding Graduate Student Award
Emily Ramsey

Emily Ramsey is a school psychologist for the Green Hills Area Education Agency in Council Bluffs, IA. She also worked as a project analyst for Autism Action Partnership and the Center for Applied Psychological Services.

She received her Master of Science in School Psychology at the University of Nebraska at Omaha and her Bachelor of Arts at Creighton University. She will graduate in August 2017 with her Educational
Specialist degree in School Psychology.

"It's such an honor to be in this position," said Ramsey.

"I've had three very supportive professors (Lisa Kelly-Vance, Brian McKevitt, Adam Weaver) that are always making sure I am on the right track. They're incredible people and I hope that I can be like them some day."

Clare Maakestad

Clare Maakestad is an outstanding graduate student whose research interests center on environmental sociology and local/sustainable agriculture. She received the 2014 Sullinger Scholarship for the top incoming student in her program, a 2016 Graduate Research and Creative Activity (GRACA) research grant, and a competitive sociology graduate assistantship.

She is a member of Alpha Kappa Delta Sociology Honor Society, Sigma Delta Pi Spanish Honor Society, Midwest Sociological Society, American Sociological Association, and Farnam Farm Community Garden. She plans to teach undergraduate sociology and work with sustainable agriculture after graduating in the summer of 2017.
"Studying sociology and getting this award means a lot to me because sociology gives you a frame of which to make sense of the world and understand your place in it," Maakestad said.

"I've worked really hard and taken advantage of all of the opportunities that UNO has given me, so it's an honor."

Senior Vice Chancellor Outstanding Undergraduate Student Award

Justin Korth

Justin Korth graduates in May 2017 with his Bachelor of Science in Business Administration in Accounting and Finance. Growing up on a family farm, he continues to grow in his work as a Certified Public Accountant (CPA). A world traveler and avid runner, Justin hopes to one day run for public office, leveraging his business acumen.

"I really acknowledge the College of Business Administration and UNO as a whole for preparing me not only as a student, but also as a young professional transitioning from the classroom to a career in accounting and finance," Korth said.

Senior Vice Chancellor Outstanding Leadership Award

Benjamin Clement

Originally from Lexington, Neb., Benjamin Michael Clements returned to Nebraska after a five-year stint in the Army. Benjamin is expected to graduate from the UNO in May 2017 with an undergraduate degree in Management Information Systems and a minor in Business Administration.

"It is definitely a great honor to win the award," Clements said. "Working in the office of Military and Veteran Services has been a great experience."

"I love working with all of the military students that we have on campus."

Outstanding Service Learning Award

Gaby Amador

Gaby Amador is pursuing a Bachelor of Science in Elementary Education with an endorsement in English as a Second Language and a minor in Spanish. Her anticipated graduation date is set for the fall of 2018. Her service project was the College Prep and Family Learning project. Her work on this project helped her gain a true appreciation in motivating students to pursue higher education, regardless of the circumstances.

"I love the outreach into the community," Amador said of service learning.

"You never know what kind of impact you can make. It was a great way to learn a little bit more about myself that I wouldn't have learned in the classroom."

Outstanding Student Athlete Award

Mark Moulton

Mark Moulton will graduate with a Bachelor of Science degree in Business Administration. Mark has concentrations in Banking and Financial Markets, Business Finance, Investment Science and Portfolio Management, and Real Estate and Land Use Economics. Mark led the men's soccer team to two Summit League Championships in 2014 and 2016 and was named First Team Academic All-American in 2016.

"Winning the award is incredible," said Moulton.

"My coaches and professors really took me under their wing, and it's been great working with the athletic department staff, especially my advisor, Dani Brooke."

Mikaela Shaw

Mikaela Shaw, a member of the UNO Dean's List, is majoring in Biology. Shaw plans to graduate in August 2017 with a Bachelor of Science. Mikaela, a Deweese, Nebraska native, just completed her senior season for the women's basketball team. As a member of the team she was a four-year starter, a three-year captain, and a team and conference leader in points, rebounds, and assists.

"The biggest honor in getting this award is that it shows that I survived four years of college, being able to balance being a student and an athlete," Shaw said.

"I had a lot of help along the way. I couldn't have done it without my coaches and advisor Lindsay Ekwereku."
Contact Us
If you have a story idea, news tip, or other question, please email the UNO News team at unonews@unomaha.edu.