Gabinet Named Omaha Hockey Coach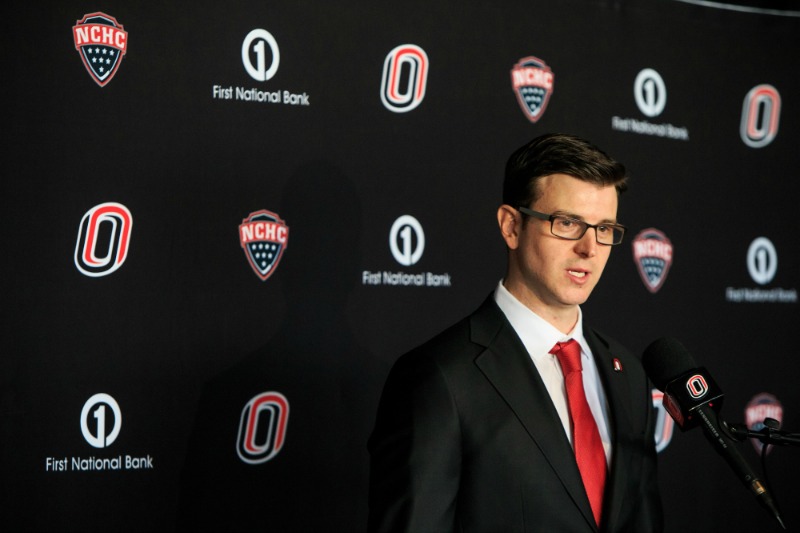 Mike Gabinet has been named the third head hockey coach in school history.
Omaha Vice Chancellor of Athletics Trev Alberts announced that Mike Gabinet has been named the third head hockey coach in school history. Gabinet takes over for Dean Blais who stepped down after eight seasons behind the Mavericks' bench.
"We undertook an extensive search, and Mike rose to the top of our candidate pool because of his detailed, comprehensive approach to creating a sustainable culture of excellence," said Alberts. "He has the passion and understanding of what it means to be a Maverick, and he has the ability to institute the kind of structure and attention to detail that will allow us to be successful in college hockey's toughest conference.
"It also was very important to us to get the feedback from the players and to a man, they all endorsed Mike as the kind of coach who is a great teacher and someone who could help our program take the next step."
Gabinet came to UNO as its associate head coach in April of 2016, joining the program after a successful college coaching career in his native Canada.
"It is a great moment for a program like ours to have an alumnus take over as its head coach," said associate athletic director Mike Kemp who was the head coach of the program for the first 12 years. "I have known Mike since he was a junior player in Canada, and I always admired him as a character person who was a great leader and someone who cared about his teammates. As a player, he analyzed what we did and made respectful suggestions. He was a student of the game, even as a student-athlete.
"As I followed his career, I saw the same traits. He has a great mind for the game and is a great on-ice teacher," Kemp added. "That was evident in our power play this year. Mike coached our power play unit to be the best in the NCHC this past season, one year after it was ranked seventh out of eight teams. In fact, it was best power play we've had since we led the nation in 2007-08.
"Moving forward, we think Mike can not only help us excel on the ice but also work hard in the community to strengthen the bonds we have with our fans, alumni and donors."
"I'm grateful for this opportunity to be the head coach of my alma mater and excited to build on what's been established here by Mike Kemp and Dean Blais," said Gabinet. "I came to Omaha last year because of my passion for this program and the great experience I had here as a student-athlete. That's one of the reasons why my wife and I are looking forward to raising our family here.
"The Omaha community has been a great supporter of our program, and I'm looking forward to building that bond with our fans and my fellow alumni, many of whom still live in the area," added Gabinet. "I'm amazed by how far UNO has come since my playing days and I'm excited about where we're going."
Before joining the Mavericks, Gabinet was the head coach of the Northern Alberta Institute of Technology in 2015-16. He led the Ooks to the Alberta Colleges Athletic Conference Championship with a 36-0 record, only the second time in 51 years that a team had finished undefeated in the conference. He was named ACAC Coach of the Year and became the first rookie head coach to guide his team to an undefeated season in Canadian college hockey history.
Prior to that, he was an associate coach at NAIT for three seasons.
A native of Edmonton, Alberta, Gabinet played defense for the Mavericks from 2000-04 and was an alternate captain as a senior. In 130 career games, he scored six goals and 41 assists for 47 points. He still ranks 10th all-time in points by a UNO defenseman.
Gabinet was a draft pick of the Los Angeles Kings in 2001 and played professionally in the American Hockey League, the ECHL and in Europe before turning to coaching in 2012.
Gabinet comes from an outstanding hockey family. He is the grandson of Canadian hockey coaching legend Clare Drake who enjoyed success in both college and international coaching. His grandfather was inducted into the Canadian Sports Hall of Fame in 1989.