Community Engagement Spotlight | Steve Rodie
contact: UNO Campus Commitment to Community Engagement - UNO Campus Commitment to Community Engagement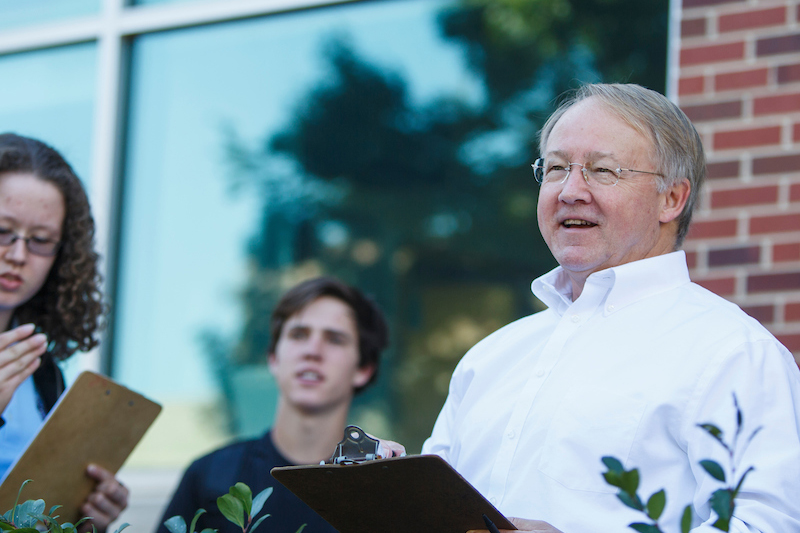 In 2015, Professor Steve Rodie, and his students in Landscape Appreciation & Environmental Sustainability partnered with Omaha Northwest Magnet High School teacher, Mrs. Rachael Burns, and her class of advanced horticulture students to design and build a rain garden.
The purpose of the rain garden was to soak up rain water run-off from the school's greenhouse roof and nearby paved surfaces to lessen the amount of rainwater run-off that goes into city storm drains. Limiting water run-off into storm drains enhances run-off water quality and can minimize the potential for flooding and sewer overflow in Omaha's combined sewer system. Rodie believes that there have been multiple benefits from the project. There was two successful grant application for approximately $20,000, funded by the Sustainable Schoolyard Partnership through the Nebraska Forest Service and funding from the Papio-Missouri River NRD. "These grants helped pay for the garden," according to Rodie, "and were invaluable in getting the garden actually built." In addition, Rodie and Burns spent two summers researching the rain gardens in the adjacent Saddle Hills neighborhood through the UNO Teacher-Researcher Partnership Program. Rodie is confident that these results "will be directly applied to curriculum enhancements at Northwest."
Students not only gained knowledge in STEM-related curriculum and activities but also prepared and gave presentations on the rain garden project to 90 participants on the 8th annual Omaha storm water bus tour this past fall. In late August, Rodie and Burns presented on the rain garden project and on teacher mentoring at the 2016 International Symposium on New Issues in Teaching Education in Savonlinna, Finland.
The project received the Samsung Solve for Tomorrow Contest award in 2015, providing the school with Samsung technology.
Beyond the shared semester experience, the collaboration with Rachael Burns has been incredibly valuable, and has led to other tangible project support and benefits.
- Steve Rodie
More recent project recognition includes a highlight featured in National Geographic's Next Generation Environmental Leaders Projects publication. Read the full National Geographic article here.
The collaboration was a part of the UNO Service Learning Academy P-16 Initiative, a UNO Signature Outreach Program housed in the Barbara Weitz Community Engagement Center. The P-16 Initiative aims at connecting the P-12 and UNO curriculum through the development of collaborative academic service learning experiences. In addition to teaching environmental studies course in the Department of Biology at UNO, Rodie also serves as the Director of the UNO Center for Urban Sustainability, and as Fellow of the American Society of Landscape Architects (FASLA).
---
Campus Commitment to Engagement
Community engagement and service are fundamental components of UNO's identity. This commitment to engagement is reflected in UNO's academics, student body, partnerships, and institutional framework. As an engaged campus, UNO values mutually-beneficial partnerships where information and expertise is shared and applied for the common good.
Share Your Story
Did you organize or participate in a community-oriented project or service? UNO wants to hear from you! UNO is committed to community engagement in its broadest form, and wants to feature your community service story.
Submit your story on MavSYNC or via e-mail.
Read other engagement spotlight stories
Contact Us
If you have a story idea, news tip, or other question, please email the UNO News team at unonews@unomaha.edu.