The Balancing Act: Managing Multiple Commitments
contact: Sami Morford - ACDC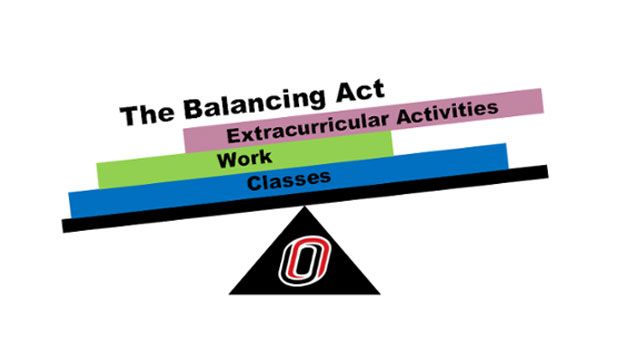 Thinking about everything you have to accomplish as a college student can be overwhelming. You have to get good grades if you want to land that dream internship. You also have to work to pay for your tuition. Let's not forget that you're involved in other organizations. Now take a deep breath. We have a few tips on how to successfully balance a range of commitments.
1. Prioritize.
Make sure you are prioritizing school, work, and extracurricular activities. Decide which is most important for you in your life. While attending college, the ultimate goal is to earn a degree. School can be expensive, which may mean students need to work during the school year. Be careful! Studies show that working more than 20 hours a week can have a negative impact on students' grades. When picking whether to go out with your friends on Friday night or study for an upcoming test, consider which is the main priority in your life.
2. Organize.
Being organized can reduce your stress levels and save you time. Use a time management tool like a wall calendar, a planner, or your phone calendar. Make sure to put down your class schedule, work schedule, and activities.
3. Say No.
It's okay to say "no." This is something I still struggle with. Don't overload yourself with commitments. If you have too many things on your plate, you won't be able to give 100% effort on everything. When someone asks for your help, consider if you truly have the time and ability to complete the task well. Trying to do too much can lead to burnout and fatigue. Focus on saying yes to activities that align with your priorities and values.
4. Refuel.
I was once told that "you can't pour from an empty cup." Remember to take care of yourself. If you're not taking care of yourself, you won't be able to participate in everything they way you want. You may have a sense of burnout when it comes to school, work, and extracurricular activities. Take time to do something that fills up your tank, whether it be reading a book for fun, hanging out with friends, going for a hike, or watching your favorite TV show.