Alumni Bring Water to the World
contact: Rick Davis - UNO Alumni Association Writer

---
"The War for Water"
It's more precious than oil or gold.  Without it, life ceases to exist. But who controls it? And for what purposes? Those questions increasingly put water at the center of conflict — globally, nationally, locally.
Read on below for information about ways that two University of Nebraska Omaha (UNO) graduates are helping to bring water to impoverished areas around the globe.
Buey Ray Tut: Aqua-Africa
Buey Ray Tut almost gave up on his dream to bring clean, accessible water to South Sudan villages when his nonprofit organization, Aqua-Africa, was attempting to drill its first well in 2011. To be sure, rain, bureaucratic red tape and a broken hydraulic pump on the drill didn't help.
But being thrown in jail was nearly the last straw. Tut and his drill operator were traveling to fix the broken pump when their truck was stopped by armed officers. "They said we hit a cow along the road, and the farmer wanted to be reimbursed," Tut says. He felt they were being extorted for money, but they didn't dare resist arrest. "When someone has a gun, you do what they say," Tut says. They were taken to jail and were held for two days before the villagers posted bail. Tut wondered if he should continue. Was it worth it?
The answer came when the well was finished and fresh water was flowing for the village of 830 people. "It was an awe-inspiring experience," Tut says, "to the see their joy and the smiles on their faces." For Tut, water is just the beginning, the foundation. It meets a basic human need. But he believes it could also give root to advances in agriculture, literacy, commerce and political democracy. South Sudan is his childhood home, and he wants to see its people flourish. (Tut immigrated to the United States with his family when he was 11.)
"We have a 15-year plan for the villages we work in," he says. "We want to see these villages become thriving towns. That would make us incredibly proud."
Tut, a 2009 economics and political science graduate from UNO, founded Aqua-Africa in 2011 after several years of planning with childhood friend and Northwestern University graduate Jacob D Khol. Childhood memories provide the inspiration. Tut remembers walking miles to fetch fresh water for his family from the river. So far, the organization has drilled 30 wells in seven villages — providing clean, accessible water to some 15,000 people.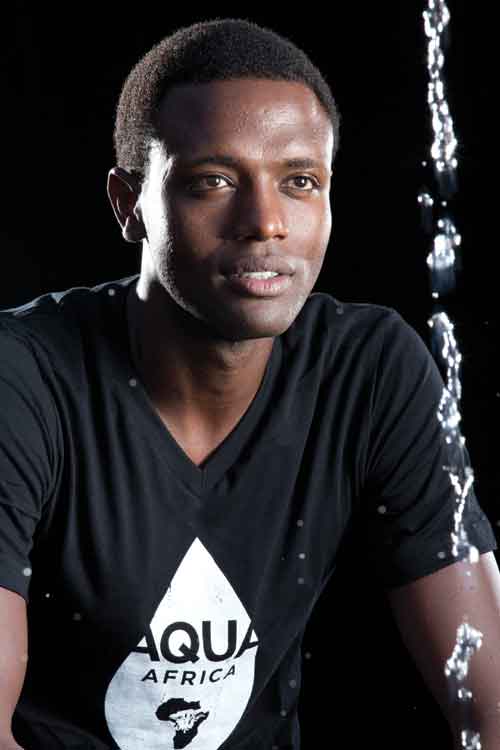 ---
Mark Steele: Planet Water

UNO graduate Mark Steele walked away from a successful corporate career about seven years ago to bring clean drinking water to rural communities, primarily in the Asia-Pacific region, through a water filtration system he developed.
Today, his Planet Water Foundation has deployed about 550 of his Aqua Towers in 12 countries.
"We've brought clean water to about half a million people," Steele says. The foundation's goal is to help 5 million people gain access to clean drinking water and improved sanitation by 2020.
After graduating from UNO in 1989 with a double major in international business and Japanese, and a brief stint at Hughes Aircraft in California, Steele helped establish Asia-Pacific operations for ITT, a leader in water and wastewater products and services. He eventually was named president of ITT China before becoming chief operating officer at Tele Atlas Asia Pacific, a digital mapping subsidiary of TomTom.
The experience that had the biggest impact on him, though, was leading ITT's emergency response effort in Sri Lanka following the devastating 2004 Indian Ocean tsunami, bringing water purification systems to the affected areas. During the response, he had the opportunity to meet with former Presidents George Bush and Bill Clinton.
"I saw how important simple necessities, such as water, are to people," Steele says. "For me, that was a life-changing moment. I wanted to go back and do more of that."
Over the next few years, Steele would develop his Aqua Tower — which can produce about 264 gallons of clean water per hour, enough to support the daily drinking habits of about 1,000 people. Steele says a tower can be installed in one day, it's eco-friendly, and the simple-to-maintain filters can last from five to seven years.
Planet Water installs its towers near schools. The first towers were installed in Cambodia in 2008 at four schools in Siem Reap. In addition to the towers, Planet Water provides a health and hygiene education program. "We have a partnership with Sesame Workshop. They develop multimedia content to support our programs in the schools," Steele says.
Planet Water's most recent initiative was Project 24, an effort to spotlight World Water Day in March. "We brought clean water to 24,000 people, in 24 communities, in a 24-hour day," Steele says. About $250,000 was raised from corporate sponsors, and the projects were streamed live online. "It was pretty exciting."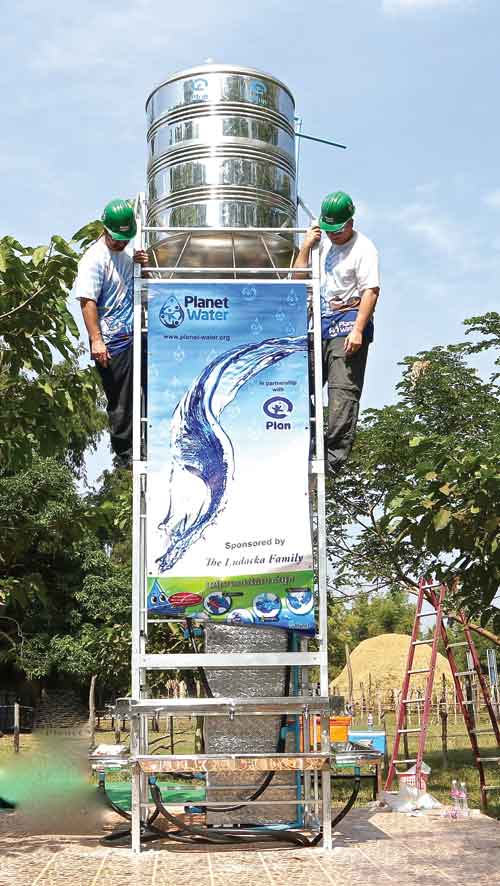 Contact Us
If you have a story idea, news tip, or other question, please email the UNO News team at unonews@unomaha.edu.