Throwback Thursday: Dodge Campus

Each week we'll share a University of Nebraska Omaha (UNO) photo on our homepage as part of the popular "Throwback Thursday" series.
Check back for a celebration of UNO's history, and to learn more about what's happening on campus and in our community, and future plans for the university.
---
Before the University of Nebraska at Omaha was even truly a campus, let alone part of the University of Nebraska system, almost all of its classes were held in what is today known as Arts and Sciences Hall (ASH). ASH opened for classes in 1938.
However, the story of ASH starts in the first half of the 1930s when, in 1934, the Nebraska Public Works Authority took the proposal to Washington, D.C. in order to help establish funding for the $800,000 project, which works out to be around $13.5 million by today's standards.
Back in the 1930s, UNO was known officially as Omaha's greater Municipal University, colloquially known as Omaha University (it's official title prior to 1931), or more simply known as "OU." Prior to 1938, OU's campus was spread out across what is now north downtown Omaha.
In October of 1936, as the deadline for federal and state funding was nearing, the University board of regents announced that OU would be built "just west of the Dodge Street entrance to Elmwood Park." The first of the new buildings was to be what would become Arts and Sciences Hall, but, then, it was simply known as the Science Hall.
Funding was officially approved on October 29, 1936 and construction officially began in May of 1937 much to the consternation of several of the wealthier neighborhoods and many homeowners in the area, although some of that sentiment quickly faded once a the Science Building began to take shape.
That shape, as it turns out, and is still true today, was a large "H" placed facing north towards Dodge Street. The building was designed after 17th-century Georgian architecture, with symmetrical design, a centered front door, large archway pillars and decorative additions like the building's cupola, which also held the building's air conditioning system at the time.
It's internal amenities were particularly lavish for its purpose, not the least of which was air conditioning, the first school in the state to have the temperature control measure installed. Other features of the four-story building included a 250-person lecture hall, student publication offices, sectional office spaces, library study rooms, a cafeteria, bookstore, and a two-story auditorium where the International Studies offices are currently located.
The building was formally dedicated in November 1938, earning a mention in the New York Times and drawing educational leaders from around the country.
However, after the formal dedication, it was back to class and back to business as usual until, in the early 1940s a large, white storage building was added to the south side of the building. In 1946 this building was turned into a campus snack bar.
Lovingly called the "Snack Shack" it provided extra space for those who were otherwise using the cafeteria as a general purpose gathering space.
For more then 20 years the ASH building was stable, undergoing minor renovations over that time as more and more departments began to move into their own spaces. It wasn't until 1967, when Omaha University was absorbed into the University of Nebraska system, that any major changes were made to the building. It was during the merger ceremony that the now easily recognizable script, reading "University of Nebraska at Omaha," on the building's main archway was installed and revealed.
Before and since Omaha University's big jump into the University of Nebraska system to become the University of Nebraska at Omaha, the Arts and Sciences Building has been a home base for many students who need to complete their general education requirements, so much so that it would be rare for any of UNO's 15,000-plus students in any given year to never set foot in ASH. Therefore, given the large amount of wear and tear the building likely goes through every year, it truly is amazing just how long the building has remained intact.
Growing Together:
Omaha and UNO in 1938 and 2014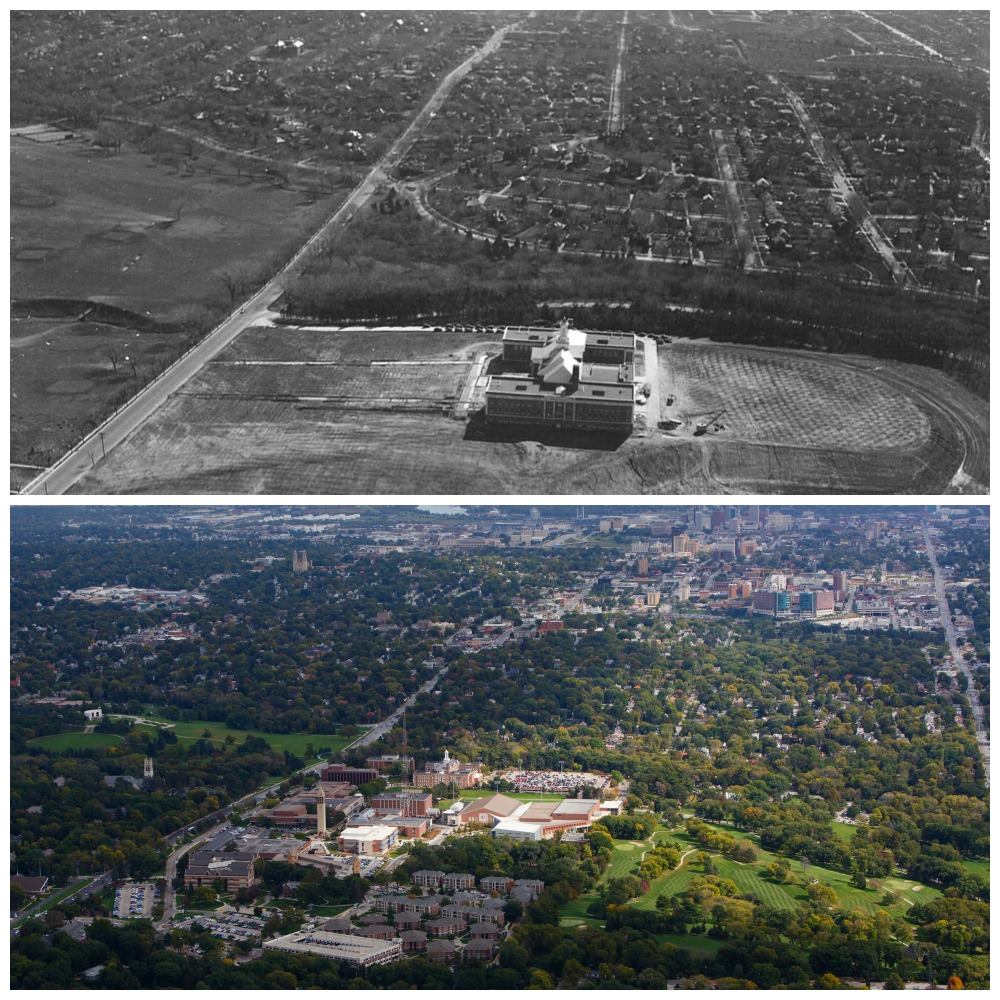 Contact Us
If you have a story idea, news tip, or other question, please email the UNO News team at unonews@unomaha.edu.