Howard G. Buffett Book Tour Includes UNO Stop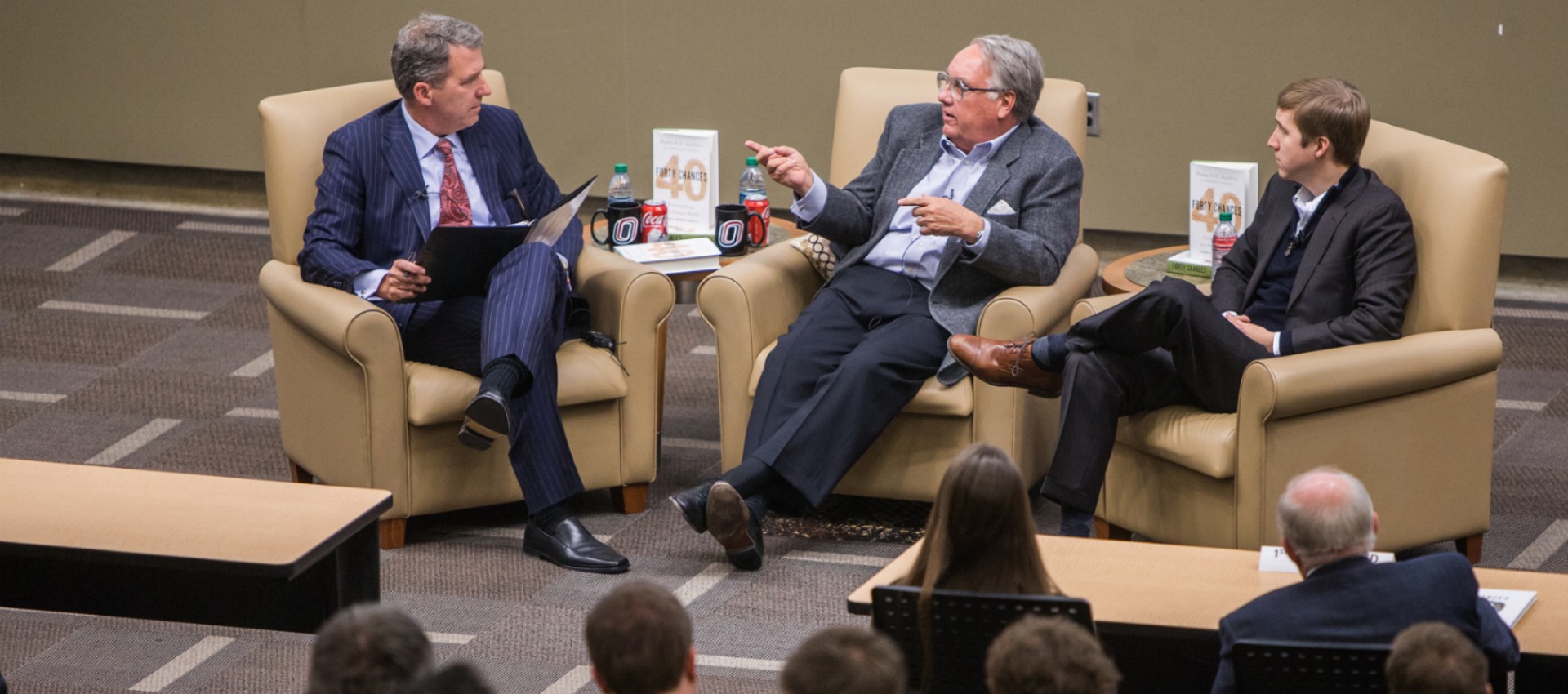 Farmer, businessman, philanthropist and author Howard G. Buffett, Friday, Nov. 8 will visit the University of Nebraska at Omaha (UNO) as part of his book tour to promote "40 Chances: Finding Hope in a Hungry World."
The event takes place at 2:30 p.m. in the College of Public Affairs and Community Service lecture hall (Room 101). Tickets may be obtained by contacting Robyn Long at rlong@unomaha.edu.
All students attending the event will receive a free copy of 40 Chances. Members of the general public will be able to purchase copies of the book ($26.00/ea. hardcover) at the lecture hall immediately before or after event, or at the UNO campus bookstore.
All attendees will receive a complimentary 40 Chances photography book, which visually chronicles Howard's stories.
Buffett's book, which went on sale Tuesday, Oct. 22, chronicles the author's journey as a philanthropist, photographer and—perhaps most importantly—as a farmer with a deep understanding of what it takes to produce food in difficult conditions.
Starting with the premise that every farmer has 40 chances to harvest the best possible crop, legendary investor Warren Buffett in 2006 posed a challenge to his son, Howard: If you had the resources to grow something great in the world, what would you do with your 40 chances?
The challenge prompted Howard G. Buffett to set out to help nearly a billion individuals in the world who lack basic food security.
Beginning with Howard's love of farming, readers join him and son Howard W. Buffett, the book's co-author, as they travel the world seeking out new approaches to ease the suffering of so many. Forty stories are used throughout the book that provide readers a compelling look at Howard's life, ranging from his own farm to some of the most difficult and dangerous places on Earth.
The book will inspire readers to realize that our time to follow our passions is finite; if we're not learning from our mistakes and being smarter and more productive every year, we're wasting valuable time.
Both authors will be available for a brief book signing immediately after the event until 4 p.m.
For questions, please contact Charley Reed, UNO media relations coordinator, at unonews@unomaha.edu or by phone at 402.554.2129.
About the Authors
Howard G. Buffett is the Chairman and CEO of the Howard G. Buffett Foundation, a private family foundation working to improve the standard of living and quality of life for the world's most impoverished and marginalized populations.
A farmer, businessman, philanthropist, photographer, and former elected official, Buffett has dedicated his life to addressing global food insecurity and conservation. He has traveled to 130 countries documenting the challenges of preserving our biodiversity while providing adequate resources to meet the needs of a growing global population.
Buffett is a United Nations Goodwill Ambassador Against Hunger, and serves on the corporate boards of Berkshire Hathaway, The Coca-Cola Company and Lindsay Corporation. He operates a 1,500-acre family farm in central Illinois and oversees three foundation-operated research farms, including over 1,400 acres in Arizona, over 3,500 acres in Illinois and 9,200 acres in South Africa.
Buffett has written extensively on conservation, wildlife and the human condition. 40 Chances: Finding Hope in a Hungry World documents the people, places and experiences that have shaped his evolving views of the role of philanthropy in addressing the world's most difficult challenges.
Howard W. Buffett is a lecturer in International and Public Affairs at Columbia University, where he teaches management techniques for improving the effectiveness of foreign aid and global philanthropy. He is a trustee of the Howard G. Buffett Foundation and previously served as the Foundation's Executive Director.
Prior to joining the Foundation he served in the U.S. Department of Defense overseeing agriculture-based economic stabilization and redevelopment programs in Iraq and Afghanistan. For his work, he received the Joint Civilian Service Commendation Award – the highest ranking civilian honor presented by the Joint Chiefs of Staff. Prior to that, Howard was a Policy Advisor for the White House Domestic Policy Council, where he co-authored and directed the President's cross-sector partnerships strategy.
Buffett earned a BA from Northwestern University and an MPA in Advanced Management and Finance from Columbia University. He is from Omaha, Neb., where he and his wife operate a 400 acre no-till farm.
About the Book
Title: 40 CHANCES: Finding Hope in a Hungry World
Authors: Howard G. Buffett with Howard W. Buffett, and Foreword by Warren E. Buffett
Publication Date: Oct. 22, 2013
Imprint: Simon & Schuster ISBN-13: 9781451687866
Format: Hardcover/ $26.00 / 464 pages
For more information about 40 Chances, please visit www.40chances.com/booktour.
* * *

Follow UNO's Twitter updates at http://twitter.com/unomaha. Become a fan of UNO on Facebook: www.facebook.com/unomaha.

The University of Nebraska at Omaha (UNO) is Nebraska's metropolitan university. The core values of the institution place students at the center of all that the university does; call for the campus to strive for academic excellence; and promote community engagement that transforms and improves urban, regional, national and global life. UNO, inaugurated in 1968, emerged from the Municipal University of Omaha, established in 1931, which grew out of the University of Omaha founded in 1908.