Danyell Price and Joscelyn Vincent Awarded the Prestigious National Commercial Real Estate Women (CREW) Scholarship
This is the fifth consecutive year that CBA real estate students have been awarded the scholarship, making UNO the only university with five consecutive-year winners.
published: 2022/09/02
contact: Rachael Smith - Communication Specialist, UNO CBA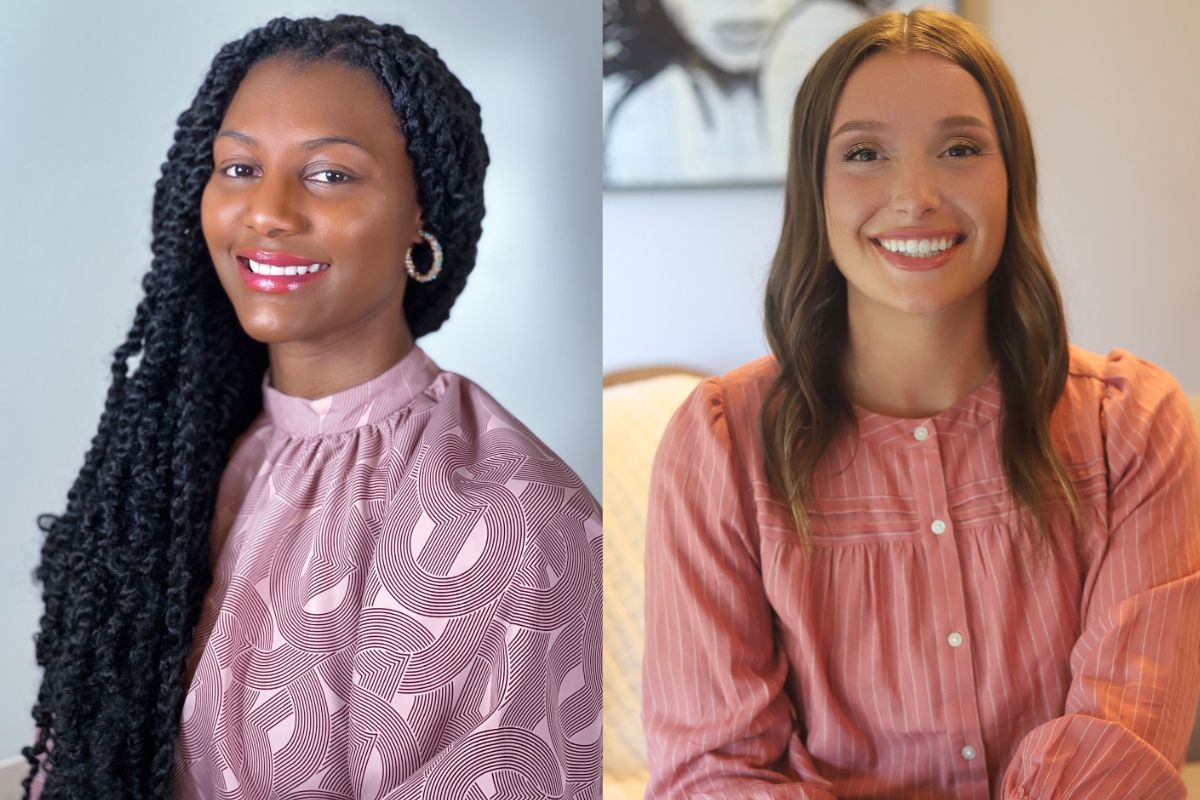 Danyell Price (left) and Joscelyn Vincent (right), both in UNO CBA's Real Estate and Land Use Concentration, were selected as CREW Scholarship honorees this year.
Danyell Price and Joscelyn Vincent, two students in UNO CBA's Real Estate and Land Use Economics BSBA concentration, are recent winners of the 2022 National Commercial Real Estate Women (CREW) Scholarship. Price and Vincent will be given $5,000 scholarships, as well as attendance at the CREW Convention in Chicago, a paid summer internship, 24-month CREW Network membership, and more. Collectively, the scholarship benefits help boost Price and Vincent's careers in real estate immediately after graduation.
Not only is recognition by CREW significant for Price and Vincent, but also for UNO CBA's program. This is the fifth consecutive year in which CBA students have won the scholarship, and UNO is the only university with five consecutive-year winners. David Beberwyk, UNO Real Estate program director, notes that this also brings UNO to six overall winners – the same number as Harvard.
"Aside from 'counting winners,' there is a larger issue at play here. The commercial real estate (CRE) industry has traditionally been a male-dominated field. The CREW Scholarships – and the fact they highlight our top-performing female students – bring attention to this long-standing disparity and encourage many students to pursue a CRE career," said Beberwyk. "Nationally, the tide is shifting, and I like to think that CBA and the UNO Real Estate Program are doing their parts to help in Nebraska. Personally, I take great pride in watching the 'scales fall from students' eyes' when they learn about – and many times, pursue – careers in CRE."
For Price and Vincent, the scholarship reinforces the career they've chosen and the value of their education. Both students are motivated to continue making an impact in commercial real estate. Price, who is President of the Rho Epsilon Real Estate Club and UNO's Black Excellence organization (highlighted earlier this year), hopes to pass on the inspiration by motivating more students of color in the commercial real estate field.
"This scholarship means more to me than just obtaining money. It means that I have succeeded in accomplishing one of my short-term goals of receiving the CREW scholarship and meeting like-minded women like myself," said Price. "The skills and education from UNO CBA have sharpened my skills in communication, problem-solving, management, and adaptability. The influence has made me well-rounded and ready to tackle anything. After graduation, I will start a business, take a deeper dive into commercial real estate, and I am also thinking about graduate school."
Vincent, who works in property management and has started networking with CREW winners from around the U.S., is also excited to work as a positive influence in Omaha real estate.
"Receiving this scholarship makes me feel deeply proud of myself. I am proud of all the hours I spent working and studying over the last three years, working towards my future," said Vincent. "I am so grateful to be a member of the CREW Network foundation, as it is an amazing group of women to work with and look up to. Being a member of this foundation and being welcomed with open arms as I enter the real estate industry means everything to me. It makes me feel like I belong somewhere outside of college."
While these scholarships indicate the importance of uplifting women in traditionally male-dominated fields, the honors from CREW also emphasize the need for supportive communities, like the one established in UNO CBA.
"What motivated me to work so hard in college and end up achieving this honor is the support I received from UNO. Professor Beberwyk is an amazing professor and genuinely cares about all of his students. There are so many other staff members at UNO who have helped me along the way as well. Knowing that I had these mentors to turn to was comforting while dealing with the busyness and craziness of college," said Vincent.
With successes like this, Beberwyk is excited for the future of CBA's Real Estate program and the continued impact UNO can make in encouraging women to pursue any career they're interested in.
"I am indeed hopeful about the future of UNO Real Estate. The program has experienced unprecedented growth since 2015 due to many factors, one of which is the attention that it has received through student achievements such as CREW. The growth has also enabled us to hire a new faculty member, Jamie Chung, who joined us this fall. She'll also be joining CREW," said Beberwyk. "I truly believe that the ongoing synergy between UNO, CREW, and many other organizations committed to our students' welfare bodes well for UNO Real Estate going forward."
---
David Beberwyk's Reflections on Danyell Price and Joscelyn Vincent:
"Danyell and Joscelyn are both what you'd call 'go-getters.' At every juncture, they seek opportunities to grow, pursue challenges, and help others whenever the chance presents itself.
"Danyell is currently the President of Rho Epsilon (student Real Estate club) and is accomplishing things over the years that others have merely talked about. She has had several important CRE internships, and impresses me every time we meet. Last year, Danyell was selected as the recipient of the Omaha Commercial Real Estate Summit Scholarship, which she was awarded in front of 800+ members of the Omaha CRE community.
"Joscelyn is energetic and involved in a multitude of extra-curricular activities at UNO, to include Rho Epsilon. She is doing great things in a high-profile CRE position with a prestigious Omaha company, and like Danyell, was selected as this year's recipient of the Omaha Commercial Real Estate Summit Scholarship; she, too was recognized for this achievement in front of the Omaha CRE community in August."