Graduate Assistants Receive Real-World Business Consulting Experience at the Nebraska Business Development Center
Graduate assistants with NBDC provide practical advice to Nebraska business owners to help them start, grow, or transition their companies. They each learn specific business expertise from the program team they join.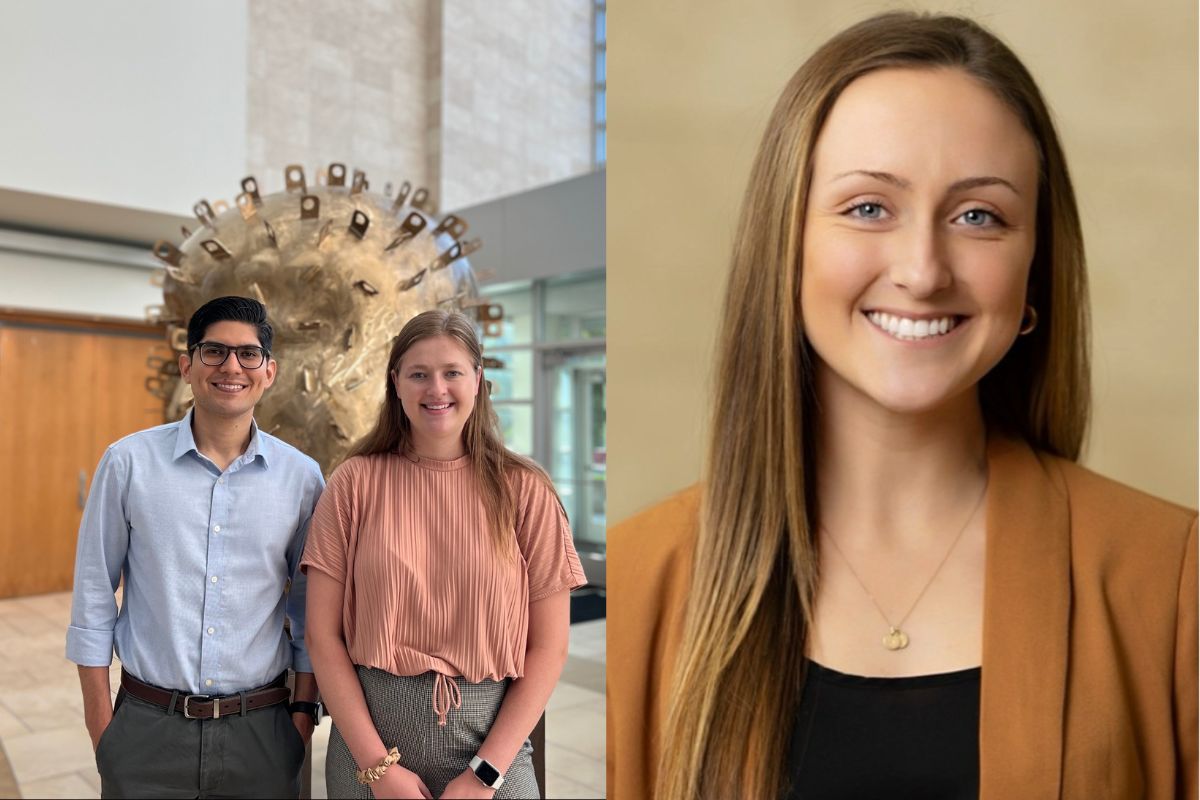 Luis Franco and Bre Johnson (left) and Alyssa Kuta (right) reflect on their real-world business consulting experiences with NBDC.
Omaha, Neb. – When Lincoln, Neb. native Bre Johnson applied for a graduate assistant position at the Nebraska Business Development Center (NBDC), she wasn't really sure what she was getting herself into. The position was for a role within NBDC's Procurement Technical Assistance Center (PTAC), and while the job description included terms that the University of Nebraska at Omaha MBA student was familiar with, like "marketing" and "business consulting," it also included terms like "government contracting" and "system for awards management."
"When I first saw the PTAC role, I didn't understand what it was at the time, but it has been even better than I could have imagined," she said.
Embedded within the University of Nebraska at Omaha (UNO), the Nebraska Business Development Center offers no-cost business consulting services to business owners and entrepreneurs across the state. Graduate assistants play a critical role in NBDC's economic development-centered mission by serving as business consultants, where they receive real-world experience working with clients.
Under the guidance of a program director, graduate assistants provide practical advice to Nebraska business owners to help them start, grow, or transition their companies. They each learn specific business expertise from the program team they join. In Johnson's case, it's helping businesses win government contracts. Others, for example, focus on small businesses or companies in the technology and innovation sector.
In her role within the PTAC program, Johnson helps non-profits and municipalities register in the federal System for Award Management (SAM), which can be a difficult and cumbersome process to navigate without some expert guidance. It's a critical step for organizations to receive or distribute federal contracts. She also has some marketing responsibilities like writing newsletters and drafting social media content, helping to educate people about opportunities for growing their business through government contracting. "I love the communications and marketing side, but I also really love getting to work with clients," she said.
Luis Franco is a UNO student from Guayaquil, Ecuador, currently working on his master's degree in economics. As a graduate assistant for NBDC's Small Business Development Center, he works with all kinds of small businesses, including restaurants, counseling centers, real estate agencies, transportation companies, and more. "I help them with all kinds of things – creating business plans, doing financial projections, or things like market research," said Franco. "It's satisfying to help real businesses, real customers. It's fun to get emails from our clients who are getting results, hiring employees, and increasing sales."
He has especially enjoyed the opportunity in his role to work on an initiative with the Nebraska Department of Economic Development to reach Spanish-speaking business owners. Franco helped craft a survey and conducted focus groups with entrepreneurs in South Omaha to learn more about what resources they needed and how COVID-19 has impacted their businesses. Most of the business owners he spoke with had never heard of NBDC and the wealth of services they could receive at no cost.
Franco knows that the relationships he formed over the course of that project have made a lasting impact. "Since then, in the last 8-12 months, we've had more Spanish-speaking clients come to NBDC from referrals." In addition, the data he helped to gather will inform initiatives, funding, and resources provided by the Nebraska Department of Economic Development.
Both Johnson and Franco say their roles at NBDC have impacted and expanded their career goals after graduation.
"I would like to find a job that continues my passion for communications work in some regard, but because of working here, it's opened my eyes to my passion for helping small businesses. I've learned I really do enjoy that person-to-person contact," said Johnson.
Franco is hoping to pursue a career in supply chain management but is also interested in looking at business development positions. "It was destiny to be at NBDC, I guess. My goal was to get a graduate assistant position. I didn't know anything about NBDC before speaking with the advising office," he said.
Alyssa Kuta, a Columbus, Neb., native and an alumna of the UNO MBA program, knows firsthand how the graduate assistant program at NBDC can impact a career. Kuta graduated in May of this year and received an analyst position with the Nebraska Angels and Invest Nebraska.
"I liked the independence and the really hands-on work that we got to do. It wasn't like case studies, not hypotheticals, it was actually working with small businesses in the real world," she reflected. "These were real-world problems. I would argue that I got more experience here than I would have in a capstone. There are businesses that I worked with at NBDC that I still see working in the business ecosystem that are running with our advice and doing great."
Kuta said her role at NBDC led her to her current position. "I never would have even known that I had an interest for this work had I not been exposed to the entrepreneurship ecosystem through NBDC. I never would have been introduced to these organizations if not for NBDC. It's a very unique community that NBDC has."
NBDC currently has 10 graduate assistants on staff throughout its nine locations across Nebraska. Eight are located on UNO's campus, with the University of Nebraska-Lincoln and Chadron State College offices also hosting a graduate assistant. Catherine Lang, state director at NBDC, says the program plays an important role in developing talent within the entrepreneurship ecosystem and for supporting Nebraska entrepreneurs and business owners. "Our graduate assistants do incredible work as consultants. We could not help as many businesses as we do without their expertise. It's an honor for us to help support this piece of their career development as they complete their studies."
"It's all about the experience and connections you make. You'll learn from different businesses. I didn't even imagine getting to know about the construction industry or talking with people who are more into the operations side of business," said Franco.
"You're always being encouraged to expand professionally alongside getting your MBA," said Johnson. "All the work that I do here, I strongly believe will translate into my future career."